How to choose this product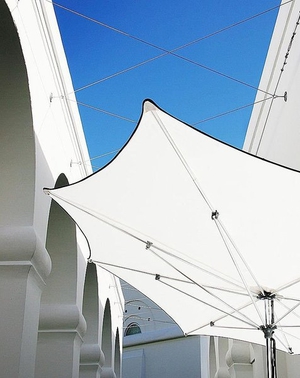 A commercial patio umbrella, sometimes called a parasol, is used to shade outdoor seating, dining or bathing areas, protecting users from the sun. Weatherproof models also protect from the rain.
Applications
In addition to shading, a parasol can help define a commercial area, such as a restaurant terrace. It may be lit at night to create an inviting ambiance. There is a variety of colors and styles.
Technologies
While some models have a central support anchored by a heavy base, others hang from an offset support attached to the floor, appearing to float over a large open area. Frames are often made of light, robust materials such as aluminum or stainless steel. Some are dome-shaped, though funnel and other configurations can be used to reduce wind-related problems.
How to choose
Consider the area to be covered. It should be larger than the table, bathing or seating area, or public space to be shaded. Verify that there is sufficient head room under the parasol. Favor high-quality sun-resistant and wind-compatible designs. Determine ease of opening, closing and storage. Check local regulations and evaluate the potential need for protection against staining, corrosion and harsh weather.
Advantages
- Folding models common
- Can help define a space
Disadvantages
- Many types vulnerable to strong winds