How to choose this product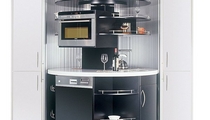 The compact kitchen is practical and designed to save space. It frequently takes the form of a single wall or freestanding unit with folding door for access. It offers features beyond the bare minimum, some even including a dishwasher.
Applications
Such kitchens can be installed anywhere with flexible space, even in an office. They are not recommended for commercial establishments because they lack work surfaces.
Technologies
Compact kitchens can be of different shapes, including rectangular and round. Finish may be lacquer, laminate or wood veneer, among others.
Advantages
- Saves space
- Practical
- Diverse models and finishes