The Online Architecture and Design Exhibition

pendant lamp
CORONA by Frank
Frank designers Pam West and Matt Edmonds pay homage to the silvered light bulb, an everyday icon, with Corona's oversized reflector surrounded by a curved, slip-cast ceramic shade.
See the other products
Established and sons

pendant lamp
ORIENT™ by Jo Hammerborg
... Hammerborg's design. The organic mode of expression beautifully connects the deep, vibrant copper glow and the rosewood top. The lamp has 21/24 narrow, vertical slots at the top of the genuine copper shade allowing light ...

table lamp
SLOW GLOW by Next architects & Aura Luz Melis
... melts the substance, an intriguing process gradually unravels before your eyes. The light glows brighter and brighter and the lamp becomes warmer and warmer in a comforting way. Specifications Year: 2004 Brand: Droog ...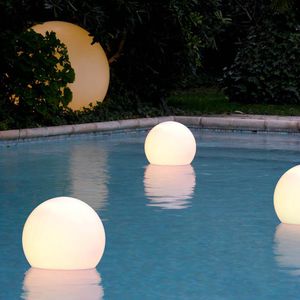 Acquaglobo is a floating lamp family: everyone has got a spherical shape, but in different dimensions. Acquaglobo is suitable for outdoors and elegant events. These floating lamps made in lightening polyethylene ...

table lamp
FUTURA : LT 1/283 by Oriano Favaretto
See the other products
SiL.Lux

pendant lamp
FOKUS by Schwarz Späth
The precision reflector focuses the main part of the brilliant halogen light through the small opening in the aluminium cover. As a result of the wide radiation angle characteristic even large table surfaces are illuminated ...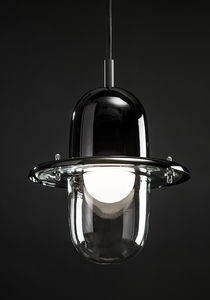 pendant lamp
HATS by Studio deFORM
... concept combines the demand for absolute practicality with simplicity of design. Inspired by the industrial lighting and street lamps in European cities, Hats carries a subtle sense of familiarity. Its transparent colored ...

Halogen floor lamp. "Acid" glass diffuser with clear-dark clouds.Reflector in satin glass. Hand dimmer on lamp body.
See the other products
Altatensione

This halogen desk lamp comprises 1 adjustable arm, 1 swivelling head, 2nd class double insulation and 1 anti-UV protecting glass. Easy to orientate the lighting thanks to its articulated arm. The swivelling ...
See the other products
ALBA

table lamp
TWO FLAGS by Ernesto Gismondi & Neil Poulton
... the body lamp and the just surrounding space on the other side. Depending on the version in which the body lamp is mounted, the emission can be oriented upwards or downwards to better exploit the features ...
See the other products
Danese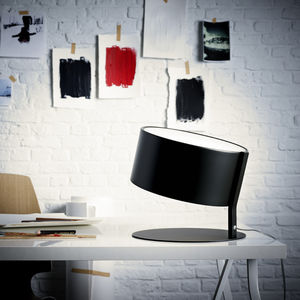 table lamp
BALANZA : 4324031LI|4324093LI
class II, IP20, 230V H304mm L310mm W341mm 54-1398-70714.23 white, metal 1x 105W E27 EcoClassic incl. - 1x 1980 lm approved for 1x max. 105W class II, IP20, 230V H304mm L310mm W341mm 54-1398-70858.95 anthracite, metal 1x 105W ...
See the other products
Lirio

floor-standing lamp
E.T. by Filippo Dell'Orto
It is a steel floor lamp, matt liquid-painted in the colours white, black or orange. It comes with PAR30 100w/220v-110v halogen bulb with dimmer control.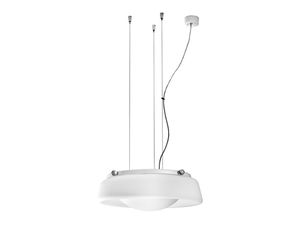 ... POWER FACTOR: >0.9 DIMENSIONS DIAMETER (MM): 600 HEIGHT (MM): 210 LAMPS COLOR RENDERING (RA): >80 LAMPS DESCRIPTION: 2 x 42W TC-TE GX24q-4 NUMBER OF LAMPS: 2 COLOR ...
See the other products
MARTINI Illuminazione

pendant lamp
LIGHTBOOK by Hervé Langlais
Model : Pendant light Lightbook Ref : Slbb Color : White diffusing – Red cord Collection : Lightbook Designer : Hervé Langlais Description :Created to showcase paintings or to illuminate a hallway, the pendant light Lightbook provides ...

table lamp
CARRY by Li, Hui Lun
... fast paced society, a must-have for any modern lifestyle. The lamp comes equipped with a USB adapter, specially designed for our technology enriched way of life. It offers desk and floor lamp, with two ...
See the other products
Seeddesign

table lamp
N°15.110 — PHASME M
With its retro-futuristic design, the Phasm M is the first model born from the rebirth of RISPAL. Drawing on the DNA of the brand, the M Phasm takes the main features of his ancestor the Mantis. The 15.110 is a real contemporary re-writing ...
See the other products
RISPAL

pendant lamp
WRIGHT by William Pianta
A spatial development harmoniously connected with the context where it is placed
See the other products
nahoor

Model 1 C A very beautiful ornated glass work with bronze studs supported by a ring-shaped base, making this a lovely floor lamp for a lounge Different finishes available Works with any type of bulb
See the other products
JEAN PERZEL

SURFACE LAMP STAND Multiplex or FENIX NTM® UGHT SOURCE S, L & XL: E27 max. 100W XS: E14 max. 40 W LAMP SHADE textile or frame with fabric No. 35, the original BALADA & CO. model, assumes a striking, ...
See the other products
BALADA&CO.

pendant lamp
SLIM BLACK 1/2/3
See the other products
Vicky Weiler Tung Design

table lamp
ONE : AX090 , AX091
ONE Table - Small AX090 SHADE: Ø280 X 200H BASE: 150 X 150 TOTAL HEIGHT: 500 E14 HALO 28W E14 FLUO 11W OR LED UL COMPATIBLE VERSION AVAILABLE
See the other products
Axis 71ba

... polished brass or powder coated aluminum or nickel plated steel hardware: powder coated brass wire: nylon 9 lb / 4 kg LED (included), 4,5W (see lightbulb section for specifications) G9 120V / 240V refer to ...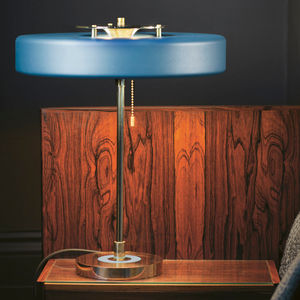 ... finial highlights, the Revolve Table Lamp makes a striking accent piece. A brass pull chain switch hangs over a solid brass base which features an inset colour ring to match the shade. H: 420mm W: 350mm 3 x G9 LED ...

With their classical good looks the Corcovado series of luminaires is suitable both for outdoors and indoors, for historical or museum settings but just as well for contemporary, representative contexts. The various Corcovado versions ...

table lamp
LOMINO & LUCIETTA
A few essential elements: a light bulb, a bent sheet metal and wire. The result is a surprising lamp. Instead of trying to hide the bulb, the designer has made it the main feature of his project: a brilliant head around ...