The Online Architecture and Design Exhibition

marble wallcovering
PANAMA
See the other products
KREOO

See the other products
KREOO

marble wallcovering
MERLETTO by Enzo Berti
Refined plots inspired by antique art of lace by a Venetian needle. A wise succession of circular motives skillfully woven into the marble, a refined plot worked into bas-relief that expands perfection of a particular elements which seem ...
See the other products
KREOO

bamboo wallcovering
M6431 HAMMERED GRAPHITE
Combining stunning real metal surfaces with the flexibility and practicality of laminate Addressing the latest interior trends with textured, sculpted, brushed and the new hammered effects in contemporary colour stylings the range offers ...
See the other products
FORMICA

PVC wallcovering
DECORAMIC PREMIUM

vinyl wallcovering
ALLEGRO
Use Wallcovering Content 100% Vinyl Backing Cotton , Osnaburg Cleaning Water-based (W) Weight Per Unit 20 ounces/linear yard (620 g/lm) Width 52 inches (132.1 cm) Color Family Black & Grey Pattern Type Geometric Repeat ...
See the other products
Design Tex

linen wallcovering
STENCIL
... metallic wash captures highs and lows of the emboss, adding visual interest at the wall. Made in the USA. Primary Use WallCovering Content 86.0% Vinyl (Face), 7.0% Post Consumer Recycled Polyester (Backing), 7.0% ...
See the other products
Knoll Textiles

cotton wallcovering
WILLOW
structure as if it has width folds composition vinyl finishing coat on a woven cotton backing width ± 130 cm, ± 51 inches weight ± 440 gr/m², ± 18 oz/yd¹
See the other products
Vescom

polyester wallcovering
RABANE : CULTE
Five senses Raffia threads claiming their artisanal origins, woven in contemporary graphics. Warm walls that we love to watch as much as touch and that remind us how beautiful natural materials are. Plus product : Handcrafted product Composition ...
See the other products
Elitis

fabric wallcovering
ARTISAN
... The wallcovering is made of pure, natural materials, from minerals and grasses to tropical plants. Experienced artisans pleat, weave and dye with boundless passion and patience. They turn these materials by hand into ...
See the other products
ARTE

oak wallcovering
5 MILLIMETRI - D10
5 MILLIMETRI is innovative, quickly fitted wooden cladding that can be applied to any existing surface. As thin as a second skin, it is a product created by Itlas for use in the restructuring and conversion of buildings and interior decor. ...
See the other products
Itlas

vinyl wallcovering
GLITTERIN'
52" Type II • 20 oz. Total weight: 20 oz. PLY/13.3 oz. PSY Backing: Osnaburg Width: 52" Repeat: N/A Match: Reverse Random
See the other products
Symphony

home wallcovering
SKYLIGHT
SKU: Y47286 52" Type II • 20 oz. Total weight: 20 oz. PLY/13.3 oz. PSY Backing: Osnaburg Width: 52" Repeat: 24"H X 17.3"W Match: Straight Match
See the other products
Vycon

vinyl wallcovering
ACADIA
Specifications Color Number – A178-503 Color Name – Lake Placid Width – 52/54 in (132/137 cm) Backing – Osnaburg Installation – Reverse hang / Random Weight – 20 oz/ly (452 gr/m²)
See the other products
Versa Wallcovering

fabric wallcovering
GALVANIZED™
This wallcovering presents a dimensional effect that is created through the troweling of a dense compound of our own creation. Based on the elemental simplicity of a vertical line, matte and metallic layers combine to ...
See the other products
Maya Romanoff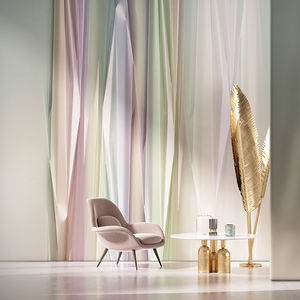 vinyl wallcovering
CHROMA | LIGHT ON A PRISM collection |
See the other products
Glamora

MDF wallcovering
DECOR : V0001
Line: DECOR Finishes: TEXTILE FINISHING : textile finishing Item code: V0001 Size: look at Tekna, Fonika and Akustika collections Sound absorption: in Fonika and Akustika collections Wall: Yes Fire Reaction: in Fonika Tekna ...
See the other products
SKEMA

ceramic wallcovering
Handmade ceramic 10x10
Handmade ceramic is that dimension 10x10 cm It can be used as wall and floor covering in anywhere. Available 30 different color varieties. It can be produced you wanted colors.
See the other products
Egem Mozaik Dizayn San.Tic.Ltd.Şti.

vinyl wallcovering
GILDED LINEN
The blended softness of a woven textile. Gilded Linen looks back to a hand-crafted tradition and moves forward with a mottled effect with the glimmer of colorful hope. Material: Vinyl Width1: 54 IN (1.37 M) Type / Fire Rating: Type ...
See the other products
Koroseal

vinyl wallcovering
COALESCE
Rectangles 9″ x 29″ 18″ x 29″ 14″ x 42″ Squares 29″ x 29″ Minimum Order: 100 ft2
See the other products
Vahallan Papers

vinyl wallcovering
KUSA | SHITAKE
"Textured Graphic with an Earthy Hand" -- Kusa's textured pattern takes on alternating movement and modern geometrics. A subtle emboss pairs with metallic highlights in 13 dynamic colorways. The result is a bold design that will make ...
See the other products
MDC Wallcoverings

leather wallcovering
CIPRIA ARGENTO
These leather collections conceived for fashion accessories are treated with highly innovative applications and processes that endow leather with metallic luminescence. Broken heart offers a unique craquelé effect that creates ever-changing ...
See the other products
Studio Art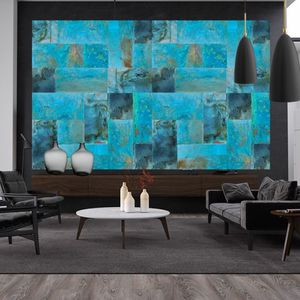 metal wallcovering
COPPER JADE BLUE
Patinated full copper sheet 0.5mm ( 0.020") thick. Wall tiles available in sheets : -25x25cm / 9.84"x9.84" -25x50cm / 9.84"x 19.69" -50x50cm / 19.96"x19.96" -50x100cm /19.96"x39.37" -20x100cm /7.87"x39.37" -100x200cm ...
See the other products
Lost Cowboys.com

vinyl wallcovering
FDN 5409
Category: Wallcovering Material: RAMPART Wall Protection Collection: RAMPART Design: WG Design Studio – Physical Properties Content: 100% Vinyl Backing: Osnaburg Finish: Surcoat stain- and abrasion-resistant ...
See the other products
Wolf-Gordon

limestone wallcovering
CENTRIA, ROCKEFELLER CENTER by Phillip Koether
Design 306 (2004) 14 inch module size within large slabs,CNC-cut in Indiana limestone by Digital Stone ProjectArchitect: Phillip Koether

wooden wallcovering
LAMIPAN™
... the production of the most traditional concepts in furniture manufacturing and the development of the most advanced ideas in house and office design. The unique quality of this product begins with the real wood veneers, ...

concrete wallcovering
LIBRA
See the other products
StoneLeaf