How to choose this product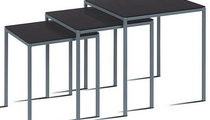 Nesting tables are of identical style but different size, enabling them to be stacked beneath one another, similar to Russian dolls.
Applications
While such tables are most often found in home living rooms, their practical, compact nature has brought them into professional use, as well. Ideal for small spaces, they are often composed of three pieces. They are also used as occasional tables in bedrooms and offices.
Technologies
Solid and veneered wood, metal, glass and other materials are used to make these tables. They come in many different sizes, leg and top configurations and colors.
How to choose
The stylistic repetition of a set of nesting tables adds a decorative note to the room. Thus, it is important that they complement the other furniture and accessories around them. The amount of space available also should be considered.
Advantages
- Minimal space requirement
- Simple to use
- Reasonably priced