How to choose this product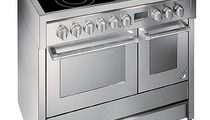 A range cooker is an appliance which includes a number of cooking surfaces often combined with two ovens or more. It may be gas, electric or a combination. On ArchiExpo, these items are categorized by properties including fuel source and function.
Applications
These appliances are compact and combine different cooking devices in a single unit. This saves space and is often easier to install. While those who do not cook often or have limited space may prefer a small range cooker, a large range cooker is ideal for preparing large quantities and different dishes at the same time. In professional kitchens, the range cooker may be subject to special hygiene and safety regulations.
How to choose
Consider choice of power source. While gas is often less expensive and offers more precise heat control, it is also considered less safe and may be harder to clean than electric models. Determine installation modality. The majority of range cookers are freestanding with the cooking surface at the same height as a standard kitchen worktop.

Other factors include quantity and type of food to be prepared, and required cooking speed. A convection oven circulates the air within, shortening cooking time and improving evenness of cooking.