How to choose this product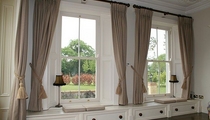 The sash window opens and closes by sliding one or more of its panels. Double-hung sash windows allow simultaneous opening at top and bottom. This type of window is common in the United Kingdom, Ireland and the United States.
Applications
These windows are frequently used in both residential and commercial settings.
Technologies
Sash window frames are usually made of PVC, wood, aluminum or an aluminum-wood combination to reduce heat loss.
How to choose
Choice of sash window will depend on the size of the room, the insulating qualities of the window materials and ease of washing.
Disadvantages
- Single-hung sash hard to wash