How to choose this product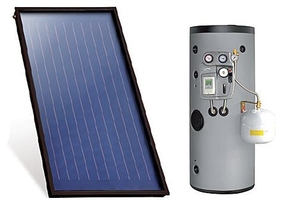 A solar water heater is used to heat water for commercial, public or residential buildings and even swimming pools using solar radiation. The system is includes a solar collector, often mounted on the roof, and an insulated storage tank. The collector may heat the water directly or indirectly, and may be active (using circulation pumps) or passive.

On ArchiExpo, these devices are arranged by properties such as type or backup energy source.
Applications
Many systems are connected to a backup system (e.g., gas or electricity) to provide hot water when the supply from the solar collector is outstripped by demand, as during cold weather or periods of limited sun light.
How to choose
Ensure that the system is suitable for the climate. For example, an indirect system may be required in areas prone to winter freezes. Determine the connection to existing hot water systems system capacity with respect to demand in both warm and cold seasons. Other factors include durability, maintenance requirements and the possibility of recycling components.

The panel should fit into the urban environment and comply with relevant building codes and regulations. Examine the details of guarantees and warranties and evaluate the likely energy savings and environmental advantages over the life of the system.
Advantages
- May save energy
- Renewable resource
Disadvantages
- Effectiveness is sunlight-dependent
- Type of system depends on climate