How to choose this product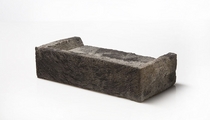 Solid brick is a block of building material which may be used for constructions such as load bearing and non-load-bearing masonry walls or cladding. Although traditional solid brick is made from clay, the term may be used to describe limestone and other types of block used in masonry walls. On ArchiExpo, solid bricks are categorized by properties such as use (e.g., load-bearing wall) or material.
Applications
This masonry may be chosen over others for its thermal mass, its strong compressive strength, ease of installation and durable finish.
How to choose
The brick should be appropriate for its intended use. Its properties and those of the mortar must comply with relevant building regulations governing thermal mass, load-bearing capacity, fire rating, etc. Reinforcement may be necessary to meet local seismic standards.