How to choose this product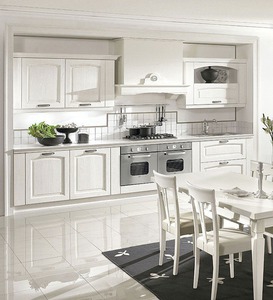 A classic kitchen offers a subdued, discreet, elegant and sober atmosphere. It combines conviviality and practicality with lines that never go out of style. It features extensive counter space and, often, cabinetry with molded decoration. Though more stylized than a contemporary kitchen, it retains simple lines.
Applications
While kitchens are primarily for meal preparation, they also provide storage for ingredients and cooked food. Food can be consumed at a kitchen bar or table if the room is large enough.
Technologies
The most common materials in classic kitchens are varnished or lacquered wood, wood laminates, wrought iron and stone.
How to choose
Choice will depend on available space, family size, cabinet material and desired configuration, for example, with or without an island.