How to choose this product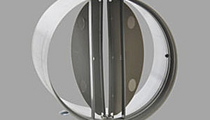 A one-way ventilation damper operates automatically and allows air flow in only one direction. It can be installed in an air conditioning, ventilation or smoke removal conduit. When its movable vane is closed, it also helps block the spread of fire. ArchExpo offers a wide range of draft stop and ventilation dampers along with other air conditioning and ventilation products.
Applications
These devices are used in air conditioning, ventilation and smoke removal conduits. They constitute a one-way valve allowing air to flow only in a single direction.
Technologies
Ventilation conduit dampers include ball, swing and lift check valves.