The Online Architecture and Design Exhibition
contemporary bar stool
M0071
See the other products
MASAYA
contemporary bar stool
WAKE by Christopher Panichella
Intended for contemporary offices and study areas where collaboration happens at every opportunity, Wake provides a selection of casual seating options designed to stimulate interactions and create a relaxed setting for achieving any ...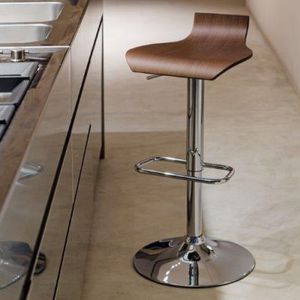 contemporary bar stool
EGO SG405GAS LEGNO
Stool Ego SG405gas, gas lift frame, plywood or regenerated leather seat.
See the other products
Friulsedie Sud by Dalmasson
contemporary bar stool
PEBBLE by Welling & Ludvik
... used for both a quick cup of coffee by the kitchen table, drinks and snacks by the bar and extra seating by the dining table. The design of the Pebble stool and bar stool ...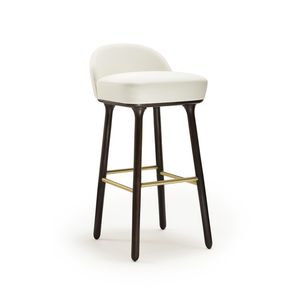 contemporary bar stool
BEETLEY
... legs. The Beetley is available in seven styles – sofa, armchair, dining chair, bridge chair, small bridge chair, bench and bar stool – and is customisable in all formats, with a choice of fabrics and ...
contemporary bar stool
FIFTY/UP
... uprightness, these are the strengths of Fifty/Up. A stool, proposed in two different heights, destined for whoever is looking for the right product: beautiful, robust and functional, for insertion in a bar, ...
contemporary bar stool
4A
Designed to sit comfortably with most counter-tops, the barstool also features a useful footrest. Made using both extruded and stamped recycled aluminium, which is then subject to hand finishing before surface treatment Product ...
See the other products
EOQ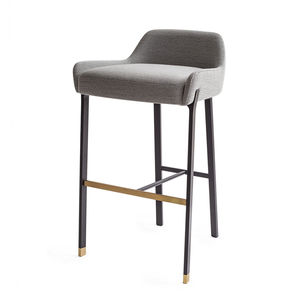 contemporary bar stool
BLINK by Yabu Pushelberg
CODE: BL-S610-750 DIMENSIONS: W516 x D512 x H867mm Seating height: 750mm MATERIALS: Powder coated steel frame, Brass plated stainless steel, Upholstered frame
See the other products
STELLAR WORKS
traditional bar stool
SIMONE
Simone is our series of stools in different heights and colors. Whatever height they can all be stacked. The lowest is 45cm in seat height and the highest is 78cm. This makes them great a barstools set ...
original design bar stool
NA3 by Norm.architects
... create a unique piece of furniture that combines simplistic purity with a discreetly aged look. The sandblasted surface of the stool legs, accentuate the structure of the wood, while the triple legs have the playful appearance ...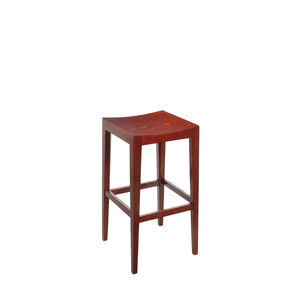 contemporary bar stool
C-0504/46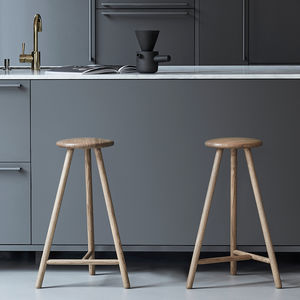 contemporary bar stool
LINEA PERCH by Wesley Walters & Salla Luhtasela
MATERIALS oak SURFACE FINISH natural oil mixture or black stain DIMENSIONS Width 370 mm Depth 410 mm Height 630 mm
See the other products
Nikari
contemporary bar stool
EXTRU by Laurent Minguet
Indoor and outdoor bar stool. Made of polyethylene with a rotomoulding manufacturing technique, UV resistant and 100% recyclable. 9 standard colors : Acid Green, Black, Blue, Brown Grey, Green, Orange, ...
See the other products
MIIING
traditional bar stool
GÄSTIS by Åke Axelsson
Measurements: W: 425mm D: 445mm H: 850/985mm Weight: 4kg/5kg Volume: 0,19m³/0,27m³ Bar stool in natural beech. Two seat heights 650/ 785 mm. Seat in veneer or upholstered in fabric or leather. Plastic glides.
contemporary bar stool
LINKS by Purim Kraiya
... , the product also fully communicates the continuation of the INF Collection with more concern about sitting. This Links Stool Bar bares the clear material. Purim K. mentioned about Metal that Metal should ...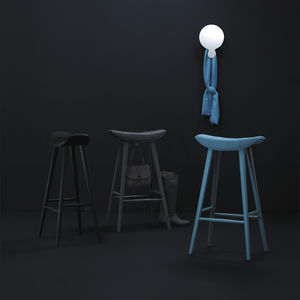 contemporary bar stool
KYA by Neuland, Paster & Geldmacher
... means of plain but distinctive double stitching which gives the bar stool its characteristic saddle-look. The vibrancy of the material and the artisan workmanship involved in creating the stool ...
See the other products
FREIFRAU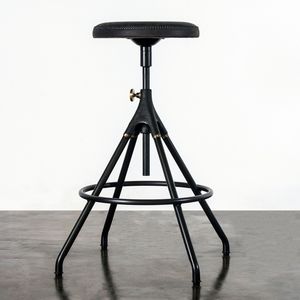 contemporary bar stool
AKRON
Designed with a contemporary iteration of the industrial task stools in mind, the Akron stools feature brass detailing and hand stitched leather seats with a frame of cast iron and tube steel.
See the other products
District 8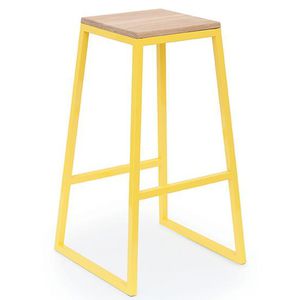 contemporary bar stool
DOLLY
A visually light but sturdy bar stool with an oak seat and foot rests. The simple frame has been powder coated giving a durable, practical and eye-catching item of furniture. Designed and made in the ...
contemporary bar stool
BLOOM by Aldis Circenis
Bloom Bar stool made of moulded plywood. The waved shape of the legs makes it possible to reduce the thickness of the structure to 6 mm. The result is a very light yet sturdy bar stool, ...
See the other products
Riga Chair
contemporary bar stool
LAGARTO
Stool made of galvanized steel, polyester powder coated. Suitable for outdoor, indoor, and contract use.
See the other products
iSi Contract
contemporary bar stool
DISCO by Marco Capeto
It is a contemporary reinterpretation of the classical bar stool by using lively and trendy colours. Composed of a stool frame with rectangular steel profiles and a seat made by overlaying ...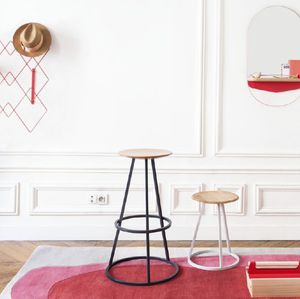 contemporary bar stool
GUSTAVE by Charles Seuleusian
This high stool is the elder brother of small Gustave. Its size will fit with high tables and bars. MATERIALS Seat made of solid oak, with fine details and mat finishings. Legs made of lacquered metal. DIMENSIONS ...
See the other products
Harto
contemporary bar stool
DEDO by Miniforms Lab
Low L 30 x P 30 x H 46 Medium L 30 x P 30 x H 67 High L 34 x P 31 x H 76 Stool with ergonomic seat in solid oiled beech and a solid steel structure. It's particularly versatile and suitable for any environment.
See the other products
miniforms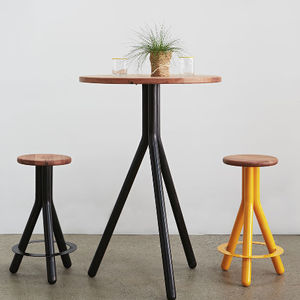 minimalist design bar stool
PIPE SERIES
The pipe series was developed in response to a brief calling for raw furniture with a simple narrative. The design evolved as a result of exploring the use of raw untreated materials, and how they can be Incorporated into robust affordable ...
See the other products
LifeSpaceJourney
contemporary bar stool
GRAY by Fabio Bortolani
... appreciate the wonderful appeal of the pieces of furniture designed by Eileen Gray. This stool pays humble homage to her delightful, much-loved designs. Barstool. Lacquered steel frame. Chrome-plated ...