The Online Architecture and Design Exhibition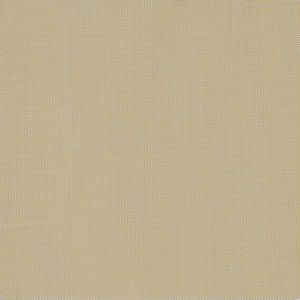 upholstery fabric
CANNAGE
Usage blinds cushions curtains seats Composition100% PES Trevira CS
See the other products
TOILES DE MAYENNE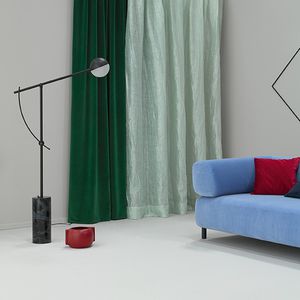 upholstery fabric
CORD 2.0
... favourite fabric. With retro charm, contemporary colours and new product properties cotton velour in that typical ribbed texture is now carving itself a place back in interiors. The texture now runs continuously along ...
See the other products
NYA NORDISKA TEXTILES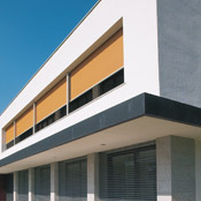 pleated blind fabric
REFLECT AIR
Take a deap breath. Reflect Air spoils you with a combination of optimal anti-glare and heat protection properties. At the same time, its regular perforation enables a view to the outside. Wherever an open airy atmosphere is required, ...
See the other products
Sattler AG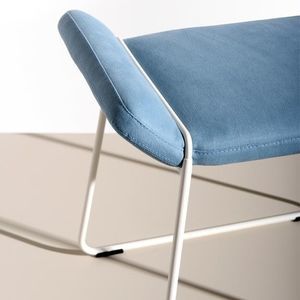 ... slightly textured 100% cotton fabric brings a touch of natural elegance with atmosphere for all interiors. Soft and reassuring it is a great classic in 40 colors, bold, neutral and pastel. It only needs a destination ...
See the other products
LELIEVRE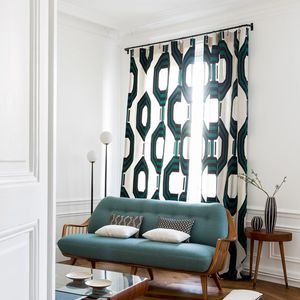 curtain fabric
MITFORD : OCEAN
... creates a strong impact to this linen ground. COMPOSITION 65% Linen 35% Acrylic ORIGIN India PATTERN BOOK Sidney USE Curtains
See the other products
Larsen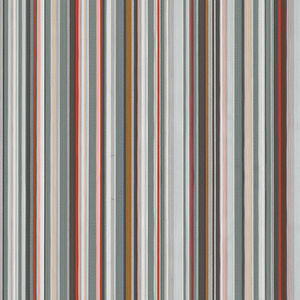 Calico-woven transparent/ in between fabric. Floor-to-ceiling curtain fabric. Multi-coloured, striped pattern. Inspiration: vintage, colour games, mix with contrasts. Specifications ...
See the other products
DePloeg
upholstery fabric
CASABLANCA
Raw fabrics in natural fibers. Wide range of structures. Plains, piqué, embossed, jacquards, striped Application: upholstery, furnishing covers, curtains, bedspreads, cushions, draperies. Width: cm. ...
See the other products
SIMTA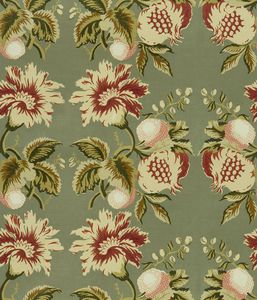 curtain fabric
JESSUP by Oscar De La Renta
... cleaning products) Finish Treatment: GLAZED Fire Code: UFAC Class 2 Repeat Height: 28" Repeat Width: 24" Direction: Up The Bolt Fabric Width: 48" Collection Name: Oscar de la Renta II Designer Collection: Oscar De La ...
See the other products
Lee Jofa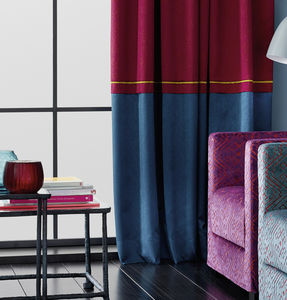 Product No.: 2640-10 Opulent decorating fabric with a small pixel design. Composition: 42PES/37CO/21PAN Width: 130 cm
See the other products
SAHCO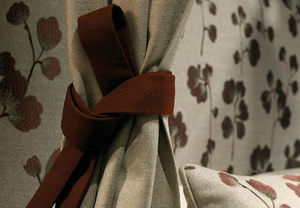 curtain fabric
CITY INTERIORS
... offers the finest cashmere and merino wool blended with linen or silk, the perfect solution for upholstery and decor. These fabrics arc also ideal for wall coverings: the insulation offered by the natural fibers cuts ...
See the other products
Loro Piana
curtain fabric
MIDSUMMER : HELENA
COMPOSITION : 89% Viscose / 11% Polyester Midsummer Night Dream, the famous play of Shakespeare, inspires us to create this fresh, romantic and colorful collection. The various characters in the play - such as Titania, Helena, Teseo, ...
See the other products
PEPE PENALVER
... minutes. Use detergents for delicate items. Do not use aggressive detergents or containing optical whiteners. We recommend fabric softeners and tumble drying. Instead of ironing the garment we exclusively recommend to ...
See the other products
MASTRO RAPHAËL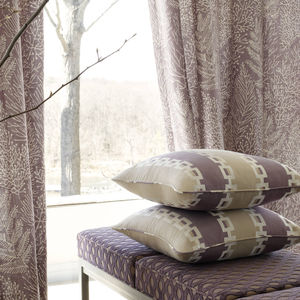 curtain fabric
ARIA : STACKHOUSE
Pattern STACKHOUSE Printed Fabrics CollectionAria ColorwayPurple ContentLinen - Soften/Shrink Finish Width 53.93" (136.98 cm) Repeat H25.25" (64.135 cm) Repeat V25.25" (64.14 cm) Abrasion20.000 ...
See the other products
Thibaut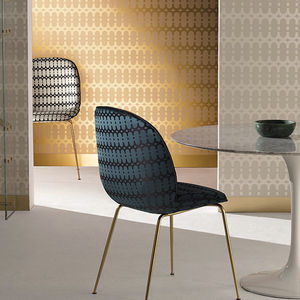 upholstery fabric
LOOPY LINK
... ground. It delivers a great shimmering surface and describes the design with perfect detail whilst also creating depth. This fabric works well both as a drape and on upholstery." – Jordan Mould Collection Kirkby ...
See the other products
Kirkby Design
upholstery fabric
CASTEL 60
140 cm - 100% Linnen – 470 g/m2 - Martindale 30.000 cycles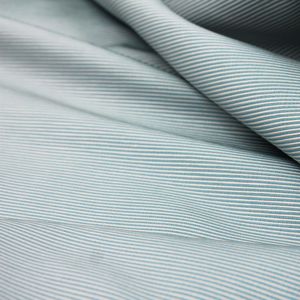 upholstery fabric
ESSEDECOR
See the other products
My Domus srl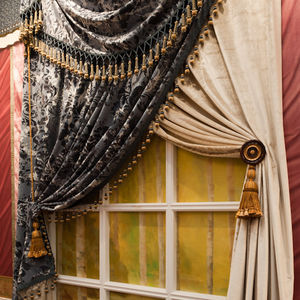 curtain fabric
BONAPARTE : RUSSE
... interpretation of the lyon silk damasks hanging in saint-cloud technique: standard: painted background: velvet repeat: fabric width 145 cm / 57". repeat of the shadow repeat: 105cm / 41"
Soft arched pleating Up to 3 m width of film so that it is possible to shade large format façade elements with one single system Fold distance between pleats can be selected between 30 and 100 mm Ensures harmonious internal and external ...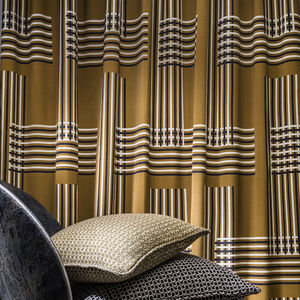 upholstery fabric
REGARDS CROISÉS
... seem to glance at one another before intersecting on the velvety base. Wool, a natural and distinguished material, gives the fabric character and softness. With its light and airy texture, "Regards Croisés" will frame ...
See the other products
MISSIA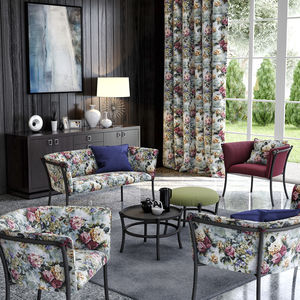 upholstery fabric
BLOOM 2150
This is a collection of prints divided into 140 high fabrics in linen and cotton and 280 high one in 100 %cotton . Perfect for upholstery and decoration. All of them are digital prints.
See the other products
IV design studio
a plain blackout range for rooms that need complete darkness with a colour range that will add style to the interior design
See the other products
FR-One
Transparent No Style Design Composition Acrylic 64%, Polyester 15%, Viscose 15%, Wool 6% Height/ Width ± 310 cm Weight ± 220 gr/m2 or 682 gr/m Pattern repeat ± Height: 57,5 cm/ Width: 78,7 cm Colorfastness Class 5 Shrinkage ...
See the other products
Kobe Interior Design
upholstery fabric
FROZEN FUSION: CRYSTAL
Width: 140 cm / 55.12* Straight match: 22,5 cm Composition: 53PES/47VI
See the other products
Hooked on Walls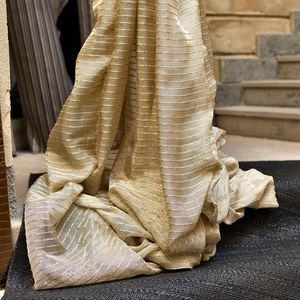 upholstery fabric
EFFECTS : A-1344
Only available in a very subtle platimun,silver and black colour, this EFFECTS fabric is manufactured in polyester, hence its special bright and lightfullsurface.
See the other products
NATURTEX
Taffeta collection, Dupioni silk blend, silk warp and polyester weft. ( 88% Polyester, 12% Silk) 20 colours Width : 300 cm - 118"1/8
See the other products
Houles