The Online Architecture and Design Exhibition
curtain fabric
LOIRE : CHENONCEAU
... Loire castles and French palaces, has contributed to the creation of this classic and elegant collection. We have combined floral prints, that are inspired by the ancient documents (Chenonceau); velvet damask Jacquard ...
See the other products
PEPE PENALVER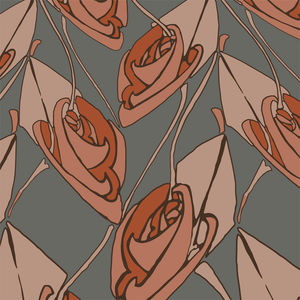 upholstery fabric
ROSEYN DRAPPAL by Archibald Knox
... in period fabrics - but we also have beautiful modern designs as well. All our elegant upholstery and curtain fabric is available with a flame retardant finish and, of course, meets all UK and international ...
See the other products
Loome Fabrics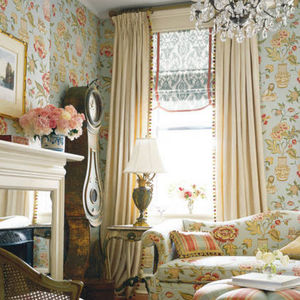 upholstery fabric
FAIRFAX :
Pattern MARRAKESH Printed Fabrics CollectionFairfax ColorwayAqua Content25% Linen, 75% Cotton Width54.00" (137.16 cm) Repeat H54" (137.16 cm) Repeat V36.00" (91.44 cm) Abrasion90.000 Wyzenbeek NotesDry ...
See the other products
Thibaut
upholstery fabric
TRELLIS
Specifications Content 100% FR polyester Weight 13.5 ± 1.0 oz./lin. yd. Width 72" min. useable Repeat 20.8" vertical, 18.9" horizontal Backing none Treatment FR antimicrobial
upholstery fabric
Mf1 : PLATANO
Technical features Colour: 15114 - Beige Content: 100% Tempotest Solution Dyed Acrylic Gr/ln: 480 Martindale: 20000 Light fastness: 7-8 Vertical repeat: 23 cm / 9" Horizontal repeat: 36 cm / 14 1/5" Width: 140/55"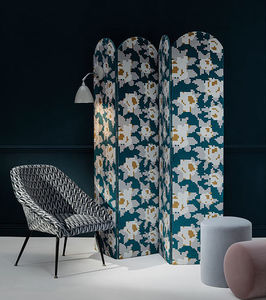 upholstery fabric
PEG ART ROSES
... "Floral motif pushed to its limit. An abstract collection of coloured dots at close inspection, from a distance the image transforms into a tableau of sweet smelling roses." – Eley Kishimoto "Kirkby Design aren't ...
curtain fabric
ATMOSPHERE : SIROCCO
is a young and fresh collection combining beautiful cotton and polyester fabrics. Mistral, suitable for both drapery and upholstery, is a simple and beautiful stripe with a satin and ottoman binding. Sirocco and Tramontana ...
See the other products
WIND
curtain fabric
LINDE STROKE / 8037
Print, design & textile in beautiful interaction Kurage curtain textiles are hand printed, which means that each piece of fabric becomes unique due to small differences. Our textiles ...
upholstery fabric
ERREERRE
See the other products
My Domus srl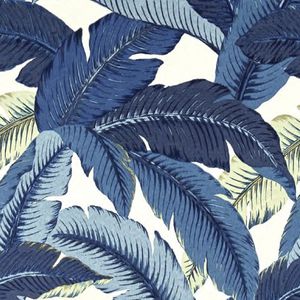 upholstery fabric
DECO : JUNGLE
... dominating the interior, these chairs will serve as the perfect accent pieces. The fabrics are suitable for both indoor and outdoor use. FABRIC SPECIFICATION FABRIC TYPE: Screen ...
See the other products
366 Concept
upholstery fabric
IDYLLE À RIO
... linen fabric portrays a luxuriant garden, an exuberant jungle in the style of the French artist Henri Rousseau, known as "Le Douanier" (the customs officer). Brightly coloured, shimmering flowers are digitally printed ...
upholstery fabric
ALKEMIA GRAPHIC PLUS AU
Alkemia Graphic is an extremely beautiful and soft polyester microfiber fabric manufactured with state-of-the-art textile techniques. Alkemia Graphic is finished with a thermal transfer printing technique ...
See the other products
Flukso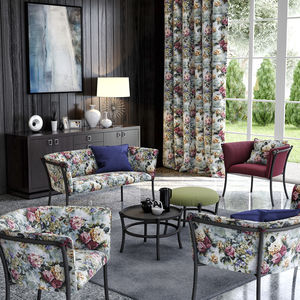 upholstery fabric
BLOOM 2150
This is a collection of prints divided into 140 high fabrics in linen and cotton and 280 high one in 100 %cotton . Perfect for upholstery and decoration. All of them are digital prints.
See the other products
IV design studio
a drapery fabric with a stylised flower motif and lustre effect
See the other products
FR-One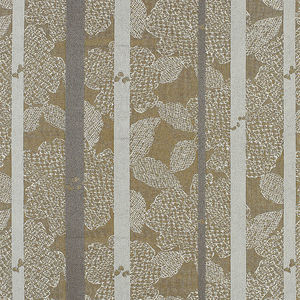 upholstery fabric
BIG FLORAL STRIPE by Mary Jo Miller
APPLICATION Upholstery CONTENT 63% rayon, 37% polyester WIDTH 54" REPEAT 14" V x 19" H (fabric shown railroaded) WEIGHT 19.50 ounces per linear yard FINISH Immersion stain resistant BACKING Acrylic ABRASION 51,000 double ...
upholstery fabric
CLEMENCE
Transparent No Style Design Composition Cotton 40%, Viscose 60% Height/ Width ± 135 cm Weight ± 365 gr/m2 or 493 gr/m Pattern repeat ± Height: 45,7 cm/ Width: 22,5 cm Colorfastness Class 6-7 Usage LD Light Domestic ...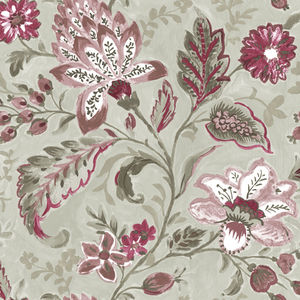 upholstery fabric
ARLES 25 TEFLON : 03.40725/45
Composition:95%PES 5%LI Warp wash shrinkage:-0,70 % Weft wash shrinkage :-0,40 % Useful width:140 cm. Rapport design:0,00 cm. Rapport orientation:Weft Weight m²:371 g. Lightfastness:5/6 Pilling resistance:4 Abrasion Resistance:40000
See the other products
Ka-International
curtain fabric
SWEET LUXE: LUSCIOUS
Width: 138 cm/54.33" Straight match: 84 cm Composition: 46PES/36VI/18LI
See the other products
Hooked on Walls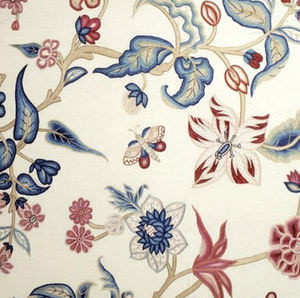 upholstery fabric
LILIES,MAGNOLIA & CHRYSANTHEMUMS
... chrysanthemums, with a butterfly in flight. Faithfully recreated by hand with great attention to detail. STYLE NUMBER F114 FABRIC CONTENT 55% LINEN 45% COTTON PATTERN REPEAT 74 ″ EMBROIDERY WIDTH 44.5 ″
See the other products
CHELSEA TEXTILES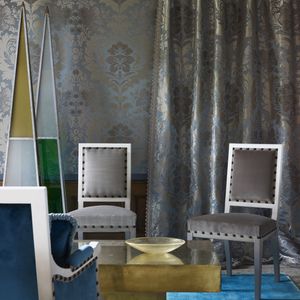 Large damask fabric with classic motifs of flowers and acanthus leaves in silvery and iridescent shades. (36% Linen, 24% Viscose, 20% Silk, 20% Acetate) 7 colours / Width : 140 cm – 55"1/8 Pattern height 64 cm (25" 1/4), ...
See the other products
Houles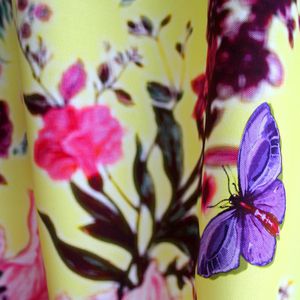 upholstery fabric
BUTTERFLY BLURR
BUTTERFLY BLURR FABRIC WIDTH (MM) : 1310 REPEAT (MM) : 964 STYLE : STRAIGHT OVER MATERIAL : 100% COTTON SUITABILITY : DRAPERY AND LIGHT UPHOLSTERY MIN ORDER : 1 METRE MARTINDALE : 40000
See the other products
Timorous Beasties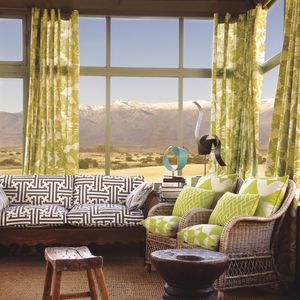 upholstery fabric
AFRICAN QUEEN
See the other products
Gastón y Daniela
curtain fabric
EDWARD DIMOUT
... ISO 105‑B02 note 3-4 Wash fastness 40°C DIN EN ISO 105‑C10 note 4-5 Fabric relaxing washing 40°C DIN EN ISO 6330 DIN EN ISO 5077 warp approx. +/-1%, weft approx. +/-1 % Fabric relaxing dry clean ...
See the other products
Delius GmbH
N. of colors : 5 Width : 138 cm Horizontal pattern repeat : 69.2 cm Vertical pattern repeat : 34 cm Weight : 673 g/ml Composition : 67% Viscose,29% Lin,4% Polyester Martindale : 10000
See the other products
CASAL SA
upholstery fabric
FRÜHLINGSZAUBER (P1)
The magic of spring led to the first print design of the Seidenweber Collection®. Watercolours of grasses and colourful flowers inspired to this generous all-over design. The intense colours of the flowers on natural silk and its soft ...
See the other products
Plauener Seidenweberei GmbH