The Online Architecture and Design Exhibition
upholstery fabric
OASI : EDEN
Code: 2028 Width: 150 cm Weight: 937 Gr/ml Composition: 100%PP Repeat(Vertical): 44.00 cm Repeat(Horizontal): 31.00 cm Martindale: 30.000 Rubs Aditional notes Outdoor-Indoor
See the other products
DECORTEX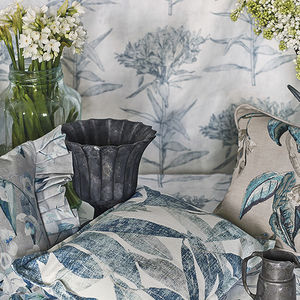 upholstery fabric
GARDENIA : ARBORETUM
Description Inspired by elements of nature, delicate leaves overlap to create a striking and memorable design suitable for statement upholstery and drapes. Collection Gardenia Composition 53% LI 35% CO 12% PA
See the other products
ROMO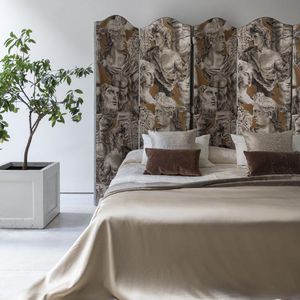 upholstery fabric
GENTRY : SCULPTURE 0X
... mixed with modernist trends in architecture and landscape design. We revisit this style through textiles like jacquards, silks, embroideries and printed fabrics, all wraped in an harmonious colour palette. Weight226 ...
See the other products
LIZZO
upholstery fabric
ISO NOPPA by Vuokko Eskolin-Nurmesniemi
A heavyweight printed cotton fabric in an off-white and black Iso Noppa pattern. The pattern was designed by Vuokko Eskolin-Nurmesniemi in 1954. Please order carefully. Cut fabric cannot be returned. Size ...
See the other products
Marimekko Corporation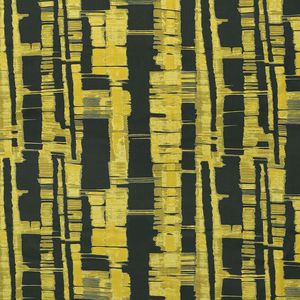 upholstery fabric
DREAMS BY DAVID ROCKWELL : WATERCOLOR WASH
An abstract watercolor painting evocative of blurred city lights was used to create this dramatic linen print. Soft edges and textured layers contrast with deeply hued backgrounds for a graphic, modern appearance. The boldly scaled, linear ...
See the other products
JIM THOMPSON
upholstery fabric
PURE FOTA
In Iceland the term fotaband refers to a decorative tie used for securing skirts below the knee when riding side saddle. Pure Fota from Morris & Co. takes its geometric design from a fotaband in William Morris's own collection. Product ...
See the other products
MORRIS & Co.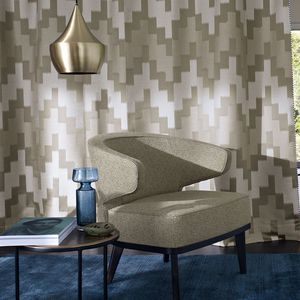 upholstery fabric
ZIMMER + ROHDE : ENSEMBLE
... combination of surfaces, colours, patterns and discreet single-colour fabrics all create a universe of harmony and rhythm for every room. Elegance is the force behind this attractive upholstery fabric. ...
See the other products
Zimmer + Rohde GmbH
upholstery fabric
COUNTRY GARDEN
Romantic inspiration to bring brightness to your home The incredible variety of unique flowers in a botanical garden has inspired us to create this collection of beautiful digital prints. This double width collection includes 6 different ...
See the other products
ALHAMBRA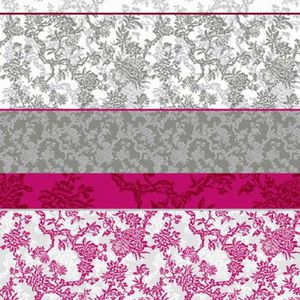 upholstery fabric
MARIE ANTOINETTE
Base cloth: BACH. 1/2 NATTE Pattern repeat: 82CX68T Width: 280 L Composition: 100CO Structure: 30/12 24/12 Weight: 245 g/m² Removing washing: Chaine: -5% Martindale: 19750 Lightfastness: 5 Tensile strength: chaîne: 5.27daN trame: 2.59daN
See the other products
Olivier Thévenon Selection
upholstery fabric
UNIVERSE : VIRGO
This Trevira collection is composed of four high-end roomhigh qualities in iridescent colours. Typical for this collection, are the washability and the flame retardancy. Netpune, a medallion and Virgo, an all-over stripe are made from ...
See the other products
WIND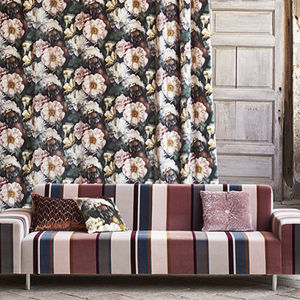 upholstery fabric
HERBARIA : NADOR
Nador Verbena 1 Description An exceptionally tactile cotton velvet featuring a contemporary block stripe in a mix of trend setting shades. Collection Herbaria Composition 67% CO 24% PL 9% VI Pile: 100% CO
See the other products
BLACK EDITION
upholstery fabric
BRISA® : MOKUME
... Breathable. Natural. Introducing Mokume [mo-koo-meh] - an innovative new member of the Brisa® family of intelligent performance fabrics. Its name derived from the Japanese characters Moku, meaning "tree," and Me, meaning ...
See the other products
ULTRAFABRICS
upholstery fabric
ADEPT : BRILLIANT
Specifications Content 68% pre-consumer recycled polyester 32% post-consumer recycled polyester Weight 11.4 ± 1.0 oz./lin. yd. Width 54" min. useable Repeat .3125" vertical | none horizontal Backing acrylic backcoating Treatment stain repellent
See the other products
Guilford of Maine
upholstery fabric
AFRICA : LINYANTI
Technical features Colour: 22 - Turquoise Content: 100% Tempotest Solution Dyed Acrylic Gr/ln: 620 Martindale: 20000 Light fastness: 7-8 Vertical repeat: 22 cm / 8 2/3" Horizontal repeat: 17,5 cm / 6 4/5" Width: 140/55"
See the other products
Elledi srl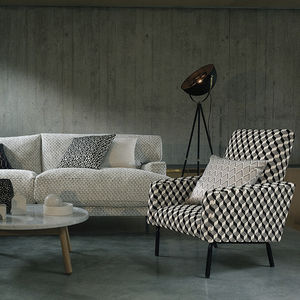 upholstery fabric
TANGRAM
Description Captivating formations of shapes create this striking geometric weave. Tangram features a luxurious mix of textures with contrasting areas of satin and chenille that add depth and substance. Collection Arco Geometrics Composition ...
See the other products
Kirkby Design
curtain fabric
BOTANIQUE / 8125
Kurage curtain textiles are hand printed, which means that each piece of fabric becomes unique due to small differences. Our textiles can turn the interior design into an aesthetic whole ...
See the other products
Kurage
Combination of jacquard and printed fabrics in fresh and pleasant colours. Tartan, striped, floral and plains. Application: upholstery, draperies, furnishing covers, bedspreads, curtains, cushions. Width: cm. 280 Composition: cotton, ...
See the other products
SIMTA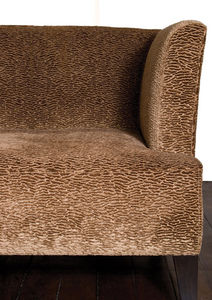 upholstery fabric
ASTRAKHAN
Width cm 140 55,1'' Composition S36 C40 BO24 - Pile S60 BO40
See the other products
COLONY
Gypsum Board Facing Gypsum facer is a glass mat fabric that is designed to be used as a replacement for the traditional paper facer that is on many gypsum boards. Replacing paper facings with glass mat facings not ...
curtain fabric
ROOM TO RELAX : ARLEEN
... :JAB ANSTOETZ FABRICS Number:9-7756-082 Colour variations:8 Quality:Decoration fabric, Woven, Jacquard Material:100% polyester Properties:Flame-retardant Width/Length:140 cm/55" P Length of repeat:4 ...
See the other products
JAB ANSTOETZ
upholstery fabric
B7613001 LES BUVEURS FLUO
Composition Polyester : 100% Colour: Original Style: Contemporary Technical information Weight : 270 gr Width: 96 cm / 37.79 inch Type of repeat: Horizontal 96 cm / 37.79 inch - Vertical 93 cm / 36.61 inch
See the other products
PIERRE FREY tissus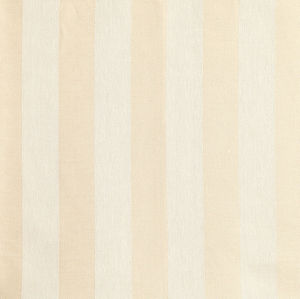 upholstery fabric
CAVALAIRE
Usage blinds curtains cushions Composition100% Lin
See the other products
TOILES DE MAYENNE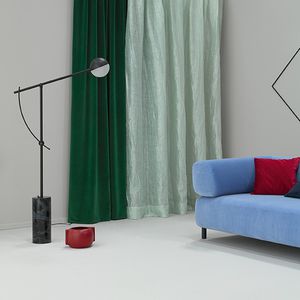 upholstery fabric
CORD 2.0
A topical comeback of a favourite fabric. With retro charm, contemporary colours and new product properties cotton velour in that typical ribbed texture is now carving itself a place back in interiors. The texture now ...
See the other products
NYA NORDISKA TEXTILES
upholstery fabric
CROSSROADS
60% Viscose, 26% Linen, 7% Polyester, 7% Nylon WIDTH: 55" (140cm) Horizontal Repeat: 27" (68.6cm) Vertical Repeat: 6.5" (16.5cm) 8.4 oz/sq yd Woven in Italy 3,000 WYZENBECK (DOUBLE RUBS) PILLING RESISTANCE (ASTM D3511-99A) - CLASS ...
See the other products
JOHN HUTTON TEXTILES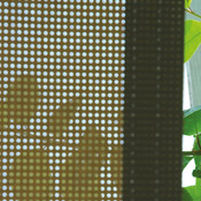 pleated blind fabric
PERFORA
... anti-glare properties • High transparency • Energy savings due to natural lighting • Reduced heat accumulation underneath the fabric • Pleasant, open room climate due to good ventilation and brightness
See the other products
Sattler AG