The Online Architecture and Design Exhibition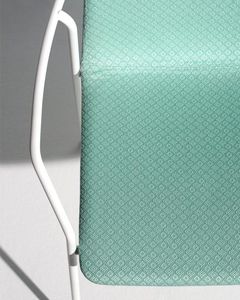 upholstery fabric
COLIBRI
... natural look to complement all decors. This fabric can be used easily with the other fabrics in the collection to create upholstery. The small scattered motif is in light relief in the tradition of horsehair ...
See the other products
LELIEVRE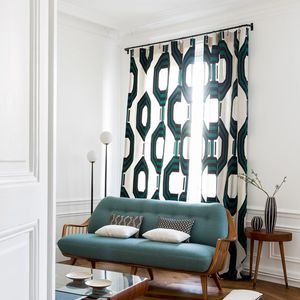 curtain fabric
MITFORD : OCEAN
A large spectacular square medallion in two colourways creates a strong impact to this linen ground. COMPOSITION 65% Linen 35% Acrylic ORIGIN India PATTERN BOOK Sidney USE Curtains
See the other products
Larsen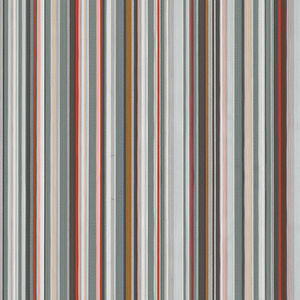 Calico-woven transparent/ in between fabric. Floor-to-ceiling curtain fabric. Multi-coloured, striped pattern. Inspiration: vintage, colour games, mix with contrasts. Specifications specifications Articlenumber0104070000 ...
See the other products
DePloeg
wall fabric
TINSELTOWN - 5791
Color A-List White Bolt Size 15-22 Yard Bolts Minimum order 30 YARDS Order increment 1 Yards Width 30 inches trims to 27 Fire Rating ASTM E84 Class A Maintenance Wipe Gently Shipping Class B Horizontal Repeat n/a Vertical Repeat n/a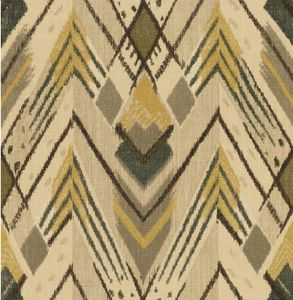 upholstery fabric
SYRIE by Oscar De La Renta
... dry cleaning products) Finish Treatment: PRESHRUNK, SOFTENED Repeat Height: 19" Repeat Width: 18.25" Direction: Up The Bolt Fabric Width: 55" Collection Name: Oscar de la Renta II Designer Collection: Oscar De La Renta ...
See the other products
Lee Jofa
upholstery fabric
JUTENON EC
Natural material-based (jute, coconut fibres) nets serving as anti-erosion slope protection materials. The products help the vegetation to quickly and firmly take a root in the soil, protecting it from drying-out at the same time. Application: ...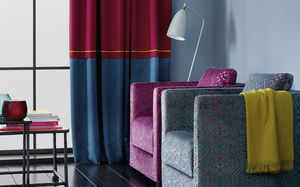 Product No.: 2641-06 High-quality cut and loop velvet with a geometric and fancy pattern. Composition: 71CV/29CO Width: 136 cm Rapport: 17 cm
See the other products
SAHCO
upholstery fabric
MANITOU STRIPE FH
content: 68% COTTON, 32% VISCOSE width: 55" repeat: horizontal - 14" country of origin: ITALY stock: STARK DISTRIBUTION CENTER category: COTTON STRIPE
See the other products
STARK CARPET
GAVATEX fiber glass fabrics, thanks to their solid construction and structure, can offer innovative solutions able to meet the strict specifications set by public, commercial and residential building. GAVATEX fabrics ...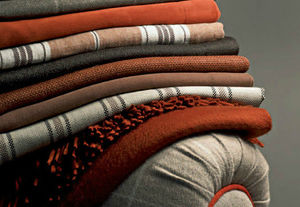 upholstery fabric
MOUNTAIN INTERIORS
Loro Piana's signature cashmere is perfect for warming the interiors of mountain homes. The fabrics in 100% cashmere or wool and cashmere blends come in a wide assortment of patterns, solid colors, stripes and checks, ...
See the other products
Loro Piana
upholstery fabric
BETWIXT
... make this a perfect fabric to layer into rooms, for use as seating, pillows, curtains and wall upholstery. Fabric SKU - 65680 Width - 54" Horizontal Repeat - 1.625" Vertical Repeat - 1.375" Abrasion ...
See the other products
F. SCHUMACHER & CO.
curtain fabric
MIDSUMMER : HELENA
COMPOSITION : 89% Viscose / 11% Polyester Midsummer Night Dream, the famous play of Shakespeare, inspires us to create this fresh, romantic and colorful collection. The various characters in the play - such as Titania, Helena, Teseo, ...
See the other products
PEPE PENALVER
... minutes. Use detergents for delicate items. Do not use aggressive detergents or containing optical whiteners. We recommend fabric softeners and tumble drying. Instead of ironing the garment we exclusively recommend to ...
See the other products
MASTRO RAPHAËL
wall fabric
CREAGLAS FIBER VG K
Decorative glass fiber fabric with pigmented factory prime coat and water-activatable adhesive layer on reverse, four textures available, for time-saving wall-papering and coating.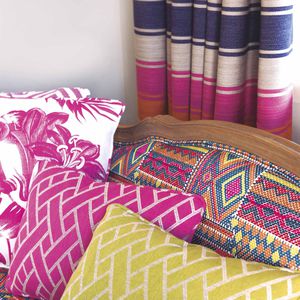 upholstery fabric
AFRICAN QUEEN
See the other products
Gastón y Daniela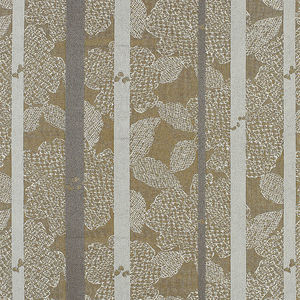 upholstery fabric
BIG FLORAL STRIPE by Mary Jo Miller
APPLICATION Upholstery CONTENT 63% rayon, 37% polyester WIDTH 54" REPEAT 14" V x 19" H (fabric shown railroaded) WEIGHT 19.50 ounces per linear yard FINISH Immersion stain resistant BACKING Acrylic ABRASION 51,000 double ...
See the other products
HBF Textiles
... 105‑C10 note 4-5 Fabric relaxing washing 40°C DIN EN ISO 6330 DIN EN ISO 5077 warp approx. +/-1%, weft approx. +/-1 % Fabric relaxing washing 60°C DIN EN ISO 6330 DIN EN ISO 5077 warp approx. +/-1%, ...
See the other products
Delius GmbH
upholstery fabric
MAVERICK
MAVERICK COLLECTION turns out to be a combination of the modern and the timeless. The strong colors mixed with glazes united by shadows in the form of shadows, superimposed on backgrounds of clear character. The disguised stripes composing ...
See the other products
COMERSAN, S.A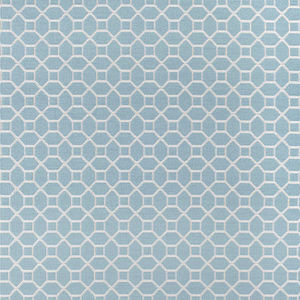 upholstery fabric
WOVEN 7 COMPANIONS : NEXUS
Pattern NEXUS Woven Fabrics CollectionWoven 7: Companions ColorwayAqua Content 66% Cot,20% Ray,14% Pol-acr ba Width 54.00" (137.16 cm) Repeat H0" (0 cm) Repeat V3.63" (9.22 cm) Abrasion30,000 ...
See the other products
Thibaut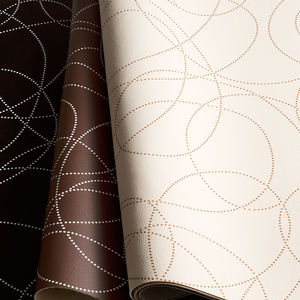 PVC-coated fabric
ESPRIT DOTTY
The most spectacular of our graphic effects, this coordinated fabric is a bold complement to the Esprit range.
See the other products
COTTING GROUP
Composition: 100%Polyester Flame retardant: no Final width: 200
See the other products
CASA VALENTINA
upholstery fabric
ERREERRE
See the other products
My Domus srl
roller blind fabric
ENAMELLED METAL
An intriguing surface texture which interacts subtly with both natural and artificial light to give the impression of gently flowing movement.
See the other products
Salt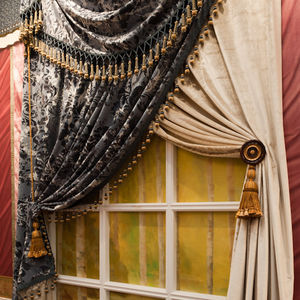 curtain fabric
BONAPARTE : RUSSE
... interpretation of the lyon silk damasks hanging in saint-cloud technique: standard: painted background: velvet repeat: fabric width 145 cm / 57". repeat of the shadow repeat: 105cm / 41"
See the other products
Fromental
wall fabric
MEMORIES OF A PANORAMA
jacquard woven wool and cotton | 150 x 200 cm | 2013 'Memories of a Panorama' is executed by TextielMuseum/TextielLab Tilburg. The 4 Panorama's are based on the Dutch landscapes, with a dreamy colorful touch. The center of the graphic ...