The Online Architecture and Design Exhibition

recessed downlight
AMETISTA
The origins Oggetti senza Tempo represents Catellani & Smith's more classic spirit. The collection groups together all lamps, past and future, created by Enzo Catellani, for the simple pleasure of bringing life to a gesture more than to a lamp.
See the other products
CATELLANI & SMITH

recessed downlight
ALTRA DICE CL
The cube-shaped ceiling light ALTRA DICE from aluminium and steel has a unilateral cut in order to host the 240V halogen lamp. Optionally available with a white, black or silver-grey housing, ALTRA DICE is ready for direct connection ...
See the other products
SLV ELEKTRONIK

recessed ceiling downlight
ROBOTIC 6426 by Jordi Jané
See the other products
MILAN ILUMINACION

recessed downlight
TUBUS by OZ lighting
See the other products
MOLTO LUCE

recessed ceiling downlight
CATCH
Catch is an innovative square and rectangular downlight range that combines great visual comfort, minimalist dimensions and adjustability thanks to its tilting optical base. Through the use of state-of-the-art cowls the ...
See the other products
Simes

recessed downlight
ATOM PLUS
A compact & efficient LED luminaire. The 7W and 14W Atom Plus LED is a compact downlighter, available in a standard beam pattern. Supplied as standard with white bezel. Also available with an emergency battery pack for 3hr duration. Features ...
See the other products
ASD Lighting

recessed downlight
ATSJI by Skwon
The fixture is designed by Skwon, a Belgian Ghent based design office. ATSJI is a spotlight with a polygon pattern interior. Instead of an anonymous spotfixture, the ceiling gets a playfull and subtile detail. Like Lucy's diamonds in the sky.

recessed downlight
TRITEC : ETA
LED (COB) light engine with contact protection and high-quality colour reproduction. Cooling with die-cast aluminium heat sink powder-coated black with textured paint. Optics with primary reflector and homogenizing lens. Cap for the reduction ...
See the other products
Alteme Licht AG

recessed downlight
INPLANA LED & ONPLANA
MANY VERSIONS Thanks to several versions, three construction sizes in each case and the option of ceiling or wall mounting, the series covers the various lighting requirements in the office sector ALWAYS READY IP54 version for installation ...
See the other products
TRILUX France S.A.S

recessed downlight
CLAQUE F43 by Marc Sadler
The Claque downlight uses LED technology as light source. Its design is simple and sober, for this reason it can be placed in various environments. It is particularly perfect for the lighting of the bathroom, or the stairs, ...
See the other products
FABBIAN ILLUMINAZIONE

122 lm/W – the extremely high luminous efficacy of the Carda Fix recessed downlight alone is pretty incredible. And as if that is not enough: sparkling white light and state-of-the-art LED technology ...
See the other products
REGENT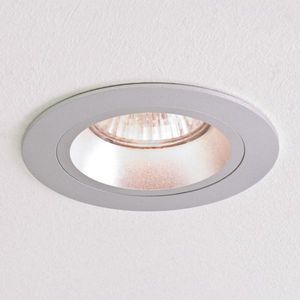 recessed downlight
TARO FIRE RATED 5671
Finish: Brushed Aluminium Lamp Included: No Lamp Type & Wattage: 1 x 50W Max GU10 IP Rating: IP20 Bathroom Zone: Zone 3 Class: Class I - Earthed Driver Required: No Dimmable: Yes Switched: No Fire Rated: Yes Dimensions: H ...
See the other products
astro

The design of IN 6 und UP 6 is reduced to the essentials. Various colour options and different models are available. This luminaire is dimmable with rotary phase control dimmer. Further information is available from the "Knowledge" ...
See the other products
TOBIAS GRAU

recessed ceiling downlight
SD 601 by Design LAB
... Gross weight - Kg 0,5 Net weight - Kg 0,45 Depth - mm 80 CRI N/A Energetic class A++ / B Setting Indoor Application type Recessed More Information Socket GU5,3 Diffuser finish White Structure finish White Height - mm ...

recessed downlight
DOME by Josep Patsi
A round downlight for recessed installation, with high visual comfort avoiding problems of dazzling. housing made in repelled steel plate and light fixing springs in stainless steel with high resistance ...
See the other products
Leds-C4

... lines. CORE is available in 2 sizes with choices of lamps like Par, Compact Fluorescent and Metal Halide. The wall up/downlight emission is available in singlelight and bi-light source. They are widely used to illuminate ...

... 8A3H Technical description: Fixed downlight square with 1 monochromatic LED. Power supply unit to be ordered separately. PHYSICAL Dimensions: 30x30x25 Product Type: Downlight fixture Assembly Type: ...
See the other products
Mizar

recessed downlight
BOULY 16
BOULY 16 (for false ceiling) 350ma - driver required (to install : in ceiling/on distance) * 1 x LED array (included) 11W Warm white : 2700K - 1035lm - Cri >90 BOULY 16C (for concrete ceiling) 350ma - driver required (to install : in ...
See the other products
Trizo21

IP65 ∙ CLASS I ∙ CEA compact recessed exterior downlight with a round or square front frame design. Options of stainless steel or powder coating aluminium front frame. The luminaires are designed for ...
See the other products
Ligman Lighting Company Limited

recessed downlight
DIVA II SPOT
Installation Surface mounting – surface mounted with a mount ring, see accessories. Recessed mounting – recessed with or without mounting spring, see accessories. The luminaire must not be covered ...
See the other products
FAGERHULT

recessed downlight
TRYBECA SYSTEM by FMS
The outcome of an advanced study of forms, materials and lighting solutions, TRYBECA is a family of recessed mounting fixtures with an elegant and minimal design, which offers outstanding performance featuring unique ...
See the other products
Reggiani Illuminazione

recessed downlight
LUCEQUADRO
CONSTRUCTION CHARACTERISTICS Illuminotechnical characteristics Direct symmetric distribution. Lifetime (L90/B10): 30000 h. (Tp 65°C) Lifetime (L85/B10): 50000 h. (Tp 65°C) Photobiological safety RG0, risk absent, in compliance with ...
See the other products
3F Filippi S.p.A.

Die-cast aluminium housing with frosted glass front screen.
See the other products
Altatensione

recessed downlight
OD-3652 QS DYNAMIC
LUMINAIRE BODY Comprises outer ring made of die-cast aluminium stove-enamelled in white. Recessed mounting by quick mounting system included in the standard delivery. Minimum ceiling thickness (5-7 mm). Electronic equipment ...
See the other products
LLEDÓ ILUMINACIÓN, S.A.

recessed downlight
DUE by Carlotta de Bevilacqua
Due system represents a paradigm change in the way of interpreting the light, thanks to a synthesis between the latest LED technology, the innovative optics and the division of installed power and emission. It combines two performances ...
See the other products
Danese