The Online Architecture and Design Exhibition

Single and double pole models Wire leads Tamper resistant 22 Amps resistive @ 120 VAC 18 Amps resistive @ 277 VAC
See the other products
Markel

programmable thermostat
TH 0482/12V
Thermostat TH 0482/12V, control EB-C, for heating and cooling (dimensions: 70x30x120mm)
See the other products
ROCCHEGGIANI SPA

digital thermostat
SoHo COLLECTION
... COMFORT THERMOSTAT WITH METAL COVER FEDE+ presents a wide range of electronic devices to provide you with a more comfortable lifestyle. Thermostats for air temperature control, under floor heating ...


programmable thermostat
NEA SMART
The NEA Smart room temperature control system offers modern technology, high energy efficiency and advanced design. It can be conveniently operated from any location by smartphone, tablet or laptop. The wired system can be installed ...
See the other products
Rehau

mechanical thermostat
TST
The TST120V Thermostat is suitable for direct connection with any resistance heating element or unit heater. TST120V Line Voltage Thermostat, 120V Temperature range 50 – 90 F / 10 – 32 C Single and ...

Ideal for providing accurate feedback on a room by room basis. The perfect partner for your ENOCEAN heating modules, allowing you to better control your heating throughout your home. - Indoor use only - Operating temperature -20°C/+60°C - ...
See the other products
AVIDSEN France

programmable thermostat
TPZ1/TPZ2
... temperature of the heating coil has increased. In the system with TP(PP) Indoor Thermostat, the TPZ1 Freezing Protection Thermostat is used and the TPZ2 Freezing Protection Thermostat ...

IMMERSION ELECTRIC RESISTANCE in stainless steel with electrical separation, external thermostat and integrated temperature limiter.

room thermostat
TECEFLOOR
Thanks to its high-quality glass surface the TECEfloor design thermostat even looks good in a modern, architecturally-challenging environment. With an outer diameter of 104 mm, the thermostat is recognised ...

ALPHA 7D • 7-day programmable room thermostat (60-minutes) • Built-in heating programme. • 4 modes of operation: auto, advance, off, party. • 3-temperature selections – comfort, economy, frost. • Visual boiler 'ON' ...

digital thermostat
3.021622
Available for all models. Class of device IV* or VII Contribution to the environmental heating seasonal energy efficiency 2%* or 3,5%

programmable thermostat
AFFINITY™ HX™
Complete control at home or away via your smartphone. Stays up-to-date automatically through Wi-Fi® connection. Seamlessly connects to any communicating or conventional/non-communicating HVAC system. Pre-set modes provide quick access ...
See the other products
York


mechanical thermostat
LUNA
Digital control system for waterborne climate systems For sequential control of cooling and/or heating. Complete system that is easily adapted to changing needs. Flexible controller that can be reconfigured according to needs. Extended ...

programmable thermostat
OSCAR W
ON-OFF PROGRAMMABLE THERMOSTAT, WITH WIRED OR WIRELESS CONNECTION AND WEEKLY CUSTOMISED COMFORT PLANNING, SUITABLE FOR EVERY BOILER MODEL THE RANGE Models: W wired W RF with wireless transmitter
See the other products
FERROLI

AN AFFORDABLE AND EASY TO USE THERMOSTAT > Thermostat On/Off > Digital clock > 7 days program > 4 daily changes > AA batteries

Modifies heat stages and fan speed depending on temperature and selected program Only electrical heated models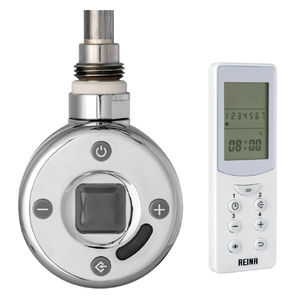 Cartridge Element Rotatable display for Horizontal or Vertical use Choice of white or chrome finish 300w, 600w or 900w outputs Boost button Selectable temperature

The thermostat features an updated look and five-day programming, plus weekends, in addition to normal thermostat mode.
See the other products
QUADRA-FIRE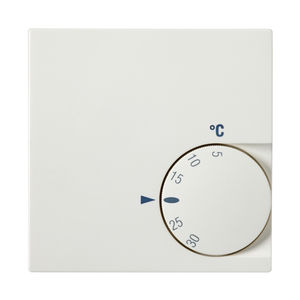 Automatic ventilation control based on ambient temperature (via integrated thermostat) Adjustable; adjustment range: 0–30° Switch capacity: 230V AC, 5A Protection class: IP30 Surface-mounted plastic housing, white ...

room thermostat
EASY CONTROL