The Online Architecture and Design Exhibition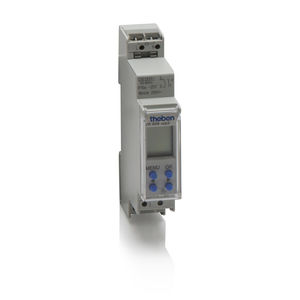 programmable thermostat
TR 608
Requirements‑based programming option, e.g. end of workday CLOSED (Mon.‑Thu. 6:00 p.m. CLOSED, Fri. 3:00 p.m. CLOSED) Larger control panel housings are required for installation in compact or modular GVL‑K, GVL‑M or RZN‑K, RZN‑M control ...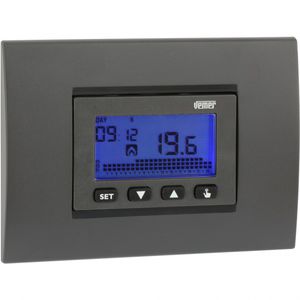 programmable thermostat
DAFNE 230 VE431300
Flush-mounting chronothermostat with weekly programming and mains supply. The chronothermostat consists of a keypad with 4 keys and of a blue backlight display: these features assure an elegant and essential design to the product. The ...
See the other products
VEMER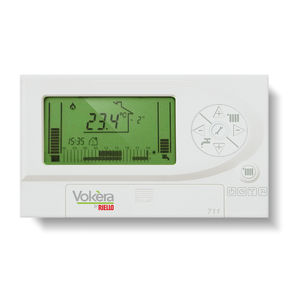 programmable thermostat
711 OPEN THERM RF
Vokèra controls complement our boilers and renewables products. Controls are a simple way to maximise product efficiency and give you control over your heating system. The latest controls pay particular attention to energy management, ...
See the other products
Vokèra
electronic thermostat
4041-128
... easy by using fireplace remote controls and thermostats from Heat & Glo. With a wide selection of options that are compatible with a range of fireplace models, you can find the perfect fireplace thermostat ...
See the other products
HEAT & GLO®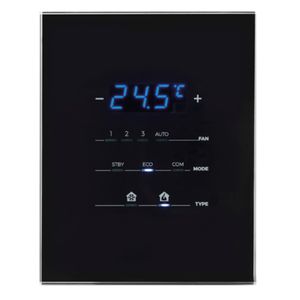 programmable thermostat
GT00 SERIES
The Inwall Glass Thermostat GT00A03KNX is an EIB/KNX wall mounting device designed for HVAC applications in Home and Building installations (i.e. offices, hospitals, hotels, private houses, etc..). The Glass on the ...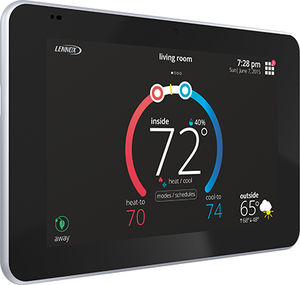 programmable thermostat
ICOMFORT® S30
Save energy when you're away. But always come home to comfort The iComfort® S30's Smart Away Mode uses the GPS in your smartphone to detect when you're leaving, and automatically increases system efficiency. If you or a family member ...
See the other products
Lennox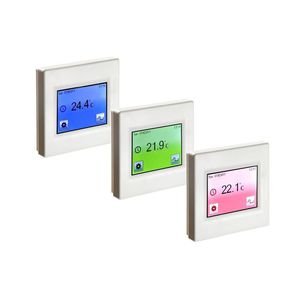 programmable thermostat
ET16
programmable thermostat
ROOMSTAT 110
Different types – manual and programmable thermostat Easy to use Energy saving Thermal controllers are purposed for automatic regulation of electrical heating systems and energy saving. They allow supplying voltage ...
See the other products
i-warm
mechanical thermostat
DS-SB
... signal is detected. The DS-SB thermostat has been designed to work in conjunction with our UH8 wiring centre and TM4 Programmer, but could equally be used as a standalone dial thermostat. Please note ...
See the other products
Solfex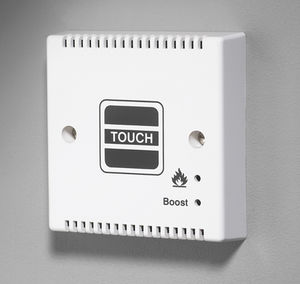 electronic thermostat
ENERSTAT
This electronic thermostat accurately controls room heating to optimise energy consumption whilst maintaining comfortable temperatures. The powerful output relay directly switches heavy loads such as electric panel heaters. ...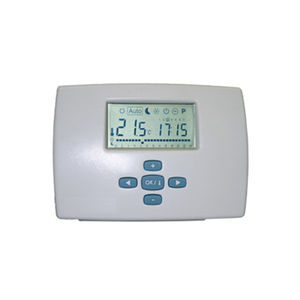 programmable thermostat
CF
programmable thermostat
FUTH65D/230V-WG
Wireless thermo clock/hygrostat with display for single mounting or mounting into the E-design switching system. 84x84x14mm, installation depth 33mm. With adjustable day and night reference temperatures and relative humidity. Illuminated ...
programmable thermostat
TS E10
USE For comfortable indoor temperature conditions and control of ventilation, heating and air conditioning systems. DESIGN Casing made of high-quality plastic. Temperature regulator on front panel and switch for operation mode ...
room thermostat
D 95.609.02 RTR
Cover for PHC flush-mounting room thermostat article-no. 639/24 RTR PHC o.A. Material quality: Thermoplastic Surface structure: Brilliant Colour: White
programmable thermostat
H4A
The H4A Wireless Thermostat allows you to automatically control the temperature settings of your Heat4All Infrared Heaters in your living and office spaces. The H4A Wireless Thermostat is a digital wireless ...
See the other products
HEAT4ALL
programmable thermostat
71 SERIES
... distinctive feature. Pushbuttons, thermostats and flush-mounted inserts may be combined according to your taste and your needs. The simple and essential design that makes compactness a distinctive feature. Pushbuttons, ...
programmable thermostat
ETH-TTERM
The new ETH-TTERM digital thermostat is characterizedby an innovative design. It controls temperature andhumidity (optional) allowing for energy savings andimproved comfort. ETH-TTERM is equipped with a 2,8" full-colourtouchscreen ...
See the other products
KBLUE
room thermostat
HMIP-WTH-2
... with configurable temperature) Large display with white backlighting Cyclic data transmission to Homematic IP Radiator Thermostats Manual adjustment of setpoint temperature (to the nearest 0.5 °C) via control wheel Direct ...
See the other products
eQ-3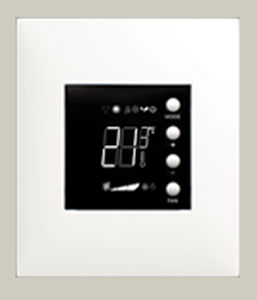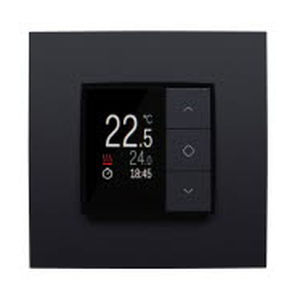 room thermostat
550-13052
The thermostat will be mounted in any room fitted with a floor-heating system, radiator, heating unit or cooling unit. It controls the heating or cooling for the room in which it is mounted. The thermostat ...
See the other products
Niko
programmable thermostat
CDT01
- Voltage: 24 VAC, 50/60 Hz - Rating: 1 A - Prog: Non-programmable - System: CO2 & Heat / Cool - Fan: On / Auto FEATURES - CO2 measurement range: 0 - 5000 ppm - CO2 accuracy: ±75 ppm - CO2 resolution: 1 ppm - Transmitter CO2 ...
See the other products
WORLD EXCEL APPLIANCE COMPANY LIMITED
0 °C to +60 °C (32 °F to 140 °F) external PT100 Single thermostat for temperature monitoring and regulation in range -30 °C to +70 °C (-22 °F to 158 °F) in six ranges Can be used for monitoring temperature ...
See the other products
ELKO
room thermostat
HV100L8-M
HV2000L8 Room thermostats are applied to electrical heating equipment control and systemic heating electrical valve control to set the room temperature at a constant level. HV2000L8 Intelligent room temperature controller ...
See the other products
Retrotouch
Room thermostat 0-35 °C for SWX C/D. IP65 Technical parameter Nominal data Enclosure class IP65 Temperature range 0 to 35 °C Dimensions and weights Length 150 mm Height ...
See the other products
FRICO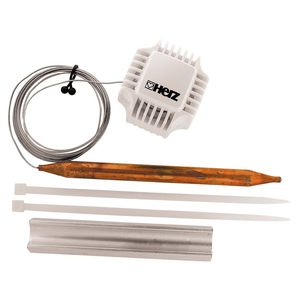 immersion thermostat
7420
HERZ-Thermostats with Contact Sensor and threaded connection M 28 x 1.5 suitable for HERZ-Thermostatic Valves HERZ Thermostat with contact sensor for floor heating systems Thermostatic head with hydrosensor, ...
See the other products
HERZ ARMATUREN GMBH