The Online Architecture and Design Exhibition
sliding and stacking partition
TIMBERFRAME™
... and beauty of wood paired with glass brings not only natural light, but added elegance into your space. Our Timberframe™ glass walls are built to last, constructed of triple laminated solid wood, custom-made veneers and ...

Think, build and share a workplace, make it a unique living space that is easy to use, design it so that transparencies, volumes and flows information, and become places where ideas come together in synergy, creating a microcosm where ...
See the other products
MASCAGNI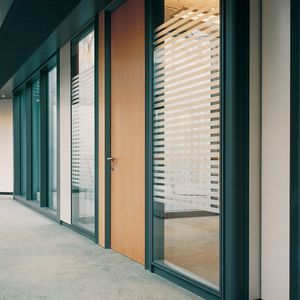 removable partition
P450 by Umberto Facchini & Paolo Bandiera
The P450 wall is available in a series of standard modules that can be adapted to the requirements of any project. The basic module can be kitted out with doors, solid or glass panels as required, vertically or horizontally. Vertical ...
See the other products
Arlex
removable partition
PASSWORD PLUS
A flexible system of movable partition walls with modular heights and widths designed to subdivide large offices into made-to-measure work areas. The modules are easy to assemble and highly flexible, and can therefore ...
removable partition
WALL SYSTEM
Wall System: a mountable modular system designed to divide and furnish any kind of environment. Created to provide quality, style and design; easy to install, move and modify. Never ending research in design and materials generates a ...
sliding and stacking partition
SIGNATURE 8000
... fabric, and carpet are available in a variety of colors and textures. Signature offers far more including: Plastic Laminates, Wood veneers, & Specialty steels (to name a few). Our Installing Distributors will work with ...
See the other products
Moderco Inc
sliding and stacking partition
SF 65 H-S-W
Horizontal sliding wall made of tree-layer laminated and bonded solid wood Top hung construction consisting of individually sliding panels The construction depth of the profiles is 65 mm Additional stability through ...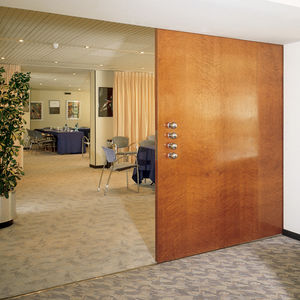 sliding partition
CLASSIC : SF-A
The SF-A100 system offers: Silent-running rollers with nylon wheels. Vertical adjustment mechanism. Trim cover adaptable to the guide to conceal the installation. Anodized aluminum profile in silver or natural color. Hidden lower guide. ...
See the other products
SAHECO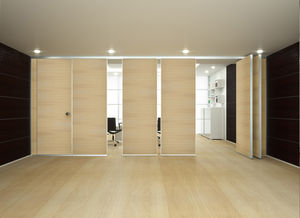 pivoting/sliding partition
ROLLING WALL
... Wall modules are costum-made, every project is followed and calculated for the best aesthetic and acoustic realization. The partition is certified for sound absorbation from 38,7 dB standard to 43dB with kit. Within ...
See the other products
Arcadia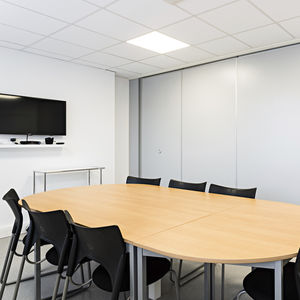 sliding and stacking partition
ZEPHYR
Durable, reliable, functional, with good acoustics and many decor opportunities, the ZEPHYR movable wall is the obvious answer to all the needs for space optimization. It has become a natural solution for multipurpose halls, culture ...
See the other products
ALGAFLEX
fixed partition
HPL BATHROOM DOOR PARTITION
Packaging Details Toilet Partition standard package 1. The compact laminate panels are packed by foam plastic bag inner and wooden pallet with belt outside to protect the items from damage during ...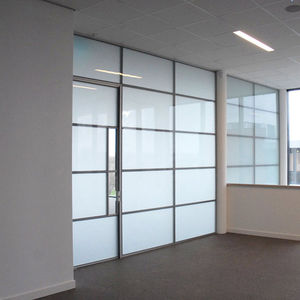 removable partition
MONOVOLUME
... Tailored to your project Customised finish (coloured profiles, panels executed in glass (layered or tempered), Plexiglas®, wood finish (HPL), aluminium sheeting on both sides, etc.) Also for curved walls Execution Dimensions ...
sliding partition
PARETE SHOJI
... contemporary life style. Perfect solution as partition wall, doors for walk-in closets or wardrobes. They can glide on hardwood runners or on suspended metal tracks depending the dimension and use. Doors have a wooden ...
E69 is a modern system with unique features, including the ability to combine multiple materials, such as wood, MDF, PVC, aluminium, composite materials (etalbond), glass or other materials. It also offers easy installation and de-installation, ...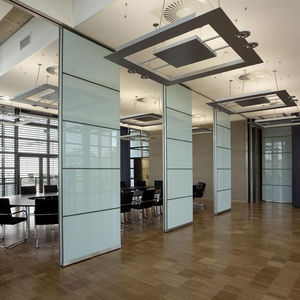 sliding and stacking partition
PREMIUM EASYMATIC
The Nüsing company, with its policy of continuous R+D work, has positioned a state-of –the-art and reliable product in the movable wall sector of the market. It's up to you whether you use the whole room as a single, large unit, or ...
See the other products
Nuesing
Wood Floor To Ceiling Partition Full screen blind with intermediate profile in any height, with wood covering the entire top of the partitions. It can be used even ...
See the other products
Teilen system walls LLC
removable partition
FLUSH-DESIGN
Flush-Design : frameless glass, invisible hinges Exclusive and sophisticated. The Flush-Design partition provides a natural elegance to your office ans also guarantees the necessary privacy thanks to very high acoustic ...
Wood finished partitions Timber PartitionsUsing high quality wood veneers from Scandinavia, the wood finished partitions have narrow ...
removable partition
UTS® TYP H
The UTS® partition wall system type H combines functionality, economy and sustainability due to the combination of domestic, untreated wood and stable galvanised steel. The dried, planed and chamfered ...
E1 standard melamine materials are used in the production of our products. Your request for different colors in the product, please contact the sales representative. Our products are guaranteed for 3 years against manufacturing defects. Color ...
fixed partition
INDUSTRIAL
Range of partition walls for office and laboratory that combine the technical efficiency and a very competitive cost. All types available, blind panels or glass modules, with Grey and Ivory finishes.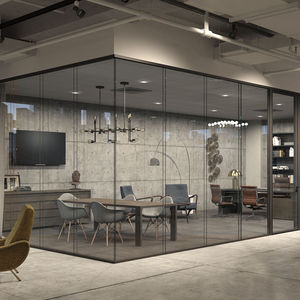 Prehung flush wood modules to complement our glass partitions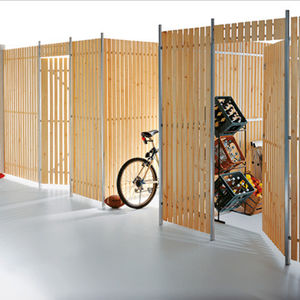 removable partition
SIGNUM
... solution or the development of an entirely new concept, the diversity of our partition walls means we can be guided precisely by your requirements. As a manufacturer of modern partition wall systems, ...
removable partition
THE DESIGN
•The number of frames can be increased by using a horizontal position thanks to "Decor Concept*. •The metal section "Decor Concept" offers an extensive range of finishes with vinyl or melamine coating, lacquered metal and the panel ...
See the other products
SAB diffusion
removable partition
VAL90/60
The movable partition wall system VAL is a suitable solution for creating new office space arrangements and separating workplaces, taking into consideration the changing needs of office premises. VAL has a modular design ...
See the other products
Wallenium