The Online Architecture and Design Exhibition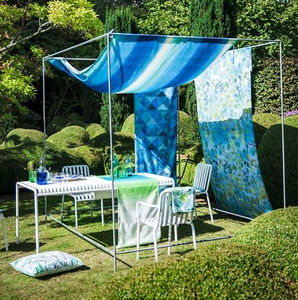 upholstery fabric
PALME BOTANIQUE
Printed favourites, beautiful textures & plains for outdoor living For truly stylish and practical outdoor living, the Palme Botanique collection includes iconic Designers Guild favourites as well as exciting new textures and designs ...
See the other products
DESIGNERS GUILD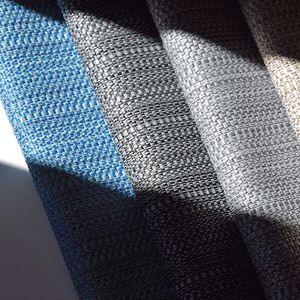 upholstery fabric
APPROACH
The most perfect composition of yarns. Disciplined, focused and exact. Crafted with the coordinated precision of a master jeweler. Each thread finds repose from the previous, creating a sense of assembly without feeling repetitive, ...
upholstery fabric
OASI : EDEN
Code: 2028 Width: 150 cm Weight: 937 Gr/ml Composition: 100%PP Repeat(Vertical): 44.00 cm Repeat(Horizontal): 31.00 cm Martindale: 30.000 Rubs Aditional notes Outdoor-Indoor
See the other products
DECORTEX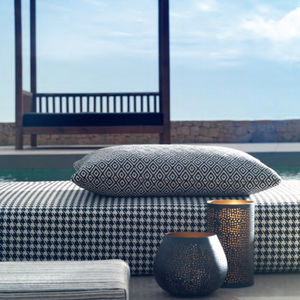 upholstery fabric
AROUND THE WORLD : OUTDOOR LIVING
Also included in this collection is a range of fabrics especially created for use outdoors. The fabrics are very versatile and extremely easy to care for so can be used on deck or poolside. Bold colours were chosen to highlight the sophisticated ...
Curtain and upholstery fabric for indoor and outdoor use. The 100% acrylic fabric is very tough and easy to clean. It repels water and is resistant to soiling by stains or mould, as well as to residue and discolouration from chlorine ...
See the other products
Création Baumann
upholstery fabric
COUNTRY GARDEN
Romantic inspiration to bring brightness to your home The incredible variety of unique flowers in a botanical garden has inspired us to create this collection of beautiful digital prints. This double width collection includes 6 different ...
See the other products
ALHAMBRA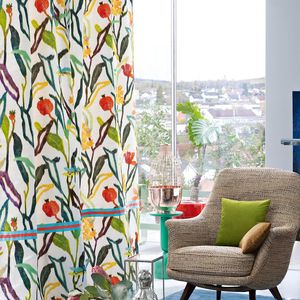 upholstery fabric
ZIMMER + ROHDE : WONDERLAND
The collection is an homage to mythical places, fairy-tale dream worlds and the magic of the future. While taking cues from cabinets of curiosity we also pay tribute to traditional craftsmanship. However, this collection is also inspired ...
See the other products
Zimmer + Rohde GmbH
upholstery fabric
ULTRALEATHER® : CORA
Distinctive. Resilient. Anywhere. Imagine a fabric with attitude. Ultraleather® | Cora Outdoor makes a bold statement as part of any design vision, in any application, inside or out. Meticulously engineered and extremely durable, this ...
See the other products
ULTRAFABRICS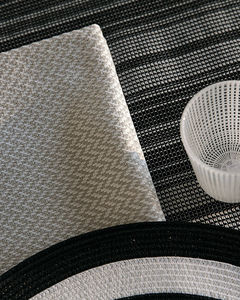 Description Woven with exquisitely soft chenille, Touch features all the practical elements for outdoor use without compromising on feel. Collection Pergola Composition 100% PL Width 140 cms (55.1 ") Martindale 25,000 Wyzenbeek ...
See the other products
Kirkby Design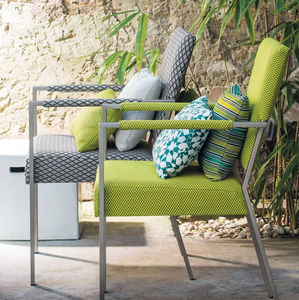 upholstery fabric
CALA ROSSA : PORTO-VECCHIO
A richly textured indoor and outdoor collection : from weaves to jacquards, plains to designs. A thermoplastic resin obtained by the polymerization of propylene. It is mainly used in food packaging, technical parts the automobile industry, ...
See the other products
CASAMANCE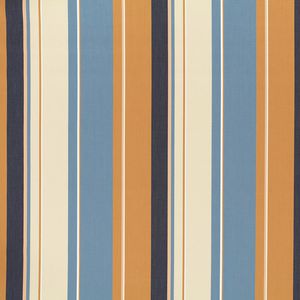 upholstery fabric
SINGING IN THE RAIN : STREAM
Boldly striped Stream will splash excitement into your décor with eye-catching color! Ideal for curtains or cushions, this smooth, cotton-feel fabric will turn heads with its strong contrasting colors and dramatic lines. DESIGN CONTENT 100% ...
See the other products
JIM THOMPSON
solar protection fabric
ALLWEATHER
No matter what your plans are. Allweather shields you effectively from sun and rain. Enjoy your outdoor activities in any kind of weather. Make the best of your leisure time! Regardless of the weather. Product properties: • Spun-dyed ...
See the other products
Sattler AG
upholstery fabric
VELIN M2 : OR
VELIN the look and feel of leather A new imitation leather with a fine calf-skin style grain and light sheen. The Polyurethane has a natural tactile finish and the quality is M2 but also conforms to the European standards EN 1021 part ...
Two coordinated false plain fabrics: a tangled bouclé melange and a bicolour shiny panama cloth. Application: fixed and removable upholstery, furnishing covers, beds, cushions. Width: cm. 145 Composition: polyester, cotton Water-repellent ...
See the other products
SIMTA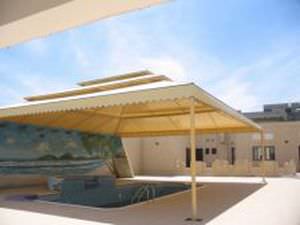 solar protection fabric
AIRTEX® PREMIUM
AIRTEX® premium is a new development that is tailored to applications in the outdoor and events sector. AIRTEX® premium is coated on both sides. This means that the front and back of the fabric have an almost identical appearance. This ...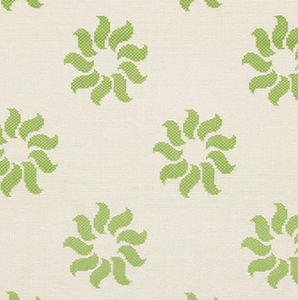 upholstery fabric
SOLISSIMO
Product No.: 2297-03 Outdoor fabric with small eye-catching solar design. It is calandered which adds a smooth and appealing surface to the fabric. Suitable as combination of seat-covers and decorating pillows. Composition: 100PAN Width: ...
See the other products
SAHCO
Tahiti, the largest island in French Polynesia, situated in the Pacific Ocean, provided our inspiration in developing this collection, which is fresh and modern with an ethnic touch. Historically, the utopian dreams of the Southern ...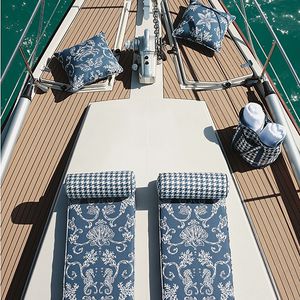 upholstery fabric
COURTYARD : SWEPT AWAY
Pattern SWEPT AWAY Woven Fabrics CollectionCourtyard ColorwayNavy Content 100% Acrylic Width 54.00" (137.16 cm) Repeat H27" (68.58 cm) Repeat V25.75" (65.41 cm) Abrasion12,000 Wyzenbeek NotesDry Clean ...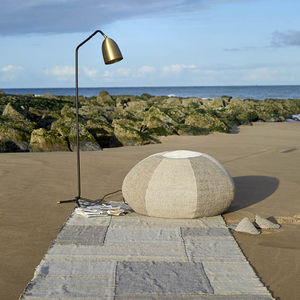 upholstery fabric
ADVENTURE
The Adventure collection is a high quality linen collection, pure and natural. Those charming plains, which drape beautifully and are convenient for upholstery, are suitable for all interiors and styles.
See the other products
WIND
Collection Name Pebble Content 100% Silicone Flame resistance NFPA 260/UFAC Class I, CAL TB-117, FMVSS302, ASTM E84 Adhered, IMO A.652 Part 8, BS5852 #0,1,5, DIN EN1021 I, II Eco friendly RoHS, REACH, CAL01350, LEED, ...
See the other products
Sileather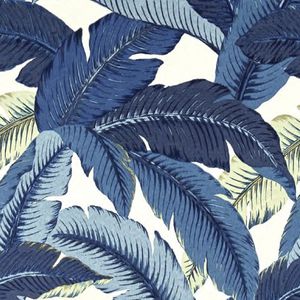 upholstery fabric
DECO : JUNGLE
Craving a touch of tropical warmth at home? Thanks to the unique Deco fabric collection, you can enliven your interiors with the inimitable shapes and colors of the tropics. The collection is based on carefully selected prints, ensuring ...
See the other products
366 Concept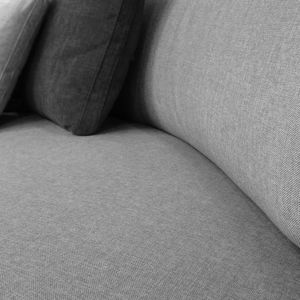 upholstery fabric
DOLCE (IMP)
DOLCE (IMP) is developed for joint indoor-outdoor use. This crossover use saves people from making big investments in outdoor furniture while in winter time the furniture can be used indoors instead of stored away. As compared to other ...
See the other products
Crevin, S.A
upholstery fabric
ALKEMIA
Alkemia is a polyester-based microfiber characterized by an extraordinary beauty and softness obtained thanks to advanced textile techniques. Alkemia shows a fine velvety-smooth-surface giving to its surface softness and intensity of ...
See the other products
Flukso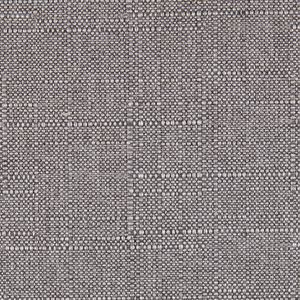 upholstery fabric
DATABASE 2160
This upholstery collection includes 140/150 high fabrics, divided into 37 kind of products for a total of 112 items. They are waterproof fabrics with high performance.
See the other products
IV design studio
solar protection fabric
TEMPOTEST 1314/2
Tempotest fabric meets all requirements of paragraph "Fabric" 15.2 of UNI EN 13561:2004 THE COLOURS OF THE FABRICS ARE ONLY INDICATIVE.FOR THEIR VERACITY MAKE REFERENCE TO THE FABRIC SAMPLE BOOK. Gtot calculated in accordance with UNI ...
See the other products
Parà Spa