How to choose this product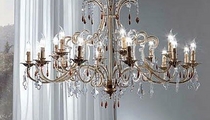 A chandelier is a decorative light fixture suspended from the ceiling. The light from its multiple bulbs often is refracted by mineral or glass crystal, glass or plastic elements, enhancing the room's attractiveness. Traditional, period, design and contemporary versions are available. A large model may require an unusually high ceiling.
Applications
These decorative fixtures are found primarily in large public buildings, such as theaters or shopping centers, though they also can be used in homes with sufficient ceiling height.
Technologies
Chandeliers use LED, incandescent, fluorescent or halogen bulbs.
How to choose
Choice will depend on ceiling height, chandelier dimensions, materials, bulb type, light characteristics and personal taste.
Advantages
- Beauty and distinction
Disadvantages
- Large size