How to choose this product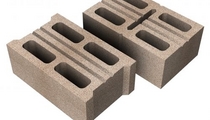 A concrete block (or concrete masonry unit) may be chosen over traditional clay masonry for its price and/or the wide range of available forms and finishes. It may be used inside or out, for load-bearing or non load-bearing walls. On ArchiExpo, these products are arranged by properties such as type (e.g., perforated, hollow or solid).
Applications
Concrete blocks are found in load-bearing walls, facings and interior walls in residential, public and commercial buildings.
How to choose
Verify that the block's load-bearing, thermal, acoustic and weather resistance qualities comply with applicable regulations. Consider maintenance requirements. Ensure the use of proper building techniques and materials, including mortar, reinforcements and expansion joints. A hollow structure may need added grouting or steel reinforcements.