The Online Architecture and Design Exhibition

epoxy coating
TARDIGRADE ERGF 910
... Solvent Free, Fluid Epoxy Filler Description of Product Tardigrade ERGF 910, is a two component, solvent free, fluid epoxy filling mortar. It is used to repair cracks between 1 and 3 mm. Fields of Application • Concrete ...

protective coating
DRACOFOAM S
... silicates. DRACOFOAM S is a highly reactive, organic mineral resin that is specially formulated to be injected for rapid filling of voids and cavities to consolidate soil and excavation walls even where there is moderate ...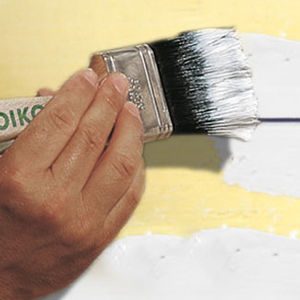 filling coating
NOVALIS ECOFONDO RIEMPITIVO
NOVALIS FILLING AGENT by OIKOS is an acrylic, coloured undercoat for wood ideal for use as a base for final coats of enamel. The product is easy to sand and makes the absorption of the wood even covering any imperfections ...
See the other products
OIKOS colore e materia per l'architettura

filling coating
LEGASTUCCO L100
BINDING RESIN FOR TRIMMING WOODFLOORS Fast drying binding resin for trimming and filling wood floors; mixed to the wood dust obtained by very fine sanding.

... for filling and repairing line marking or holes. It is particularly suitable in construction of porous brick masonries whenever avoiding the presence of heat bridges and reducing the theoretical insulation capacity of ...
See the other products
tassullo

sealing coating
TERRAFILL®
Two-component preparation for the repair of concrete surfaces, cement screeds and polished floors. Solvent-free, modified polymer emulsion (component A) with the addition of modified mineral fillers and hydraulic binders (component ...

CRRC® rated and ENERGY STAR® listed highly elastomeric coating. Exceptional durability and UV stability extends roof life. Attractive bright white reduces energy consumption. Apply by brush, roller, or airless sprayer.

See the other products
PRB

Skin coat putty with fine plaster effect, for exteriors and interiors. Use F 263A is used as a white filling undercoat and it is particularly suitable to cover small imperfections on wall surfaces giving a fine plaster ...

... resin coatings and synthetic resin screeds with synthetic hard aggregates have proven their qualification, in particular by their high durability, in industrial floor, road and bridge construction. Synthetic hard aggregates ...

filling coating
DP 4776-9343
... to a powder and is best suited as a primer for coloured and closed-pore lacquer coatings. Hesse PU Isolation primer DP 4776-9343 is IMO certified (flame-resistant coating for ocean-going vessels) and ...
See the other products
Hesse Lignal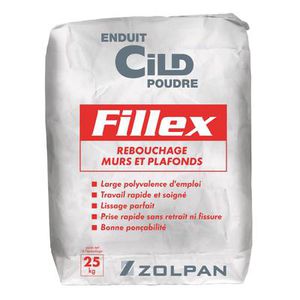 filling coating
CILD FILLEX
See the other products
ZOLPAN

filling coating
TWO-PACK SPECIAL PUTTY
... special putty for interior (Νο20 + Νο200) and exterior use (Νο60 + Νο600). Applied with spatula and spray gun. It has good filling properties, it is easy to sand and gives a smooth surface.
See the other products
Berling Paints

... inert materials are particularly resistant to alkaline surfaces and to atmospheric agents and, therefore K29 is suitable for filling holes and cracks or to restore missing parts of material, especially outdoors. K29 dries ...
See the other products
CAP ARREGHINI

filling coating
CRACK SEAL
Asian Paints SmartCare Crack Seal is a ready to use fiber glass reinforced crack filling compound for both interior and exterior surfaces. It ensures unmatched crack bridging ability for plaster cracks of up to 3 mm.

filling coating
PROPAINT BLOCK
... pores & small voids in masonry & light aggregate block Eliminates pin holing & produces a uniform surface texture Must be top coated
See the other products
California Paints

filling coating
PLÂTRER GRANDS TRAVAUX
See the other products
JARDIN SA TOUPRET

filling coating
AHRWEISSAL
Range of uses Filling on wood (interior), metal and old plaster. For filling on wood outdoors, swelling and shrinkage of the wood can generally lead to flaking. For further information see data sheet ...
See the other products
jansen

High-strength oil-based skim coating for lacquered finishes. Interior - Exterior Very thin coating, easy to apply, facilitating single-coat finishes without sinkage. Quickly dries and hardens ...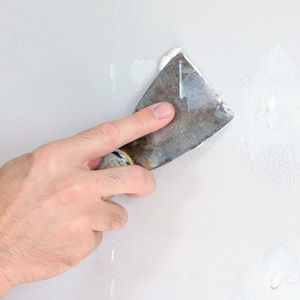 protective coating
FÜLLMASSE
is a natural and organic filler suitable for filling small surface defects and / or smoothing rough surfaces. Thanks to its composition and applied nanotechnology can be used for indoor and outdoor applications, on usual ...

insulating coating
MATADOR®
... of water molecules from inside air and the natural alkalinity of the coating. Furthermore, Matador® Feinputz promotes a constant and pleasant room climate. Suitable for use as filling surfacer (spackling ...
See the other products
Caparol

filling coating
CONCREX™ FINE
... Concrex Fine Filler is extremely strong and economical to use - mix only what you need. Paint the finished repair with any coating or leave it as-is. Features and Benefits of Concrex™ Fine Filler - Repair Product: Ideal ...
See the other products
Watco Industrial Flooring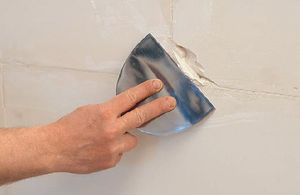 ... ADHESIVE FILLER CE 3000 allows a multitude of indoor jobs: bonding of plaster boards, attachment of polystyrene elements, filling, smoothing, decorative rendering. Benefits A single all-round product. Very practical ...
See the other products
SEMIN

filling coating
KTISODUR G
Epoxy grout (two-component) used for repairing concrete, and filling cracks and holes. KTISODUR G has a lightweight texture enabling it to be applied on vertical surfaces without dripping. KTISODUR G is used primarily ...

... tiresfills minor cracks and seals the surface. Its drive-ready in just four hours! Lasts longer than conventional asphalt coatings Fast drying / drive ready in 4 hours Formulated with recycled rubber tires 2 times the ...
See the other products
RUST-OLEUM