The Online Architecture and Design Exhibition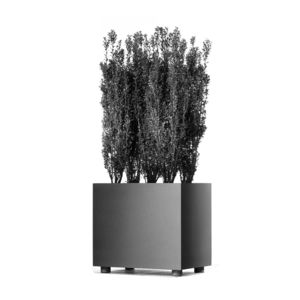 Planter made of aluminium. Feet fixed. Indoor: Base closed. Outdoor: Mounting kit for drainage pipe is included.

stainless steel planter
D002.00
dimensions 120 cm x 80 cm x 90 cm weight 193 kg materials stainless steel, galvanized steel painted to any RAL color, corten steel shape square option laser burnt logo, guard, drainage system destination inside, outside
See the other products
Fulco System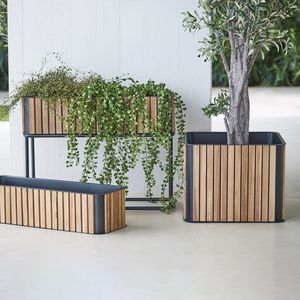 aluminum planter
COMBINE : 5703
The square Combine is a modern planter in an exiting design and mix of materials. The warm certified teak and the streamlined powdercoated aluminium give a unique look that fits in in most spaces. Plant your favourite ...

steel planter
CITYVIEW CV4-1000
CityView planters are offered in one style. The CV4-1000 matches the vertical straps of the CityView collection while providing potting volume suitable for a large variety of plantings.
See the other products
SiteScapes Inc.

galvanized steel planter
TERRACE
The Terrace Aluminum Planter features an all-welded aluminum, powdercoated body with a flush mount base, and a 12" removable shelf depth. Available in any HauserKote powdercoat finish, and in a variety of custom sizes. ...
See the other products
HAUSER

steel planter
BASIC 4110 / 4111 / 4112 / 4113 / 4114 / 4115
The Basic planter is a smart contemporary planter suitable for a wide variety of public realm applications. Available in a variety of standard and bespoke sizes, the Basic planter is ...
See the other products
Citysquared Ltd

Flower trough is of high quality and elegant design, it adds a decorative value to your outdoor environment. The trough is made entirely of quality materials, therefore its period of use can be unlimitied, provided it is properly handled.
See the other products
Ekikranj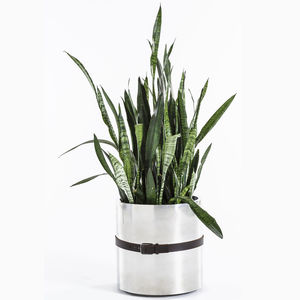 Stainless Steel & Leather. Antique Copper Plated Steel & Leather. Planter on castors for ease of movement.

steel planter
SALVER 06.038
Description Presented planter belongs to the famous line of Salver's street furniture designed by ZANO city architecture. It has a modern style design and innovative aesthetic. Salver planter is a really ...
See the other products
ZANO Street Furniture

thermo-lacquered aluminum planter
AMBELLYA : CHATELAINE
See the other products
Groupe GMH

stainless steel planter
UNIVERSAL
Universal Planters offer the beauty and performance of stainless steel in a range of sizes and options. Corrosion-resistant stainless steel construction Round planters from 30 to 190 gallons Available ...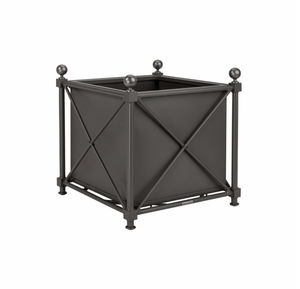 Drawing inspiration from the designer's travel to the Northern ridge of Mallorca, Deia evokes memories of a sweet life. Imagine a dappled morning sunlight filtering through swaying lush tree foliage and the feeling of a soft warm breeze ...
See the other products
BROWN JORDAN

hardwood planter
BEAUFORT
Our Beaufort street furniture range is built around heavy section steel frames with a powder coat finish combined with 45 x 195mm hardwood. All metalwork is finished with an exterior grade base and top coat to either RAL 9005 (black) ...
See the other products
Neptune Street Furniture

steel planter
PREMIER SERENITY
Sizes Available: 31" Diameter Materials: Steel Options: Liner Included Model Numbers: PSTP
See the other products
PARIS Site Furnishings - Outdoor Fitness

metal planter
UNIVERSAL SLIMLINE 40
... many locations with a security planter. The Universal Slimline Planter 40 is an anti-ram solution designed to a stop a 7.5 metric ton vehicle (about 16,500 lbs) moving at 40 mph. This high-security, ...

metal planter
AG ECO HUERTOS

cast aluminum planter
KINGSEY
... This product will not rot, splinter, or warp reducing maintenance costs over the life of the product. Cast Aluminum and Steel Structure InfiniGuard Professional Anti-Corrosion System Standard colours are textured ...
See the other products
Wishbone Site Furnishings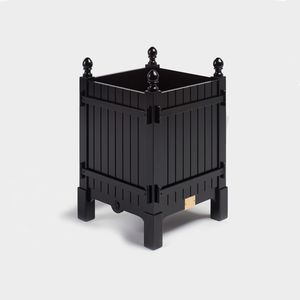 To capture the elegance of French formal garden style, Lui garden vase was designed with an opulent but elegante body. Composed by outdoor resistant timber has its body armored with a cast iron frame. Lui more than a vase is a decoration ...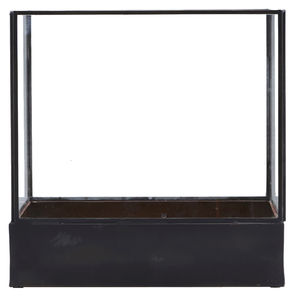 Display box, Plant, l: 21 cm, w: 30 cm, h: 30 cm FoodsafeNo Microwave ovenNo DishwasherNo WaterproofNo CE markingNo RohsNo Free from nickelNo

Magic guide for the senses. Pieces of furniture in its best forms. Atmospheres steeped in emotion. Pure aesthetic essence redefined for the space.
See the other products
SKY LINE DESIGN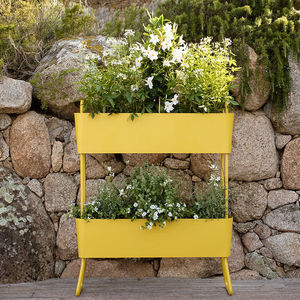 aluminum planter
GREEN by Maiori Design
If you have 0.3 square meters of floor space, you have a garden, it is that simple, meet Greens, by Maiori Design. Designed simply Greens Mini is a must-have for a chic balcony and garden. Greens Mini has handles to move around. Need ...

aluminum planter
BRAZILIA
The Brazilia collection is a comfortable and surprising line of products. The potential combinations, layout and accessories are multiple and allow you to create and entirely modulate your spaces according to your desires. Spécificités Materials ...

See the other products
POLYMOBYL

Manufacturing: Made of steel with treatment to ensure optimum corrosion resistance. Finishing: Zinc-plated with epoxy primer and polyester paint black powder coating, forge effect. Installation: Floor mounting with M10 screws, not supplied.
See the other products
Novatilu