How to choose this product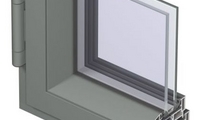 Thermal break windows feature double and triple glazing, and insulated metal frames to decrease heat losses at the window-wall seal or through the single-glazed pane and uninsulated frame of an ordinary window. This considerably decreases heat loss and increases interior comfort.
Applications
These windows can be used on any building requiring good thermal insulation.
Technologies
This system uses 6-6 polyamide strips with 25% fiberglass mechanically applied to interior and exterior aluminum frames. Other versions employ PVC or polyurethane resin strips.
How to choose
The quality of the thermal break and the installation method must ensure proper insulation over the long-term. The glass must be suitable for the intended use and the regional climate. Choice should be made with professional guidance in accordance with technical specifications and local regulations.
Advantages
- Energy savings
- Efficiency
- Comfort