Waterproofing membranes for roofing
79 companies | 271 products
How to choose this product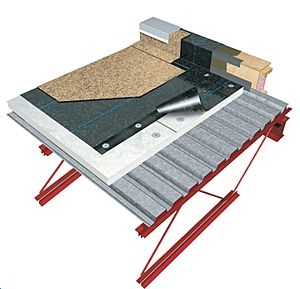 A waterproof roofing membrane consists of a single layer. This flexible sheet is unrolled and bonded to the roof support. It can be composed of roofing felt, bitumen, elastomer, PVC or a similar material.
Applications
These membranes can be installed on roofs and terraces with a slope less than 15% regardless of building type, be it residential, office or commercial.
Technologies
There are several principal waterproofing systems:

- Asphalt is laid hot, in two coats.

- Multilayer bitumen consists of reinforced bitumen and/or of roofing felt. These manufactured materials are applied with a hot bituminous binder (roofing cement) or with a dressing compound (permeated felt roofing).

- Multilayer reinforced elastomer bitumen comprises coats of bitumen impregnated with resins and reinforced with fiberglass or polyester. They are applied with a hot binder or with a dressing compound.

- Single-ply non-bituminous waterproofing is composed of small sheets of synthetic rubber or PVC. Seams are hot-air welded.

- Liquid systems use polymer resins (polyester, polyethylene, etc.). They are sprayed on, applied with a paint roller or a trowel.
How to choose
Take into account the nature of the support material, the climate and the roof slope.