The Online Architecture and Design Exhibition
According to the NIJ Standard 0108.01 Ballistic Resistant Protective Materials, certified in Chile by the Armed Forces Investigation and control Institute (IDIC), our bulletproof glasses maintain the highest resistance and projectiles ...
There is a wide selection of accessorised and storage walls designed to furnish, partition as well as store and file. They are made with a silver melamine-coated board structure with melamine-coated front panels available in the finishes ...
Functional spaces for above-average requirements. Our skeleton-structure aluminium cabinet system, modifiable by applying multi-use elements. Fitted with acrylic glass inserts and glass shelving, the Glass Cabinet S10 is suited to ...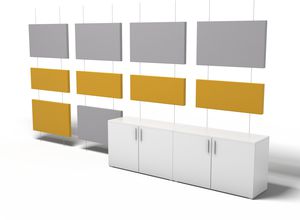 wall-hung partition
CAPSOUND
laminated glass panel
HOLOGRAMGLASS™
Our exciting patented HologramGlass™ products are laminated glass that exhibit reflective characteristics and effects through holographic technology. The patented laminated inner layer provides never-seen-before appearance in ...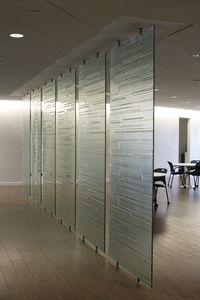 patterned glass panel
BOARDS
Based on a panel wall construction, Boards is a texture that is organic, linear and geometric. Its translucency allows natural lighting to come through yet capturing the natural beauty of a wooden wall panel on one plane. This three dimensional ...
Allow us to enhance the decor and interior design and integrate the crystals with the architectural design. We can find them in similar shades to black oxide finish or translucent and opaque in varied colors. Among the decorative films ...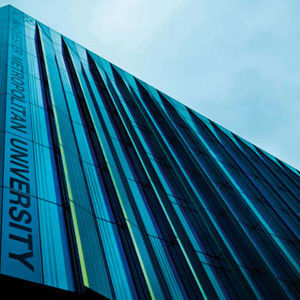 facade decorative film
CHAMELEONLAB
Produce stunning colour change effects in facades by using our chameleon CL dichroic film. The film with a max. width of 1400 mm can be incorporated in insulating glass units, be laminated between 2 pieces of glass or be applied to ...
The fitted wall unit is a system studied to achieve flexible organisation of available space with infinite possibilities to adapt it. Mainardi Sistemi offers rational solutions to divide, furnish and equip your workplace and thanks to ...
Street noise, loud operating noise or the noise from aircraft: Noise pollution through our environment has increased greatly in the past. Semco provides silence. The noise stays on the outside with tested sound insulation glazing. Semco ...
office storage wall
PREMIUM
The PREMIUM partition is a combination of steel and aluminuum structures that, together with planks and panes, separate interior spaces. The various series of the premium partition utilise all types of aesthetics such as grooves, double ...
office storage wall
STORAGE WALL
Storage wall is a modular storage wall with elements 50 and 100 cm wide and 36 and 46 cm deep. It has a supporting structure composed of melamine coated vertical panels, 22 cm thick, and adjustable feet for levelling. The uprights have ...
Maxlen Liquid Crystal Glass...intimacy or privacy at the flick of a switch...your window on the future!For those times when you would like to be shielded from view, LC Glass allows you to simply flick a switch creating an immediately ...
laminated glass panel
CRIMETAL®
Decorative aluminum and stainless steel architectural meshes laminated to glass panels turn into a sophisticated and modern aesthetic solution. Cricursa Crimetal® melds the high visual quality of metals with the security of laminated ...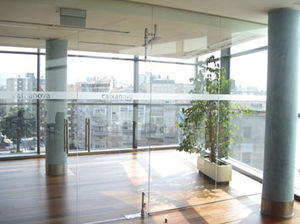 tempered glass panel
TEMPEREDGLASSPLUS®
Description Tempered glass is a safety glass that offers an extraordinary shock resistance, up to six times stronger than standard glass. It is suitable for Architectonical elements: facades, glazing, lifts with panoramic views, walls, ...
Spacemaile Hanging Screens are a simple ceiling-hung solution used to divide interior spaces, create visual privacy or as a backdrop for signage or displays in retail and hospitality. They are perfect for wrapping internal columns and ...
gymnasium curtain partition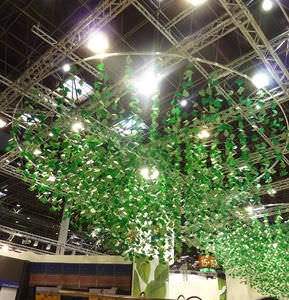 decorative film
ROSE BLOSSOM
Glasen is a printed film that brings a superb range of decorative effects to glass for the first time. By taking a traditional mass-market product in glass and developing Glasen, LG Hausys have provided consumers with a superior interior ...
glass decorative film
HIGH-TECH OPTIONS
Smart Solution Plus: Solar Reflecting - High-Tech Options The Smart Solution Plus line includes new and innovative high-end treatments that can be applied to Seves Glassblock glass bricks to meet the needs of today's architectural ...
sliding partition
MULTIDIRECCIONAL
Mobile partitions for acoustic insulation in both directions. Presentation finish: 32 textile varieties and 15 types of wood textures. Selection of lacquered colours. Support materials: MDF. Specials on request. Surface: Smooth Perforations ...
pivoting/sliding partition
MONODIRECCIONAL
Mobile partitions for acoustic insulation in just one direction. Presentation finish: 32 textile varieties and 15 types of wood textures. Selection of lacquered colours. Support materials: MDF. Specials on request. Surface: Smooth ...
home storage wall
PANNELLATURA ATTREZZATA by pinuccio borgonovo
With the equipped paneling it is possible to cover the back side of a wardrobe or embellish a wall with horizontal panelling available in matt lacquered colours and wood finishes. The boiserie can be equipped with shelves, writing desktops ...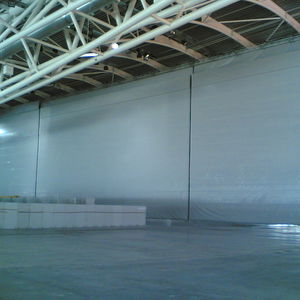 gymnasium curtain partition
FLEXIWALL
La tenda Flexiwall è una tenda divisoria con sistemi automatici scende dal soffitto fino al pavimento dividendo le sale sia otticamente sia acusticamente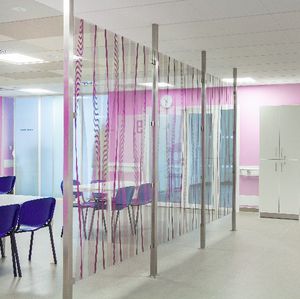 tempered glass panel
80052
Partition wall into the dining room. Glass partition glass hospital with colored motif. Designed separating glass wall in hospitals. Hardened glass with ceramic prints.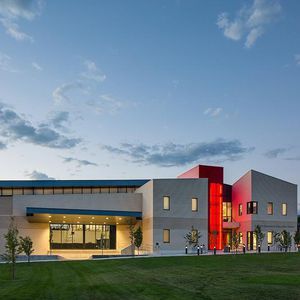 laminated architectural glass
UTAH SCHOOLS FOR THE DEAF & THE BLIND
Jacoby Architects designed and programmed this new Salt Lake Center for the Utah Schools for the Deaf and the Blind, a new facility providing education, therapy, and services for varying levels of sensory, behavioral, physical, and cognitive ...