The Online Architecture and Design Exhibition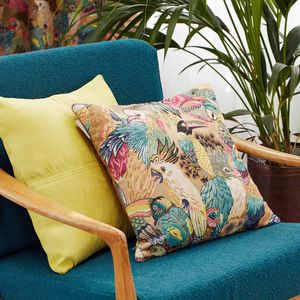 upholstery fabric
JUNGLE BIRDS
Majestic! Made entirely using traditional tapestry in an embroidered style, these parrots will be the indisputable stars of the room. For a high-end interior design which pays attention to elegance and quality. A centrepiece for any interior.
See the other products
MADURA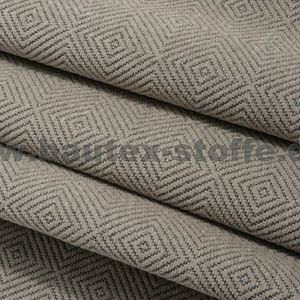 Secura B1, Width: approx. 280 cm, Weight: approx.. 405 g/m², 100% PES IFR, permanent flameretardant, Martindale 50.000, Pilling:4-5
See the other products
bautex - stoffe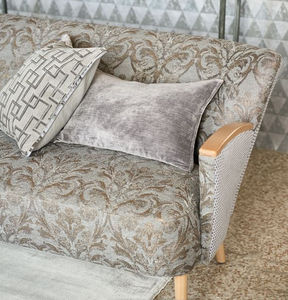 upholstery fabric
PALLADIO
A sophisticated and timeless weave collection of jacquard woven chenilles, damasks and geometrics in soft soothing tones of colour with contemporary metallic highlights. This upholstery weave collection will add a touch of glamour to ...
See the other products
DESIGNERS GUILD
The power of this I-beam design serves as a universal icon of contemporary engineering. Uncompromising in its rigorous discipline, there is a quiet authority in the overall DNA of BLDG. Meaningful. Redolent. Commanding. Authoritative. ...
See the other products
Joseph Noble Textiles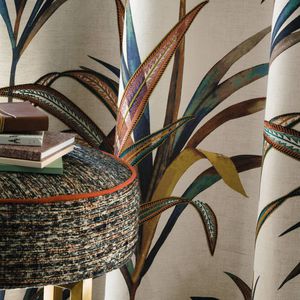 upholstery fabric
JARDIN NÉROLI : CREATION
JARDIN NÉROLI wraps us in its fragrance straightaway. Composed of beautiful fabrics in the same way as a perfume is a collection of essences, the collection opens with a satin embroidered with flowers and leaves, in intense colours. It ...
See the other products
CASAMANCE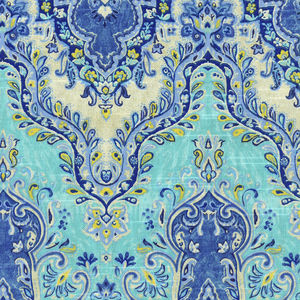 upholstery fabric
SEBLIST PRUSSIAN
Flowing graceful floral design with charming colors. Content: 100% Cotton Width: 54 inches Fabric Type: Print Upholstery Grade: N/A Horizontal Repeat: 6.75 Inches Vertical Repeat: 12.63 Inches Finish: Soil & Stain Durability: ...
See the other products
WAVERLY Div. of Schumacher & Co.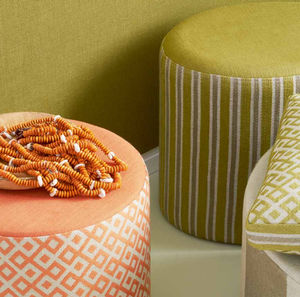 upholstery fabric
CRAFTED POETRY : ROMANTIC GEOMETRICS
Take a fresh approach to colour in your home with accents of new stylish nude tones in combination with orange reds. Discover casual luxury with structured velvets in fashionable colours and enter a world of romantic geometrics. If you ...
See the other products
CHIVASSO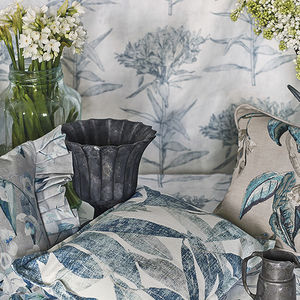 upholstery fabric
GARDENIA : ARBORETUM
Description Inspired by elements of nature, delicate leaves overlap to create a striking and memorable design suitable for statement upholstery and drapes. Collection Gardenia Composition 53% LI 35% CO 12% PA
See the other products
ROMO
upholstery fabric
TONY PRINT
Printed upholstery fabric in Trevira CS on the uni base of Tony. The bold, compact linen texture is complemented with an abstract floral design. The fabric combines beautifully with the unis from Tony. Use: Upholstery fabric Special ...
See the other products
Création Baumann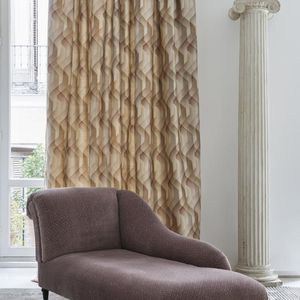 upholstery fabric
GENTRY : PALLADINO 0X
is the renewal of an era where glamour and style is shown with pride. The collection brings back a time where the refined classicism is mixed with modernist trends in architecture and landscape design. We revisit this style through textiles ...
See the other products
LIZZO
upholstery fabric
PIKKUPAKKANEN by Maija Louekari
This cotton panama fabric in shades of white, green and fuchsia depicts a mild winter day when little birds ruffle their feathers in the bare berry bushes and children's cheeks glow red from the crisp air. The pattern was designed by ...
See the other products
Marimekko Corporation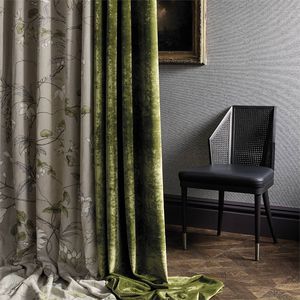 curtain fabric
DARNLEY : CHAMBALON TRAIL
This delicate 'tree of life' motif with elegant white pigment highlights displays a charming innocence on an expansive ground. Traditionally screen printed on natural linen, this smart Zoffany design is striking in its perfect simplicity.
See the other products
stylelibrary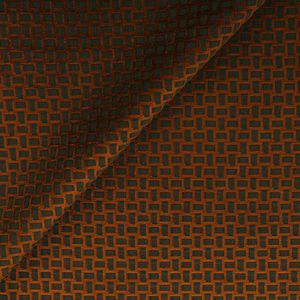 upholstery fabric
ESSENTIALS : QUADRATO
Quadrato, named for its geometric patterning, is a contemporary cut-and-loop velvet. Its surface grid of plush velvet pile contrasts with a textured épinglé ground and an accent of cotton satin, giving it a dimensional effect. The color ...
See the other products
JIM THOMPSON
upholstery fabric
PURE ORKNEY WEAVE
Pure Orkney Weave from Morris & Co. is made up of geometric motifs that reflect the structures of Iceland's landscape as described in Morris's diaries as he sailed past the Orkney Islands. The weave has a hand woven natural effect in ...
is a luxurious collection where the traditional damask is brought to the present through modern and contemporary colours and designs. Damask was originally woven from silk and imported from Asia through Damascus, hence the name. This ...
See the other products
ALHAMBRA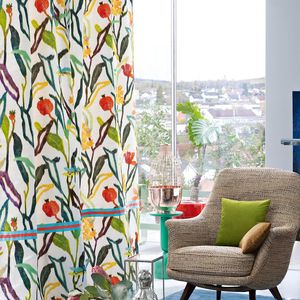 upholstery fabric
ZIMMER + ROHDE : WONDERLAND
The collection is an homage to mythical places, fairy-tale dream worlds and the magic of the future. While taking cues from cabinets of curiosity we also pay tribute to traditional craftsmanship. However, this collection is also inspired ...
See the other products
Zimmer + Rohde GmbH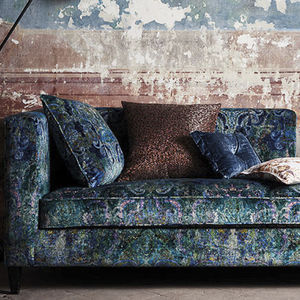 upholstery fabric
HERBARIA : MAROQUE
Description Intricate layers and elaborate detailing are considerately positioned to create a large scale Moroccan inspired damask, digitally printed on a fine viscose velvet. Collection Herbaria Composition 55% VI 45% CO Pile: 100% VI
See the other products
BLACK EDITION
upholstery fabric
ULTRALEATHER® : TOTTORI
Distinct. Matte. Earthy. Inspired by the windswept landscape of the Tottori Sand Dunes in Japan, Ultraleather® | Tottori delivers a stylish rendition of a timeless, leather-like grain. Reinforcing the tactile experience with its incredibly ...
See the other products
ULTRAFABRICS
upholstery fabric
CADENCE : PEARL
Specifications Content 90% polyester 6% pre-consumer recycled polyester 4% post-consumer recycled polyester Weight 12.9 ± 1.0 oz./lin. yd. Width 54" min. useable Repeat 1.5" vertical | 2" horizontal Backing acrylic backcoating Treatment stain ...
See the other products
Guilford of Maine
upholstery fabric
AFRICA : VUMBURA
Technical features Colour: 3079 - Grey Content: 100% Tempotest Solution Dyed Acrylic Gr/ln: 770 Martindale: 20000 Light fastness: 7-8 Vertical repeat: 17 cm / 6 2/3" Horizontal repeat: 18 cm / 7" Width: 140/55"
See the other products
Elledi srl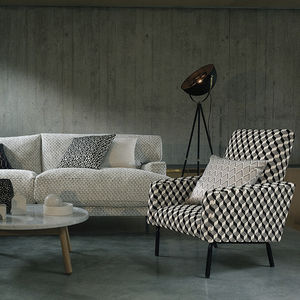 upholstery fabric
TANGRAM
Description Captivating formations of shapes create this striking geometric weave. Tangram features a luxurious mix of textures with contrasting areas of satin and chenille that add depth and substance. Collection Arco Geometrics Composition ...
See the other products
Kirkby Design
upholstery fabric
SMALL PALM
Base cloth: BACH. 1/2 NATTE Pattern repeat: 64CX136T Width: 280 L Composition: 100CO Structure: 30/12 24/12 Removing washing: Chaine: -5% Martindale: 19750 Lightfastness: 5 Tensile strength: chaîne: 5.27daN trame: 2.59daN
See the other products
Olivier Thévenon Selection
upholstery fabric
MADELEINE CASTAING : FEUILLAGE
Width: 120 cm Weight: 150 gr/m² Matieres: 100% INTISSE M1
See the other products
EDMOND PETIT
upholstery fabric
ATELIER
Code: 2019 Width: 140 cm Weight: 4 Gr/ml Composition: 34Co 28Wo 20Pa 18Pl Repeat(Vertical): 4.00 cm Repeat(Horizontal): 0.00 cm Martindale: 35.000 Rubs
See the other products
DECORTEX
upholstery fabric
B7606002 L'INDISCRET
Composition Lin/Linen : 70% - Soie/Silk : 30% Colour: NOIR Style: Napoleon III Technical information Weight : 290 gr Width: 142 cm / 55-90 inch Type of repeat: Horizontal 18 cm /' 7.08 inch - Vertical 20 cm / 7.87 inch
See the other products
PIERRE FREY tissus