How to choose this product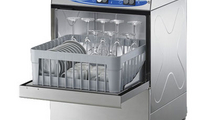 A commercial dishwasher is especially designed for cleaning dishes for professional catering environments such as restaurants and similar establishments. It tends to have shorter, faster cycles to cope with large, frequent loads. While small operations may have under-counter machines, high-volume kitchens usually use pass-through dishwashers. On ArchiExpo, these machines are arranged by properties such as type or method of loading.
Technologies
Stainless steel, plastic and other materials are used to make these dishwashers. Plastic is less expensive, but is usually less robust, scratches easily and is harder to maintain. Some models save energy or water, and may even carry an Energy Star or other efficiency rating.
How to choose
Consider the capacity and cycle time, quality, available space and ease of maintenance. Keep in mind the type and size of dishes to be washed, basket dimensions and the terms of any guarantee or warranty. Machine noise, energy and water efficiency are also important factors.