How to choose this product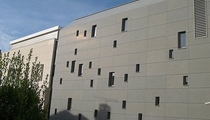 Stone facade cladding gives the exterior envelope of a building the appearance of natural, solid stone. It may be made of natural stone, a composite or imitation stone. On ArchiExpo, cladding is arranged by such properties such type of stone or material.
Applications
This cladding is used to improve building envelope appearance and protect the structure from weather damage. It is attached to the load-bearing structure, sometimes with an air gap between the two for thermal insulation and humidity control. It is found on a range of public, private and commercial structures.
How to choose
Cladding choice will depend on cost and ease of installation, compatibility with its environment and compliance with applicable building codes.

The installation method must not compromise thermal insulation, watertightness or structural integrity. Other factors include resistance to diverse weather conditions, ease of repair or replacement in case of damage, maintenance requirements and whether the cladding is color-fast or prone to fading.