The Online Architecture and Design Exhibition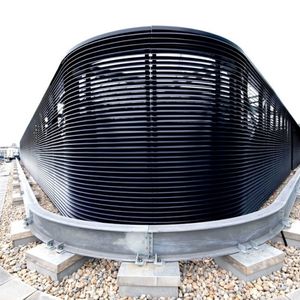 aluminum ventilated facade
CONTOUR™

metal ventilated facade
INCOMODULAR S SERIES
... INCOModular® S cassette-type panel for façades is a metallic architectural facing. The panels can be rectangular or square, according to the design requirements. They can be used to created dry or ventilated ...

metal ventilated facade
MEERESMUSEUM STRALSUND by Behnisch & Partner Architekten
With its unique architecture, the Ozeaneum enriches the old Hanseatic city near the Stralsund by a new monument. It is an open building which, similar to stones being washed around by the sea, is filled with light and visitors from all ...

metal ventilated facade
CURTAIN WALLS
typoloy Ventilated curtain walls description Berti is able to propose, design, develop and fabricate various types of ventilated curtain wall with cladding in metal (aluminium, Alucobond ...

aluminum ventilated facade
ELEGANCE 52 OP VEC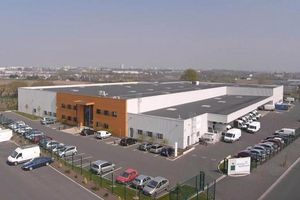 wooden ventilated facade
ETABLISSEMENT DE RÉPARTITION PHARMACEUTIQUE
See the other products
BRIAND C.M.

porcelain stoneware ventilated facade
The innovative ventilated facades, which are being used on a growing number of projects, open up new paths in the fixing of large size ceramic tiles. This technique is perfectly suited to less conventional ...

aluminum ventilated facade
The ventilated facade is a highly-performing building solution applicable for multistorey buildings. Its main feature is to create a circulating air-chamber, or thermic cushion between the wall and the ...

ceramic ventilated facade
The ventilated façade is a constructive solution on the rise thanks to its high quality aesthetic characteristics and indisputable thermal and acoustic insulation advantages. The ventilated ...

ventilated facade
by MJP Architects
... UK) was awarded the order to enclose the Langham Street facade of the Old Broadcasting House of the BBC Building at Portland Place, London, with a fully ventilated twin facade. Two types ...

metal ventilated facade
ARK WALL
... . The ARK-WALL ventilated facades, developped by ISOPAN in co-operation with INPEK, are innovating cladding systems, able to match the thermal-insulating qualities of the sandwich panel, ...

stone ventilated facade
HALLESCHE KRANKENVERSICHERUNG, HEAD OFFICE STUTTGART
aluminium double glazed windows and decentralized air-conditioning for ventilation facade, natural stone and glass-wall covering, marquee construction, heated mullion-transom facades, sun shades, shop ...
See the other products
Schindler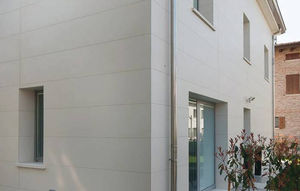 metal ventilated facade
CERAVENT
Thermal Insulation System Efficient thermal insulation in your home is always important as it is: LESS EXPENSIVE protects your home from heat dispersion and reduces your heating costs. protects your home from heat dispersion and reduces ...
See the other products
Kerlite

polycarbonate ventilated facade
SPC
The facade SPC panels are a special type of the SPC panels, meant for the manufacture of facades. Their specific structure enables joining of panels along their width ...

ceramic ventilated facade

polymer concrete ventilated facade
PERFORATED
(*) Our facade systems are not commercialized in France and/or in UK. MAKING POSSIBLE YOUR CREATIVE FACADES. THIS IS OUR MOST VERSATILE RANGE, THE RANGE OF EXPRESSION AND IMAGINATION FOR ARCHITECTS, ...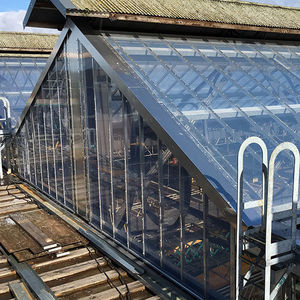 Texlon® ETFE ventilated facade
CARLISLE TRAIN STATION
... structural connection between the ETFE panel and the aluminium perimeter framing.For the facade element of the building, vertical mullions spaced along the ETFE panels have concave surfaces onto which ...

porcelain stoneware ventilated facade
... insulation materials and elements for fixing, fastening and connecting rear-ventilated facades. A ventilated facade is a means of covering a building; the porcelain ...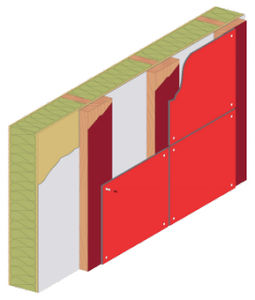 phenolic resin ventilated facade
PANNEAU COMPACT EXTÉRIEUR HPL
The HPL outer compact panel is a stratified panel based on phenolic resins armed with cellulosic fibers.

Lapitec® slabs are ideal for rainscreen facades and ventilated systems mechanically fixed. High resistance to high temperatures, frost, UV rays and high-speed wind, makes Lapitec® sintered stone ideal ...
See the other products
lapitec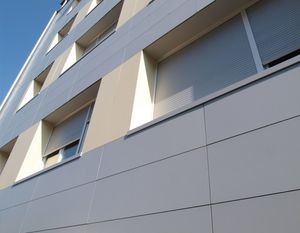 composite ventilated facade
... clean and maintain aesthetics ventilated facades prevent heat loss in winter, maintain interior temperature in summer and so keep optimal climatic conditions in the building Exceptional characteristics Kerrock ...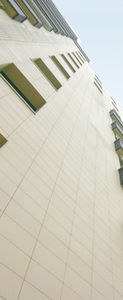 porcelain stoneware ventilated facade
Encasing the facade of a building with a ventilated wall system is the most effective outdoor covering technology that solves the problem of providing protection against humidity and weather conditions, ...