bar stool
UNIT by Benninghoff & Weigel
UNITs design secret is always exposed: the narrow cabinet tubing that supports the chairs back and seat features is always visible. The bar stool and counter chair are easy to manage. UNIT bar stool with backrests. Square tubular ...

bar stool
JALIS by Jehs & Laub
For all those aiming high, Jalis is also available as a bar stool, with a chrome-plated wire frame or a wooden frame in oak, walnut or a lacquered finish. Jalis remains true to the idea of cushions placed loosely on top, both with and ...

Ash wooden structure – natural lacquered, black stained lacquered or colored with a matt open grain in grey, white and blue. Ring in satin stainless steel. Versions: chair, armchair, stool.

bar stool
STELLA by Biagio Cisotti & Sandra Laube
Barstool, chrome plated metal structure, seat shell made in three dimensional plywood, veneered with blackwood or moccawood.

bar stool
FRISBI by Biagio Cisotti & Sandra Laube
Barstool, chrome plated steel structure, leg support in stainless steel, seat upholstered.

Space Copenhagen originally designed Spine for the interior design for a Michelin starred restaurant in 2011. Since then, the Spine series has proven extremely successful as a symbol of quality and craftmanship in high-end restaurants, ...

bar stool
SPIN by Staffan Holm
MATERIAL Laminated ash wood veneer. Natural lacquer or white, black, blue, grey, yellow, pink or orange lazur finish. Blue: NCS S 5540-B20G Orange: NCS S 1080-Y70R Yellow: NCS S 0580-Y10R Pink: NCS S 0550-R10B Grey: NCS S 4500-N ...

bar stool
MORPH BAR by Formstelle
Its high comfort and stability distinguish the bar stool MORPH BAR. The stool fits nicely as an object into modern surroundings, where its wood character and filigree design deliberately stand out. Ideal for coffee bars, restaurants ...

bar stool
H by Xavier Pauchard
Features H45 → 450 × 310 × 310 mm, 3,22 kg H50 → 500 × 310 × 310 mm, 3,45 kg H55 → 550 × 310 × 310 mm, 3,68 kg H60 → 600 × 310 × 310 mm, 4,17 kg H65 → 650 × 310 × 310 mm, 4,39 kg H70 → 700 × 310 × 310 mm, 4,62 kg H75 → 750 × 310 × 310 ...

bar stool
PERFORATED H by Chantal Andriot
Features H45 perforated H450 × L310 × P310 mm, 4 kg H75 perforated H750 × L310 × P310 mm, 5 kg Indoor finishes Raw steel glossy varnish, Painted.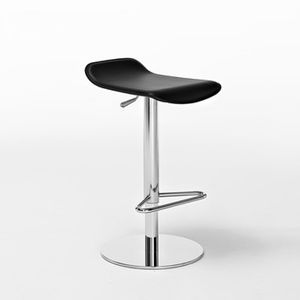 Leather covered Chromium-plated steel structure h. max 78 min 52 p. 45 l. 35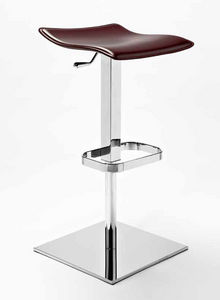 Leather or soft leather covered Chromium-plated steel covered h. max 78 min 52 p. 38 l. 39

Betty Grables smile and legs have served as inspiration for this piece. The Grable stool has an elegance and refined design. Detailed handmade joinery work completes the look. It is easy to appreciate the mortise and tenon joints ...

GAMADECOR's complementary kitchen furniture is fundamental in finishing off a GAMADECOR kitchen. The unique design, natural beauty, quality and comfort of its chairs, stools and tables help to set kitchens apart from all the rest. A ...

See the other products
Mobalpa

See the other products
Mobalpa

See the other products
Mobalpa

See the other products
Mobalpa

See the other products
Mobalpa

8378B CLAIRE STOOL H Height 116 L Width 51 P Depth 49 H Seat Height 80 Weight Kg 7.5 8379B CLAIRE STOOL WITH HARP H Height 116 L Width 51 P Depth 49 H Seat Height 80 Weigth Kg 7.5

8016B EVA STOOL H Height 104 L Width 47 P Depth 54 H Seat Height 68 Weight Kg 8

8198B MELODY STOOL H Height 112 L Width 59 P Depth 59 H Seat Height 76 Weight Kg 10

8737B PRIMULA STOOL H Height 115 L Width 55 P Depth 56 H Seat Height 83 Weight Kg 10

8274B LUIGI XVI ROUND STOOL H Height 69 L Width D. 37 Weight Kg 4

Enticing simplicity is exemplified in this fluid and gracious bar stool. Chartreuse rippled fabric combine with the rich ebony veneer complete a stunning masterpiece. DIMENSIONS Bar Stool W 45cm | 17,72'' D 55cm | 21,65'' H 105cm ...


Barstool Pyramid makes your home complete. Not many barstools are as flexible as stool Pyramid, because our bar stool is available in several fabrics. The design of stool Piramide brings every interior to a higher level! The leg is ...

bar stool
PURE LOOP MINI UPDOWN by Claus Breinholt
The "Pure" shell becomes "Mini", assembled on different types of stool frames: four legs, Rod, Dandy, and the brand new Updown. All the versions have a polypropylene shell that can also be upholstered, while Dandy and Updown also offer ...

bar stool
POP by Laurent Minguet
Bar stool with small footprint for interior, made of steel and beech. A hook under the seat for bag, clothing or helmet. Available in 2 heights 685mm and 785mm. 2 standard colors: - Foot: Black RAL 9005 polyester powder coated finish. Seat: ...

bar stool
TRES-SG by Ramos Bassols
Tres is a set of three planes where a middle area works as a transition between seat and backrest, giving the chair a very particular character. A frame held by four extensions, the legs, outlines and builds the silhouette of the threefold ...

Dam is a transversal adjustable stool, characterized by a wrapping and comfortable well recognizable backrest. Seat, lumbar support and backrest/armrests are the three elements that, held together in an invisible way, draw a definite ...

In 1942 Mogens Lassen designed the Stool ML42 as a piece for a furniture exhibition held at the Danish Museum of Decorative Art. He took inspiration from the stools used by the shoemakers of the past, and transferred the light, elegant ...

A matstainlesssteel or lacquered metal base meets a top in glass, wood, ceramic or Materia, to make up a collection of tables with a distinctivepersonality and versatility in the setting: from the home to contractspaces.