bar stool
RIOJA by Lounge Designgroup
This higher barstool from the Rioja collection is named after the Spanish wine region. We offer a variant of beech and oak, which, thanks to its pattern, further highlights the smart and fine shapes of this model. Total height (cm) 80 Seat ...

bar stool
VITO by Studio Borella
VITO is the new stool designed by Studio Borella for Area Declic. It traces the concept of a stool thousand uses: work, free time, collectivity, home.The design is simple, rigorous and functional, VITO is a review of a timeless object, ...

bar stool
BELT by MI_CE_BA Design
Adjustable swivelling stool. A unique painted steel strip harmoniously combines the elements that make up the seat and the ensemble can be monochrome or two-coloured. The seat is padded in metallic fabric, simulated or genuine leather. ...

bar stool
IPANEMA by Sandonà & Sandrin
Swivel stool with amazing, amusing and informal seat, made up of a coloured polyethylene ring produced by rotational moulding. The seat rests on a swivel and adjustable height column with chromed or chrome-satinated footrest and square ...

Stool inspired by the Sixties. The chromed steel frame is ennobled by the seat in translucent polycarbonate or in shiny ABS. Comfort and stackability are its strong points. It is suitable for the contract sector as well as for residential ...

Bar features a simple and timeless design due to its lightweight and family character, which makes it suitable for any domestic or public environment. The stool features a chromed metal frame, with a natural rattan structure, carefully ...

bar stool
ORGANIC by Joan Lao
Necessary and essential elements for living space , without ever forgetting the aspects of functional and emotional that gives to Organic a differential value. A piece that is indispensable for homes or public spaces in which they ...

bar stool
FIVE by Enzo Berti
His name and shape are the result of a single steel pipe, skillfully molded in the shape of "5", that create FIVE, this very peculiar stool, height adjustable. The numerous finishings possible on the central column and on the steel pipe, ...
See the other products
Bross Italia

bar stool
FLUX by Emilio Nanni
Flux barstool completes this interesting family and while maintaining the characteristics of solidity and comfort of the chairs, the barstool reaches a more modern taste with the low back. The reinforced structure makes it perfect for ...
See the other products
Bross Italia

bar stool
BIKE by Enzo Berti
Eccentric design for "BIKE," a fixed stool with central column, matt black lacquered. Made unique by the original "Brooks" saddle, all-leather on springs. Ideal for those who want to personalize with style and create an unique environment, ...
See the other products
Bross Italia

bar stool
TAM TAM by Studio Riforma
Resembling the shape of a drum, this stool is height adjustable, with wooden seat or with upholstered panel. The wood colours available, along with the various fabrics offered, make TAM TAM a versatile and lively collection.
See the other products
Bross Italia

bar stool
MASTER by Emilio Nanni
This barstool completes with its simplicity, clean lines and minimal look the Master collection. The metal frame is available in two different heights and seat is offered in oak wood in various finishes.
See the other products
Bross Italia

Ash wooden structure – natural lacquered, black stained lacquered or colored with a matt open grain in grey, white and blue. Ring in satin stainless steel. Versions: chair, armchair, stool.

bar stool
STELLA by Biagio Cisotti & Sandra Laube
Barstool, chrome plated metal structure, seat shell made in three dimensional plywood, veneered with blackwood or moccawood.

bar stool
FRISBI by Biagio Cisotti & Sandra Laube
Barstool, chrome plated steel structure, leg support in stainless steel, seat upholstered.

bar stool
SPIN by Staffan Holm
MATERIAL Laminated ash wood veneer. Natural lacquer or white, black, blue, grey, yellow, pink or orange lazur finish. Blue: NCS S 5540-B20G Orange: NCS S 1080-Y70R Yellow: NCS S 0580-Y10R Pink: NCS S 0550-R10B Grey: NCS S 4500-N ...

bar stool
MORPH BAR by Formstelle
Its high comfort and stability distinguish the bar stool MORPH BAR. The stool fits nicely as an object into modern surroundings, where its wood character and filigree design deliberately stand out. Ideal for coffee bars, restaurants ...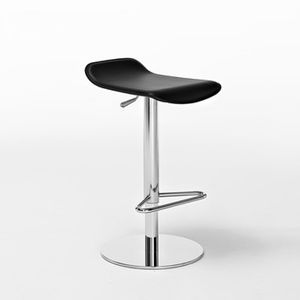 Leather covered Chromium-plated steel structure h. max 78 min 52 p. 45 l. 35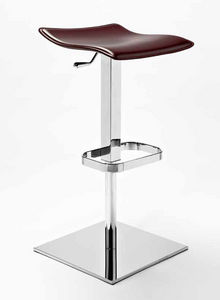 Leather or soft leather covered Chromium-plated steel covered h. max 78 min 52 p. 38 l. 39

bar stool
PURE LOOP MINI UPDOWN by Claus Breinholt
The "Pure" shell becomes "Mini", assembled on different types of stool frames: four legs, Rod, Dandy, and the brand new Updown. All the versions have a polypropylene shell that can also be upholstered, while Dandy and Updown also offer ...

Enticing simplicity is exemplified in this fluid and gracious bar stool. Chartreuse rippled fabric combine with the rich ebony veneer complete a stunning masterpiece. DIMENSIONS Bar Stool W 45cm | 17,72'' D 55cm | 21,65'' H 105cm ...


Barstool Pyramid makes your home complete. Not many barstools are as flexible as stool Pyramid, because our bar stool is available in several fabrics. The design of stool Piramide brings every interior to a higher level! The leg is ...

8378B CLAIRE STOOL H Height 116 L Width 51 P Depth 49 H Seat Height 80 Weight Kg 7.5 8379B CLAIRE STOOL WITH HARP H Height 116 L Width 51 P Depth 49 H Seat Height 80 Weigth Kg 7.5

8016B EVA STOOL H Height 104 L Width 47 P Depth 54 H Seat Height 68 Weight Kg 8

8198B MELODY STOOL H Height 112 L Width 59 P Depth 59 H Seat Height 76 Weight Kg 10

8737B PRIMULA STOOL H Height 115 L Width 55 P Depth 56 H Seat Height 83 Weight Kg 10

8274B LUIGI XVI ROUND STOOL H Height 69 L Width D. 37 Weight Kg 4

bar stool
POP by Laurent Minguet
Bar stool with small footprint for interior, made of steel and beech. A hook under the seat for bag, clothing or helmet. Available in 2 heights 685mm and 785mm. 2 standard colors: - Foot: Black RAL 9005 polyester powder coated finish. Seat: ...


In 1942 Mogens Lassen designed the Stool ML42 as a piece for a furniture exhibition held at the Danish Museum of Decorative Art. He took inspiration from the stools used by the shoemakers of the past, and transferred the light, elegant ...

SOLO complements the Counter Table Collection of Saveri and reflects the Design philosophy of timeless design using authentic material with a high demand to quality. The SOLO Bar stool underlines modern outdoor living feeling. Sound ...


bar stool
TRES-SG by Ramos Bassols
Tres is a set of three planes where a middle area works as a transition between seat and backrest, giving the chair a very particular character. A frame held by four extensions, the legs, outlines and builds the silhouette of the threefold ...

Dam is a transversal adjustable stool, characterized by a wrapping and comfortable well recognizable backrest. Seat, lumbar support and backrest/armrests are the three elements that, held together in an invisible way, draw a definite ...

A matstainlesssteel or lacquered metal base meets a top in glass, wood, ceramic or Materia, to make up a collection of tables with a distinctivepersonality and versatility in the setting: from the home to contractspaces.