See the other products
Mobalpa

See the other products
Mobalpa

See the other products
Mobalpa

See the other products
Mobalpa

See the other products
Mobalpa

bar stool
VASES by JM Ferrero
VASES, is made up of flowerpots, furniture and lighting designed by the Valencian designer JMFerrero. Its shapes were inspired by diamond cutting, producing pieces of clear-cut shapes and great style, creating a big visual impact.

VERTEX is a set of table and chairs with triangular planes which join dynamically together to create comfortable forms suitable for dining or meeting rooms, banquet or lecture halls and other casual needs. VERTEX looks as if it was chiseled ...

This Collection is the result of genetic mutation experiments between the iconic languages of pagodas and flying saucers. Its characterized by its contrasting negative and positive shapes. Having this creative focus originated a collection ...

JUT, a series of different pieces specifically designed for outdoor and indoor spaces in the forefront of modern design: a sun lounge, a sofa, an armchair, one chair, two tables of different size and an innovative extendable table, ...

bar stool
MOMA by Javier Mariscal
The collection MOMA, designed by Javier Mariscal for the Spanish brand VONDOM, is a series of objects for outdoor. It was decided to do a new typology of furniture to unite the function of a flowerpot and an outdoor table, thus MOMA ...

bar stool
TABOURET Alberto Stella
Stool composed of 4 equal elements in solid wood. The assembled elements recall a floreal design in form. Gripping it is facilitated by grasping the central part. It can be ordered in two heights, 50 and 70 cm.

bar stool
BLOOB by Karim Rashid
Stool suitable for both residential and contract applications. Available in fixed or swivel version.

Bond is a chair designed by Jean-Marie Massaud. The name Bond refers to the possibility to concatenate and create a friendship bond with someone. This sums up the thought behind the series. Its simple and soft form invites people to ...

bar stool
CORNFLAKE by Claesson Koivisto Rune
Cornflake is designed by Claesson Koivisto Rune and consists of a chair, armchair and barstool and also a serie of tables. Cornflake came to a success with its simple but outstanding design. The chair gives a feeling of pliability. In ...

Patrick Norguets goal in creating the chair Duo was to develop a space-saving upholstered chair with great comfort. The result was Duo - a bar stool and a chair with or without armrests. Aesthetically Duo can be described as a chair ...

bar stool
MONO LIGHT by Claesson Koivisto Rune
Mono Light is a chair designed by Ola Rune for the Mono collection. The typical looping frame from which the seat is suspended is very significant and a key component in Mono Lights unique design. The idea of the Mono chair is that it ...

bar stool
TOFFEE by Claesson Koivisto Rune
The barstool Toffee is designed by Eero Koivisto. Seat upholstered in fabric or leather. Support in chrome. Available in two heights (63 or 82 cm). Technical information Seat upholstered in fabric or leather. Support in chrome, black, ...

bar stool
JALIS by Jehs & Laub
For all those who cannot get enough of Jalis, here is the new bar stool. With a chrome-plated wire frame or a wooden frame in oak, walnut or a lacquered finish, as well as chrome-plated footrests providing support on all sides. Jalis ...

bar stool
SGABELLO by Maurizio Peregalli
L 40 x 38 x H 82 cm - Seat H 72 cm Frame: semiopaque black - semiopaque white Back: black or white rubber Seat: black thousand points rubber - black polyurethane - grooved MDF stained mahogany - opaline polyethylene
See the other products
ZEUS

bar stool
MANHATHAN by Maurizio Peregalli
38 x 38 x H 49 cm 41 x 41 x H 67 cm 42 x 42 x H 82 cm Frame: sandblasted stainless steel - chromed Seat: padded seat upholstery leather - moulded polyethylene
See the other products
ZEUS

bar stool
GOLIA by Maurizio Peregalli
Ø 35 x H 80 cm (one leg) Ø 41 x H 80 cm Ø 45 x H 80 cm (mahogany) Ø 38 x H 45 cm Frame: semiopaque black - silver Seat: padded seat upholstery leather or transluced polyethylene
See the other products
ZEUS

bar stool
TWIST by Marie-Christine Dorner
Ø 50 x H 80 cm Frame: epoxy painted gunmetal colour Seat: poplar wood natural finish
See the other products
ZEUS

bar stool
IRONY by Maurizio Peregalli
41 x 36 x H 64-83 cm Frame: copper black paint - semiopaque white Seat: black or white leather Footrest: satined stainless steel
See the other products
ZEUS

bar stool
1.3 by Kihyun Kim
The ensemble of the 1.3 Collection comprises chair, stool and bar stool. The most outstanding feature of this delicate, light 1.3 STOOL and 1.3 BAR is the wafer-thin impression made by the fine contours of seat. It looks if it is floating ...

bar stool
MORPH by Formstelle
Its high comfort and stability distinguish the bar stool MORPH BAR. The stool fits nicely as an object into modern surroundings, where its wood character and filigree design deliberately stand out. Ideal for coffee bars, restaurants ...

bar stool
FORM by Formstelle
Restaurants and bars can now be furnished with chairs, armchairs and bar-stools from the FORM series. The light bar-stool stands elegantly at the counter and harmonises with the FORM chairs. Fits perfectly to the high table SODA HIGH.

bar stool
FIVE by Enzo Berti
His name and shape are the result of a single steel pipe, skillfully molded in the shape of "5", that create FIVE, this very peculiar stool, height adjustable. The numerous finishings possible on the central column and on the steel pipe, ...
See the other products
Bross Italia

bar stool
FLUX by Emilio Nanni
Flux barstool completes this interesting family and while maintaining the characteristics of solidity and comfort of the chairs, the barstool reaches a more modern taste with the low back. The reinforced structure makes it perfect for ...
See the other products
Bross Italia

bar stool
BIKE by Enzo Berti
Eccentric design for "BIKE," a fixed stool with central column, matt black lacquered. Made unique by the original "Brooks" saddle, all-leather on springs. Ideal for those who want to personalize with style and create an unique environment, ...
See the other products
Bross Italia

bar stool
TAM TAM by Studio Riforma
Resembling the shape of a drum, this stool is height adjustable, with wooden seat or with upholstered panel. The wood colours available, along with the various fabrics offered, make TAM TAM a versatile and lively collection.
See the other products
Bross Italia

bar stool
MASTER by Emilio Nanni
This barstool completes with its simplicity, clean lines and minimal look the Master collection. The metal frame is available in two different heights and seat is offered in oak wood in various finishes.
See the other products
Bross Italia

bar stool
FOREST : 6800 by Robby & Francesca Cantarutti
Collection in extruded die-cast aluminium - consisting of chair, armchair, and stools - inspired by the forms of nature. Also comes with wheeled feet or revolving base. Designed for indoor and outdoor decorating. Available in 7 colours ...

bar stool
MOOD : FS-BS64-31
The chairs in this collection, available as high or low units, appear to float in mid-air. Even the ultra-light frames are designed to give the impression of translucency. Around a table or at a bar, in a garden or in a cosy interior ...

bar stool
ASPEN : FS-CCBS-23A
Pure enjoyment, with a delicious cocktail at hand... The modular sofa design provides countless possibilities for furnishing the terrace. A minimalist design, sophisticated and with austere lines, but with a pure and warm feeling. The ...

Space Copenhagen originally designed Spine for the interior design for a Michelin starred restaurant in 2011. Since then, the Spine series has proven extremely successful as a symbol of quality and craftmanship in high-end restaurants, ...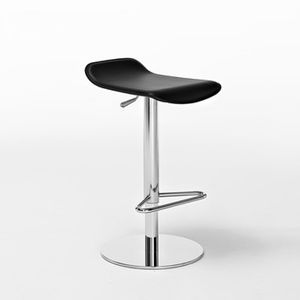 Leather covered Chromium-plated steel structure h. max 78 min 52 p. 45 l. 35
See the other products
Julia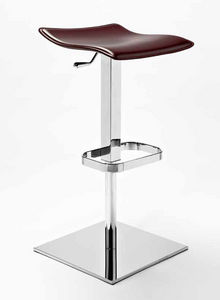 Leather or soft leather covered Chromium-plated steel covered h. max 78 min 52 p. 38 l. 39
See the other products
Julia

Leather covered Chromium-plated steel structure h. max 84 min 59 p. 42 l. 42
See the other products
Julia

Leather or soft leather covered Chromium-plated steel structure h. max 97 min 71 p. 40 l. 40
See the other products
Julia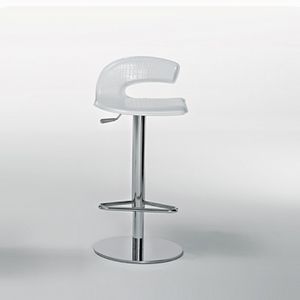 Print alligator or Soft leathercovered Chromium-plated steel h. max 96 min 71 p. 44 l. 41
See the other products
Julia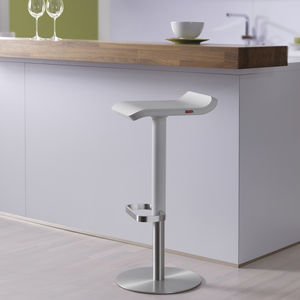 This barstool in a combination of steel and wood, provides a good service during breakfast, business talk or Blue Hour: Ed is the convenient and flexible short-term seating in a small space! In a timelessly elegant design and made of ...

Modern materials - high quality production: The W-2010 combines tradition and modern times in a wonderful way. Completely made out of aluminium or with genuine wood marquery, reduced to the essentials. The latest materials - quality ...

A graceful symmetry. Stool characterized by essential and symmetrical shapes, for a comfortable use in every side of the seat.

There I was, glass in hand, hunting after stray ideas when simple solutions with subtle inventive details based on the theme of the bar came into my head. A stool where you can put your personal belongings, a coffee table with a hole ...

bar stool
JANET by Ramón Úbeda & Otto Canalda
Structure in chromed steel tube. Seat in cast AG3 aluminium scotch polished or anodized silver grey. It can be upholstered in black leather. 39x42xh.65/75 cm

bar stool
MIT by Alegre industrial Studio
Classified as universal chair, MIT reinvents a new style of chair with the aptitude to join with presumption to any current space. Slender and simple lines characterizes to a program made in one single piece where the framework, made ...

bar stool
UKA by Alegre industrial Studio
Chair designed to be versatile, light and easy to store, with flowing lines and cutting edge. It is mounted upon a metal structure which adapts to any use. Its breathable texture provides a perfect lumbar support.

bar stool
RIOJA by Lounge Designgroup
This higher barstool from the Rioja collection is named after the Spanish wine region. We offer a variant of beech and oak, which, thanks to its pattern, further highlights the smart and fine shapes of this model. Total height (cm) 80 Seat ...

bar stool
STOCKHOLM by Mads K.Johansen
This barstool from the Stockholm series combines elements of Scandinavian design with TONs technology. The seat of this model is made of bent plywood and the specific craftsmanship of the beech wood ensures that its visually fine shapes ...

This barstool without a backrest is decorated with eight manually bent beech leg joints, which are the distinctive feature of its classical look. The seat can be upholstered and/or enhanced with decorative studs. Total height (cm) 78 Seat ...

bar stool
PARIS by Tom Kelley
This barstool with a slightly curved seat has a bottom part covered with a protective metal sheet which is easy to maintain when the chair is actively used. Total height High barstool (cm) 83 Total height Low barstool (cm) 64 Seat height ...

bar stool
PUNTON by Tom Kelley
This higher barstool with a stainless steel or black leg joint supplements the Punton chair. A round seat is held by four straight beech legs. The Punton is suitable for a wide range of interiors thanks to its clean design. Total height ...


bar stool
by Jean-Marc Gady
L130 x D110 x H30 cm Veneers in Rosewood, Walnut wood, Pearwood, Moabi, Lime, Aniegre, Avodire, Beechwood.

bar stool
PARCO by Broberg & Ridderstråle
Parco Furniture Group with its contemporary silhouette, practical shapes and comfortable seats is a popular choice for urban landscapes everywhere. The group includes swivel chairs, backed benches, dining tables and café tables that ...