The Online Architecture and Design Exhibition
decorative paint
REGENCY®
... latex paint that combines a paint and primer into one. Ideal for interior wall and trim in residential and commercial applications, this premium-quality, no VOC* paint is specially formulated ...
See the other products
DEVOE PAINT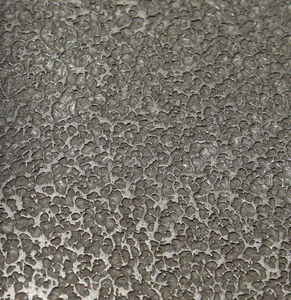 decorative paint
SMOKEY BRONZE
... environment or object in hours. Durability Metalier will last 20-25 years depending on the substrate Flexibility If you can apply paint either by spraying or brushing you can apply Metalier Weight-saving Metalier can ...
See the other products
Metalier International Ltd
decorative paint
CIL SMART3
CIL SMART WASH & WEAR, Interior Ultra Matte, for Living, Dining, Bedroom Delivers a soft, ultra-flat finish that results in rich, deep colours, making it ideal for living rooms, dining rooms and bedrooms. Its Ceramic Microsphere™ technology ...
See the other products
CIL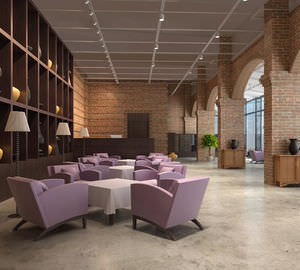 Harmony Béton patina is a liquid colorant, which can be used to stain any existing porous surface by impregnation. Exceptionally easy to apply, Harmony Béton patina delivers an immediate designer feel, creating effects of transparency ...
See the other products
Harmony béton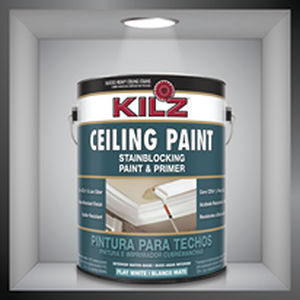 decorative paint
KILZ® STAINBLOCKING
... dust, grease, wax, peeling paint, mold, mildew, wallpaper paste. If washing is necessary, use a non-soapy detergent or a TSP substitute. Rinse well and allow to dry. Peeling or Checked Paint: ...
See the other products
KILZ
decorative paint
BONDEX MATT
Application Areas: All kinds of outdoor wooden elements and wood species Product advantages Protects against surface fungi and blue stain High UV protection Water Repellent Product Type: Translucent, alkyd based wood ...
See the other products
DYRUP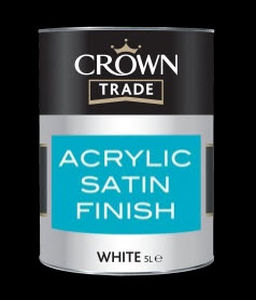 Crown Trade Acrylic Satin is a virtually solvent free alternative to traditional solvent-borne Satin Finish, offering a smooth elegant finish for interior and exterior wood and correctly primed metalwork. Non yellowing Quick ...
See the other products
Crown Paints

Easy application and good performance at a great price. Acrylic latex formula Good hiding Easy water clean up Applies smoothly and evenly 15 year warranty
See the other products
PITTSBURG PAINTS & STAINS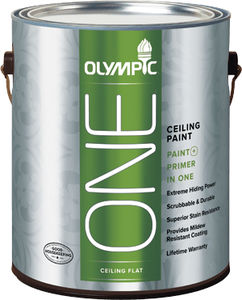 decorative paint
OLYMPIC® ONE
Olympic® ONE™ Interior Ceiling Paint is a superior quality paint and primer in one engineered for ultimate performance and durability. Guaranteed. Paint and primer in one Extreme ...
See the other products
OLYMPIC
decorative paint
TINT BASE
Easily create the marbleized look of acid-stained concrete with Rust-Oleum (Semi-Transparent?) Concrete Stain. This water-based formula gives ordinary concrete a unique finish that is both rugged and trendy. Customize the Tint Base to ...
See the other products
RUST-OLEUM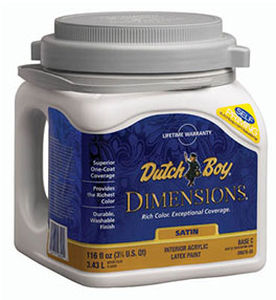 decorative paint
DIMENSIONS
Rich Color. Exceptional Coverage. Available in all colors, including an exclusive palette of 208 designer colors. Excellent coverage Durable, washable finish Excellent application and block resistance Provides rich color Soap and water cleanup
See the other products
DUTCH BOY
decorative paint
MAGNUM ECOLÓGICO
Millions of colours, all green The limitations of ecological paints are now history. With Mágnum Ecológico the exclusive Montomix tintometric system, you can get a paint that isnt harmful to health and ...
See the other products
PINTURAS MONTO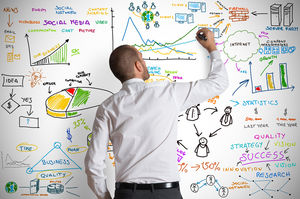 decorative paint
REMARKABLE
What is ReMARKable™ Dry-Erase Coating? ReMARKable™ is the amazing dry-erase coating that turns nearly any surface into a whiteboard. Our revolutionary ReMARKable™ Clear formula can be applied directly on top of a painted surface, turning ...
decorative paint
CLAY PAINT
... tinting the white Clay Paint with Unearthed pigments. Clay Paint colors are premixed with pigments and can be used pure for rich, deep colors or mixed in Natural White Clay Paint for ...
See the other products
UNEARTHED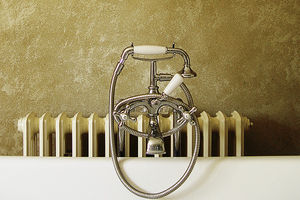 decorative paint
COLOURWASH
The Pitted or Dragged finishes can be further enhanced by the application of a Colourwash. A transparent glaze combined with pure pigment, metallic or pearlescent powder is applied to the plaster, enriching the surface, imparting contrasts ...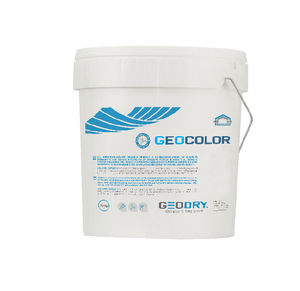 protective paint
GEOCOLOR
Organic mineral hydro paint, water-based, elastomeric, anti-carbonation, filling, breathable, for the protection and decoration of cement and concrete surfaces. Protects concrete against chemical-environmental aggressions. ...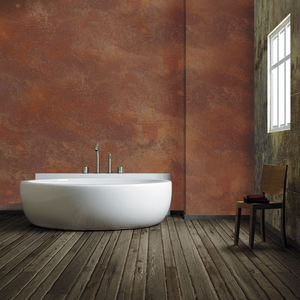 decorative paint
OXYDECOR®
... panels of corten steel. Oxyzinc is the decorative painting that allows making walls similar in esthetic and visual result to galvanized steel panels. The advantage of using corten effect paint and zinc ...
decorative paint
MOON COTTAGE
... rating 4.9/5 stars for our paint range. Available in Resistance Ultra Durable Matt Emulsion, ideal for use in high traffic areas, kitchen & bathrooms. All of our paints come with a colour guarantee, ...
See the other products
Graham & Brown
Light satin finish: 10% reflectivity. Washable. For inside use. Suitable for woodwork and decorative furniture. Yield : 14 m² per Litre. Clean up the tools wth water and soap.
See the other products
CARAVANE