The Online Architecture and Design Exhibition
video monitoring network control keypad
PILOT
System Management Console Pilot composed of the single units Pilot/Center, Pilot/Joy and Pilot/Jog, based on cutting edge technology for operating most complex control scenarios in networking security surveillance systems with ...
See the other products
GEUTEBRÜCK
public pool centralized access control
D505
ELECTRONIC BARRIER CONTROL Electronic barrier control D505 consists of a single emitter/ receiver circuit incorporated in a 1.5 mm thick AISI 316 stainless steel shower column fixed to the floor. It does not require a reflector ...
See the other products
SOEMA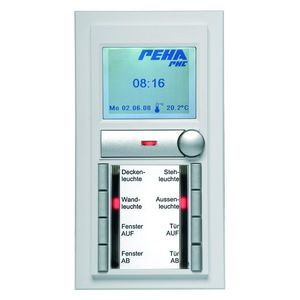 home automation system control keypad
D 20.940.02 MCC
PHC MultiControlCenter/ Weather Station For the MCC MultiControlCentre, a flush-mounted socket is the only thing that´s needed for local operation of PHC systems. The MCC cannot be combined with other units. It is connected to the internal ...
video monitoring network control keypad
RK1+
Available with two, four or eight fully programmable buttons, the RK1+ can directly control almost any audio/video component or lighting system up to 1000 feet away using its infrared output port. When used with RTI accessory devices, ...
See the other products
Remote Technologies Incorporated (RTI)
home automation system control keypad
KP03
Keypad without LCD, White plastic ABS/PC with white buttons, with speaker and microphone, IR receiver Weight: 0.22 kg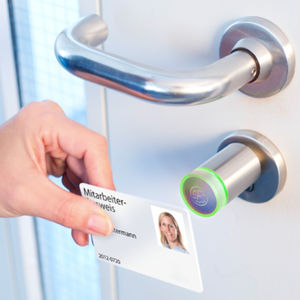 access control iKey reader
OMEGA FLEX
The electronic access control system OMEGA FLEX is user friendly: No wiring at the door Power supply with long-life battery Innovative energy management Safe protection against burglary attempts Weather resistant Fast and simple ...
See the other products
CESITALIA srl
home automation system control keypad
ETH-TAST20-B/N
Multifunction keyboard with graphic display - White or Black. Technical specs Graphic display. N. 20 touch keys. Combined with ETH system and ETH-AL01 system. 12Vdc power supply. Front dimensions: 120x128. For installation in flush-mounted ...
See the other products
KBLUE
ProRF-T is an RFID access control terminal incorporated with 2.4 inches TFT LCD Screen .The color display and new firmware structure offer a user-friendly menu for easy management, as well as photo taking capability that enables attendance ...
See the other products
ZKTeco
home automation system control keypad
LED16
16 channel display for device status and/or system variables Display of home status- e.g. present/absent, alarm active/inactive, all windows closed – or the status of CCU system programs via system variables Multi colour LED display ...
See the other products
eQ-3
heating system control keypad
TVTXC868C04
Wireless timer wall transmitter for the control of 2 loads. White colour with display. Possible functions: - weekly programming; - astro function with geolocation for dawn/sunset; - presence simulation; - 2 daily commands.
See the other products
TELECO Automation .
access control fingerprint reader
ENTRASYS GD
Opens with a fingerprint You can open doors easily with a fingerprint thanks to the biometric detection system. Quick detection The modern stripe sensor ensures a high and fast rate of recognition. Sufficient memory space Storing ...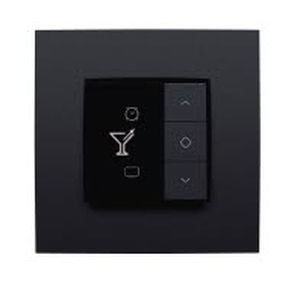 home automation system control keypad
550-13042
This control is connected directly to the installation and is used to set and call up a desired mood. Moods can also be automatically called up using sensors. This control is mounted in a flush-mounting box at a height of 140 to 150 cm ...
See the other products
Niko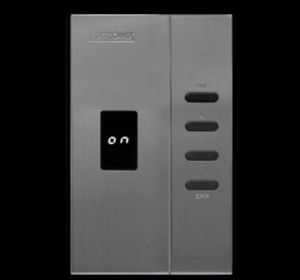 home automation system control keypad
P100USA
Stylish, robust & timeless, Futronix switch panels combine multiplex functionality with simple elegance. The minimalist design, striking yet unobtrusive, is available in finishes of brushed or polished stainless steel, polished brass, ...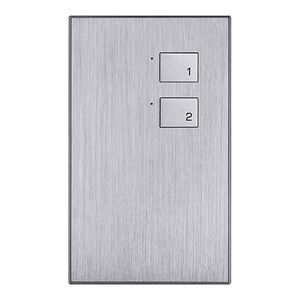 lighting control keypad
HDL-MP2/4/8K.48
With a utilitarian aluminium fascia the HDL-MP(248)K.4831 is a balance between practicality and avant-garde design. The module comes in 2, 4,or 8 button combinations, and can control multiple targets effortlessly. Minimalist design The ...
See the other products
HDL Automation Co., Ltd
centralized access control system
IP Axes
The IP_AXES Access Control system is suitable for both centralized and distributed systems thanks to the IP_AXES 1/2 central controller, which can connect up to 42 readers with S-BUS, WIEGANG and Clock&Data protocols with the same integrated ...
See the other products
FERMAX ELECTRÓNICA
Wall card reader WMR3-11 is a wall-mounted card reader that is designed for read contactless media (smart cards, key chains, etc.). It can be used for security system controlling (locking/unlocking), as a access system (doors, gates, ...
data collection terminal
NOMAD 1050
The Spectra Precision Nomad® 1050 rugged handheld computer's many built-in capabilities make it an optimized and easy to use field data collector. It provides all the features you need, including: a 5200mAh lithium-ion battery with more ...
See the other products
Spectra precision
access control ventilation controller
TC7D-W
Overview Digital Time Clock - Wall Mount Requires 24VAC power Key Features Fits any 4" x 4" electrical box Setting Options: Eight pairs of on-off time-of-day cycles can be programmed Each on-off cycle can be assigned to any one day ...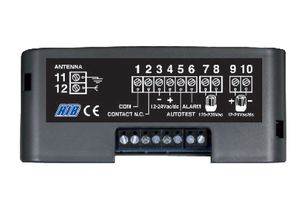 access control photoelectric cell
NO TOUCH 868
Photocell operating completely by radio NO TOUCH 868 is the first photocell of the world operating completely by radio where both the transmitter and receiver operate with batteries, fittable directly on the mobile part of sectional ...
See the other products
RIB
temperature sensor
TFD 524 004
Air temperature sensor for temperature drop function Replacement sensor for EM 524 89 Technical Item no. 0524 99 000 004 4 m sensor cable
heating system control keypad
DIALOG 8
Comfortable display and control unit for air conditioning, lighting, sunblinds, windows, fans etc. Backlit display for temperatures, time, date and controller states Available with 8 or 12 buttons Integrated temperature sensor Application ...
See the other products
SPEGA - Spelsberg Gebäudeautomation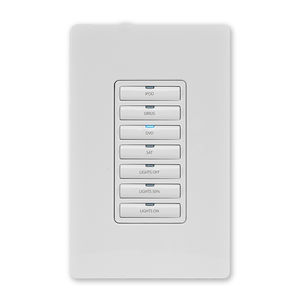 home automation system control keypad
MET-7
The Metreau 7-Button AxLink Keypad offers 7 double-width buttons that can be used as an individual keypad or in conjunction with the 6- and 13-button Metreau configurations.
See the other products
AMX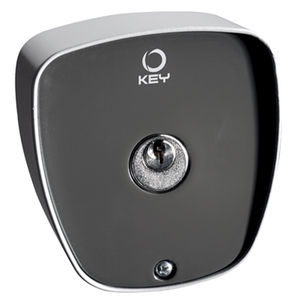 access control key lock switch
SEL-M
building centralized access control
TOUCHENTRY | FACEENTRY
Audio/Video intercom (VoIP) for visitor communication Face recognition system for highly secure biometric identification Ethernet (TCP/IP) connectivity with Power-over-Ethernet Intuitive touch screen user interface Integrated RFID reader
See the other products
Adatis GmbH & Co. KG
lighting control keypad
E-SCENE
is an innovative keypad for lighting control of areas such as offices, meeting rooms, auditoriums, etc. This unit can control up to five lighting areas independently with On, Off and dimming functions for each area, optimising power consumption ...