The Online Architecture and Design Exhibition
access control multi application controller
COSY
The Cosy system can be used to open and close carpentries, roller blinds, interior blinds and sunshades, via 230 Vca or 24 Vcc electric motors, depending on the model.
lighting control keypad
1-M
There is a comprehensive range of control options, such as raising all blinds in the house at the touch of a button, lowering them again by a time switch in the evening and automatic control depending on light and weather.
See the other products
Merten GmbH
temperature sensor with solar radiation function
MAXMETEO
The solar irradiation sensor MaxMeteo detects the current irradiation, the radiation energy, and the temperature of the solar cells on your roof. You can combine MaxMeteo with MaxTalk, MaxVisio, and MaxWeb xp.
See the other products
SolarMax
access control photoelectric cell
KLPMRG l FT02
Photocell with mirror KLPMRG: Photocell 12/24/220 Vac/Vdc, 12 mts (mirror included) FT02: Photocells 210ª. Wireless
See the other products
ERREKA
centralized access control system
CENTAUR® - CTV900A
Controls 2 doors/2 readers. Up to 6 additional doors with the CTV900A using 3 CAA470A expansion modules. 10,920 on-board card database. 256 schedules, 256 access levels. 2048 events. 16 on-board inputs. 2 on-board 12V dc or 24V ...
See the other products
CDVI
video monitoring network control keypad
LTC 8x00/90 SERIES
Features Models from 8 cameras by 2 monitors to 32 cameras by 6 monitors Compact single bay construction Integral alarm interface and signal distribution Powerful alarm handling features SalvoSwitching® and SatelliteSwitch® ...
See the other products
Bosch Security Systems
temperature sensor
PT1000
The sensor measures the ambient temperature via a PT1000 measuring resistor. Technical Data Supply voltage: 15 … 24 V DC Current consumption: max. 12 mA bei 24 V DC Output signal: 0 … 10 V Operating temperature: - 50 … 50 °C Measuring ...
See the other products
meteocontrol
access control control keypad
6320/30-500 BUSCH-TRITON®
... With integrated KNX bus coupler. With labelling field. Rocker switch left/right (switching/dimming/blind/value sender/light scenes/fan function). To control up to 13 IR channels (RC5) using Busch-Remote control IR mobile remote control ...
See the other products
ABB STOTZ-KONTAKT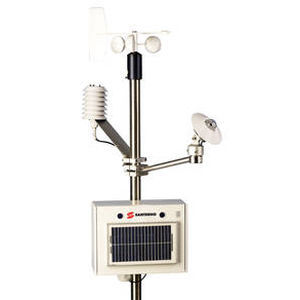 photovoltaïc installation temperature sensor
METEO CENTER
Environmental data acquisition system for PV plants Continuous realtime acquisition of the weather parameters used to defi ne the effi ciency of the plant WMO (World Meteorological Organization) compliant sensors ISO9060 Class 1 Pyranometer Air ...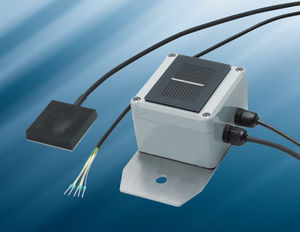 temperature sensor with solar radiation function
PIKO
The PIKO Sensor enables comparison of the actual irradiation and temperature conditions with the performance data of the PV system. The PIKO Sensor* measures the following values: Irradiation Ambient temperature Module temperature A ...
access control transponder card
ATS1473
Polycarbonate blue keyfob, for the ATS proximity readers. To be programmed with the ATS1621 Cardprogrammer and TITAN software. The reading distance is between 0 to 30 cm and it depends on the reader design. Product Scope Read/Write ...
See the other products
GE Interlogix Video surveillance
access control code keypad
FD-KA01
Functional characteristics The FD-KA01 is part of the OrangeLink and is suitable to enter numeric or alphabetic keys for:¨ the PIN code (Personal Identification Number)¨ entering reasons associated to the Time & Attendance clock-in/out¨ ...
See the other products
Zucchetti Axess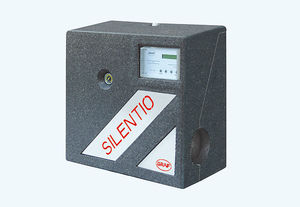 access control control panel
AQUA-CENTER-SILENTIO
Aqua-Center-Silentio The convenient control system. The GRAF Aqua-Center-Silentio is the central system control for your rainwater harvesting system. The GRAF Aqua-Center-Silentio is the central system control for your rainwater harvesting ...
See the other products
Otto Graf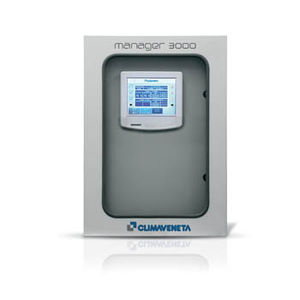 home automation system control keypad
MANAGER 3000
The MANAGER 3000 is a centralised management and control system for a group of hydronic units such as Climaveneta chillers, heat pumps and energy raisers. It can control up to 8 units, with the same or different power ratings, on 2- or ...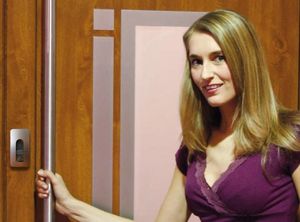 access control fingerprint reader
Do you know: Where is the key if one him needs? Mostly not to the hand. Thus is now conclusion. Because immediately you have your key at the hand. The HOCOfingerprint system offers the most comfortable and safest alternative to conventional ...
home automation system control keypad
C4-KC120277
An elegant and customizable user interface that unlocks the power of one touch automation, enabling control of lighting, plus control of audio, video, security and more, this fully customizable keypad can be configured with two to seven ...
See the other products
Control4
DPD: for duct installations Particularly suitable for civil and commercial environments with precise design requirements. Used in ducted heating and air- conditioning systems. The range also includes models with RS485 connection using ...
See the other products
Carel USA
data collection terminal
AN507
The remote unit AN505 is planned next to the boiler to be analyzed. It sends all the data measured by bus RS485. The unit AN507 is contained in a metal wall box. PROBES supplied with the unit TS 236 Zirconia probe (max. fume temp. ...
See the other products
TECNOCONTROL SRL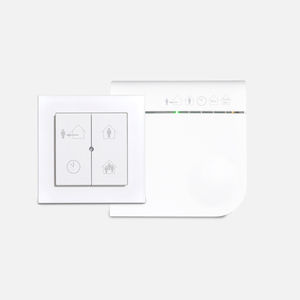 heating system control panel
RG IL - V
FEATURES RG IL-V: dedicated wireless controller supplied with the unit (IL, IL PPE and V series), with four modes of operation: "Away" (low speed), "Home" (medium speed), Party (speed at 100%) and "Timer" (high speed for 30, 60 or 90 ...
access control transponder key
81424
See the other products
Glutz Deutschland GmbH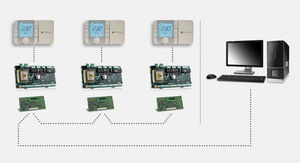 ventilation system ventilation controller
Connectio of several units with μPC cards via RS485 cards towards a supervision system TECHNICAL DATA BMS connection with the following integration languages: ModBus – Lonworks – BacNet. Check for other integration languages.
heating system control panel
SOLID STATE
Infratech's Solid State Control Packages are designed to provide efficient operation for spaces that range from upscale residences to large-scale commercial properties with multiple heating zones. Energy efficiency – including timer ...
See the other products
Infratech
home automation system control keypad
ON/OFF
This high-end user interface is designed to control the FLEX Controller when configured for On/Off functionality One touch panel can interface with several controllers Panel has backlight to be easily identifiable in the dark ...
access control code keypad
C-90-OMEGA
Anti Vandal Panel with keypad. The C-90 series family of Keypads provides access control for virtually any application where digital code entry is desired, and they are available for stand-alone applications or for connection to an Access ...
See the other products
Tador Technologies LTD
ventilation system control panel
CPS-M1-020
Power supply of connected drives with up to 20 A total current consumption Approved by VdS in accordance with EN 12101‑10 AdComNet bus system for seamless networking of the modules within the CPS-M and further D+H AdComNet components Bidirectional ...
See the other products
D + H Group