The Online Architecture and Design Exhibition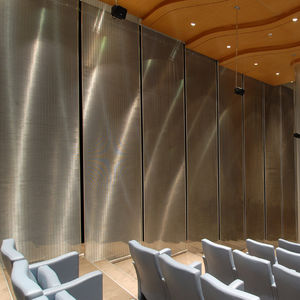 For the separation of environments and internal spaces, wire meshes can be studied with different degrees of transparency.
removable partition
LINKED by Carlos Tiscar
Linked. The flexible room divider. Design: Carlos Tíscar
folding partition
TRANZFORM® SOUND
TranZform Sound accordion-type side folding panels suspend from a single overhead track to form a temporary wall in any type of opening. Sound Blocking Insulation: For maximized sound control, the TranZform Sound's double panel construction ...
See the other products
Cornell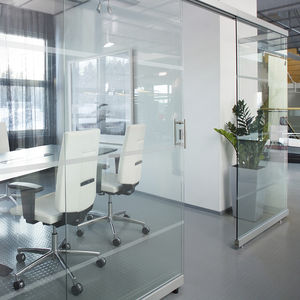 The frameless structure of the Air glass partition system allows for building impressive and very sturdy structures in large open spaces and spaces that are more challenging, where the setup utilises the structures that are already on-site. ...
Top running double glazed slide & turn doors The evolution of the glass slide, turn and stack system (moveable glass walls) has resulted in the development of the SUNFLEX SF35 which enables a slimline aluminium frame to accommodate ...
See the other products
I D Systems
sliding and stacking partition
Movable sound-insulated semi-automatic The semi-automatic sliding walls Estfeller have an index of sound insulation Rw = 56 dB and are equipped with single or double-leaf doors with anti-panicbar. The operation and setting of each element ...
See the other products
ESTFELLER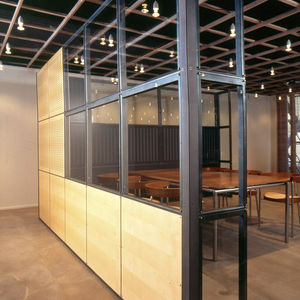 fixed partition
KUBER by shldesign
Kuber is a tried and tested all-round interior design system, consisting of wall-units and accessories which are suitable for installation wherever the need is for a combination of maximum flexibility with a high design standard. The ...
removable partition
SMOKESTOP
Simple and aesthetically-pleasing, they help to prevent the spread of toxic fumes Composition - A fire resistant sheet - Ballasted by a supporting rod - A spindle to roll the sheet up and down - Enters safety position by disengagement ...
See the other products
Adexsi
LIGHT, IMPALPABLE, ETHEREAL: EXACTLY LIKE AIR, THIS PARTITION CANNOT BE SEEN BUT IS EVERYWHERE, IT LETS LIGHT IN AND IS ESSENTIAL TO EVERYDAY WORKING LIFE . WINNER OF THE "SILVER AWARD" FOR EXCELLENT PRODUCT AT NEOCON 2014, ITS INNOVATIVE ...
See the other products
BABINI OFFICE
removable partition
MILA-WALL 100-840
Mila-wall series 100 Thickness 40 mm Tongue & groove technology Invisible aluminum edge protection stacked up to 6 m height Connection to two story structures Demonstrated durability in trade fair and exhibition use Mila-wall series ...
See the other products
MBA-Design & Display Produkt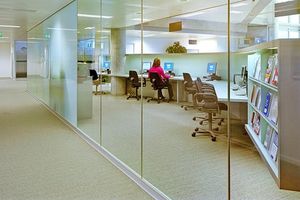 removable partition
SYSTEMGLASS®
The versatile fire resistant glazing solution Promat®-SYSTEMGLAS opens up new dimensions of design freedom for building interiors whilst ensuring up to 2 hours fire resistance and full fire-safety compliance. Create interiors that allow ...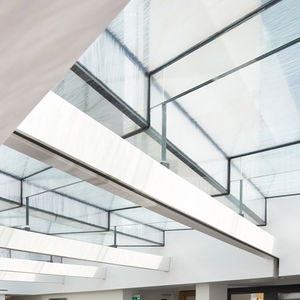 At Cantifix, we want our clients to experience the exceptional, and we don't want you to feel restricted in what you can achieve in your designs and projects. Glass is beautiful in its humble, clear simplicity, but this doesn't mean it ...
removable partition
D:VISION
The first single panel wall manufactured by Modulo, rich and well-constructed. A collection that is distinguished by its sturdiness and the expressive strength of the aluminium profiles that ensure great stability and comfort. A project ...
See the other products
Modulo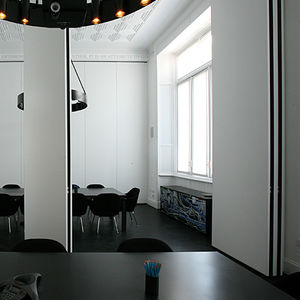 sliding and stacking partition
PMI - MAXI
Movable sound-proof partition walls are characterized by modular elements having high acoustic insulation up to an Rw index of 58 dB certified by an accredited laboratory. They are easily stored and slide quietly along guide rails fixed ...
See the other products
ANAUNIA S.r.l
H7 Standard | Partition with aluminium frame CERFF + GARDE CORPS Easy, versatile and aesthetic, the H7 partition with aluminium is the key solution for the fittings of your offices. Relocatable and with many kinds of implementation, ...
See the other products
Hoyez PartitionSystems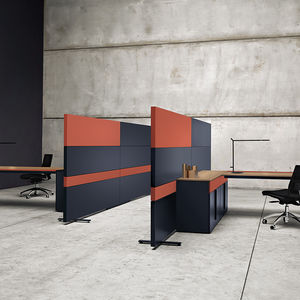 removable partition
K_WORD
A system meant to devise an array of solutions in the working environment, featuring elegant essentiality and absolute liveability. The product is top quality and based on coordinated elements which at the same boast a personality of ...
See the other products
Manerba
sliding and stacking partition
600
CHOOSE THE OPERABLE PARTITION WITH MORE POSSIBILITIES Hufcor proudly manufactures the most installed brand of operable partitions in the world. Available in 3″ and 4″ wall thicknesses, the Series 600™ line combines the durability of ...
See the other products
Hufcor
fixed partition
HABITAT 50
Habitat is an authentic system, studied to satisfy the most different needs functional and aesthetic demands linked to modern design for work environments.Their main characteristics are: sober and elegant design, semplicity of construction ...
See the other products
Della Rovere
removable partition
BA 50 BELGIPAN
fixed partition
PLENTYWALL
Realize the potential of space. The contemporary activity based office stimulates communication, and ma - kes it possible to use space in a more efficient way. It is, however, important to realize that the need for privacy still remains. ...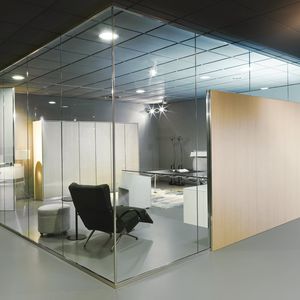 WL is a dividing and equipped partition system from Tecno, that permits a vast range of floor plan layouts to be created. WL partitions benefit from Tecno's vast experience in the field. More than simple divisions of space, they are ...
See the other products
TECNO

Think, build and share a workplace, make it a unique living space that is easy to use, design it so that transparencies, volumes and flows information, and become places where ideas come together in synergy, creating a microcosm where ...
See the other products
MASCAGNI
fixed partition
RING AROUND THE BAMBOO
Dividers and partitions encourage sensible, flexible boundaries within a space, as well as its economical use. We offer operable elements as well as fixed installations. Materials such as glass, fabric, MDF, illuminated, decorated on ...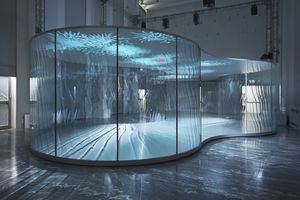 removable partition
LASVIT LIQUIDKRISTAL by Ross Lovegrove
Lasvit Liquidkristal (LLK), designed by Ross Lovegrove is a new product from Lasvit's Glass Architecture Division. Lasvit Liquidkristal is the result of an innovative process that the designer defines as high precision heat transfer. ...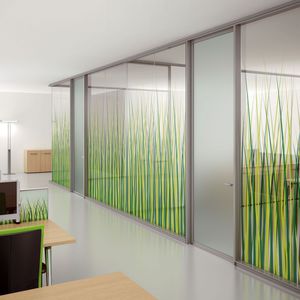 fixed partition
P900 by Daniele Del Missier & Faram I+D
The new P900 screen was the result of a research and testing project carried out by FARAM on dividing walls. All aspects have been considered in order to make a complete, elegant and functional product that can be adapted to any situation. The ...
See the other products
Arlex