The Online Architecture and Design Exhibition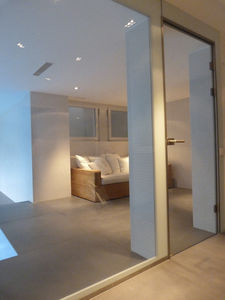 See the other products
Kowalski SA
removable partition
UTS® TYP S
The UTS® partition wall system type S has proven to be an extremely stable and cost-effective solution in many buildings, both domestic and abroad. The transparent steel slat system makes a technical and robust overall impression. The ...
See the other products
Käuferle GmbH & Co. KG
E1 standard melamine materials are used in the production of our products. Your request for different colors in the product, please contact the sales representative. Our products are guaranteed for 3 years against manufacturing defects. Color ...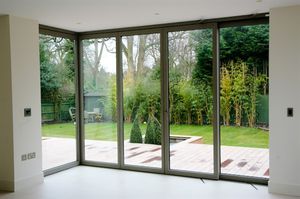 fixed partition
MONOSLIDE 80
This unique moveable glazed partition operates in a slide-and-stack system and is constructed from highly insulated thermally broken sections. Each panel is designed to slide easily around corners of any angle between 90° and 270° into ...
See the other products
SunParadise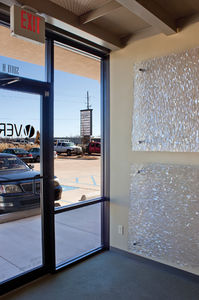 removable partition
MULLION MATE
Mullion-Mate is an adjustable partition closure that creates the perfect transition between windows and partition walls. Design Features: For vertical junctures or partitions and window walls Finished to match mullions - clear ...
removable partition
FREE GLASS
Limitless modularity, easy erection, transparency and clear-cut lines are the distinguishing features of the single glazed wall, with glass that is clear, frosted or decorated with customised screen prints. Fabric inserts are also available.
sliding partition
EXTENDO
removable partition
SYSTEM 2000
One piece of innovatively milled steel becomes the foundation for limitless design possibilities. The patented mullion construction is the skeleton of this flexible, modular partition system. The wall and acoustic elements are particularly ...
See the other products
Strähle Raum-Systeme
This interior double curved screen was commissioned to acoustically divide the main library area from a quiet study area. The original material was to be a PVC coated glass. However, after some development, the more forgiving qualities ...
See the other products
TensileFabric
Genuine room partitioning: working in private – working in comfort The T10 closed partition system can be combined with all Goldbach Kirchner system components. Fully-boarded on both sides, this is used as a separating, non-load bearing, ...
See the other products
Goldbach Kirchner raumconcepte GmbH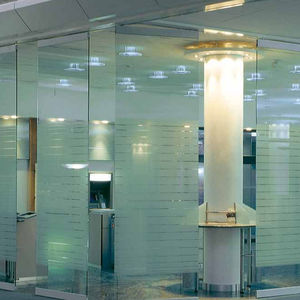 sliding and stacking partition
DIAMANT
Glass is a symbol for openness and ease. It makes rooms full of light flow together. Our movable full-glass systems guarantee boundless transparency and their elegance captivates through tiny and specifically developed functional ...
See the other products
bls mobile Trennwandsysteme GmbH & Co. KG
See the other products
UFFICIO DESIGN ITALIA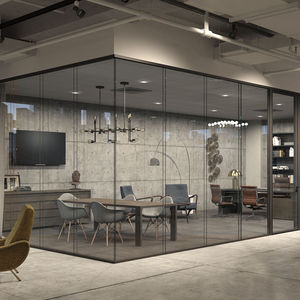 Prehung flush wood modules to complement our glass partitions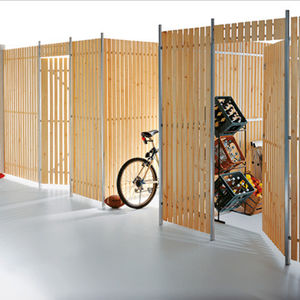 removable partition
SIGNUM
Be it a complete solution or the development of an entirely new concept, the diversity of our partition walls means we can be guided precisely by your requirements. As a manufacturer of modern partition wall systems, we are constantly ...
See the other products
Gerhardt Braun
removable partition
INITIALE
•The solution which meets all your requirements, technical, aesthetic and financial. •Numerous references range from full- height solid partitions to full- height double- glazed to apron-based partitions under joint covers. •A wide ...
See the other products
SAB diffusion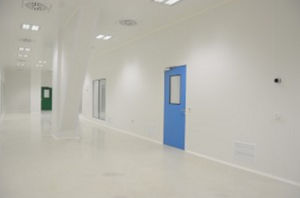 removable partition
HIGH TECH
The flexibility of the High Tech line makes it ideal for working environments in cutting-edge technology sectors like electronics and similar industries. The materials used possess specific surface characteristics to prevent the deterioration ...
This line consists of etched and surface texture patterns available in a classic pure, warm and cool color. You can combine color interlayers, varying translucencies and mirror effects to achieve an interactive visual experience. The ...
See the other products
CARVART
removable partition
VAL90/60
The movable partition wall system VAL is a suitable solution for creating new office space arrangements and separating workplaces, taking into consideration the changing needs of office premises. VAL has a modular design which makes it ...
See the other products
Wallenium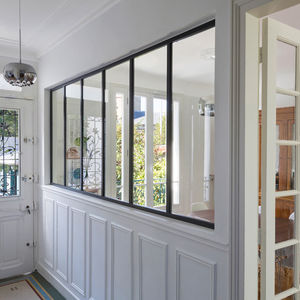 fixed partition
ATELIER D'ARTISTE
See the other products
Verrieres Turpin Longueville
removable partition
WALL & RM RICHFON
If you want an even more effective use of your space we can supply "WALL" and RMIG Richfon with printed or perforated motifs. This possibility can be rewarding in many situations for example when the motifs are: Sponsorship logos in ...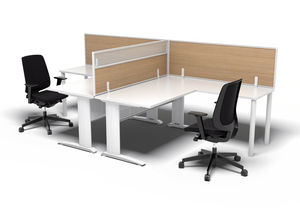 removable partition
ECOMÉLA
See the other products
Espace Cloison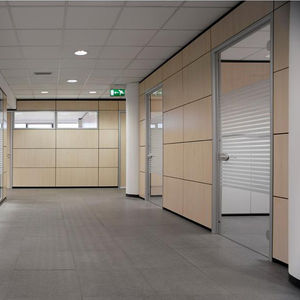 See the other products
ora acciaio
"Aesthetics" is at the top of the Glass Slim´s mindset. When developing Glass Slim, we were looking for a way to offer a solution that, more than enabling space partitioning, could also offer a minimal and stylish look to every office. Hence, ...
See the other products
Line Systems
folding partition
MEETING by Studio Bonetti Design
Minimal and functional Simplicity. Meeting allows a variety of situations where anyone can reclaim its own space. In total autonomy. Feel free to access without revealing. Feel free to create a single large room. Meeting is a contemporary ...