The Online Architecture and Design Exhibition
wall-hung partition
)BRANCHIAE( by Raphaël Groëlly
)branchiae( is an architectural partition which is meant to be hanged up, its design is both subtle and drastic. Entirely hand fashioned and adjustable, it is a breathing, organic and living partition. It is composed of a series of ...
removable partition
COMPACT TOILET WITH MODERN DESIGN
Compact Laminate Panel often called Solid Phenolic is extremely durable and water resistant making it perfect for toilet partition, toilet cubicle, changing room partition. Size Range Height: 1950mm to 2500mm Depth: ...
See the other products
Brikley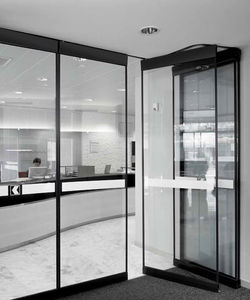 sliding partition
Sliding Wall Systems (STW)
The collapsible sliding-wall system from Gilgen Door Systems optimises space usage while offering an impressive combination of design and function. Exhibition areas, conference rooms, business facilities, schools and hotels; anywhere, ...
removable partition
TEXTILE JEWELS
Decorate your home with innovative designs, where your walls become canvases for you to express your personality and tastes. With Textile Jewels everything becomes possible, even the enrichment of each room with striking and beautiful ...
folding partition
PRIVACY
We have self-supporting solutions to complemet your acoustic or decorative panels installation . Some of the desings and finishes of our collection can be installed by our accessories systems. Our feet and unions system allows you to ...
removable partition
COLOR DUO
A vast range of alternatives are available: wall with double glass, single offset glass, single centre glass, for horizontal floor and ceiling-mounted profiles. Duo allows the best possible solution for all types of project, with a perfect ...
See the other products
Nordwall International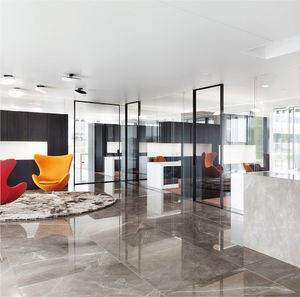 fixed partition
GEMINO INTEGRATED
Acoustic wall concept with minimalist profiles (type GX) Integration: framing is invisibly integrated into the floor, ceiling and/or walls Elegant and pure design, applicable in numerous styles Advantages Typical Gemino aesthetics and ...
See the other products
AVC
sliding partition
PARETE SHOJI
Shoji sliding doors Inspired by the traditional Japanese doors, Cinius sliding doors are custom-made using massive lamellar beech wood, suitable for any need of the modern contemporary life style. Perfect solution as partition wall, ...
E69 is a modern system with unique features, including the ability to combine multiple materials, such as wood, MDF, PVC, aluminium, composite materials (etalbond), glass or other materials. It also offers easy installation and de-installation, ...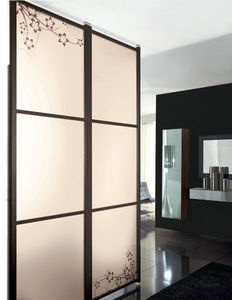 removable partition
INTERNOS : 003
Partition with mocha lacquered aluminium structure, acid-etched bronzed tempered glass, mocha flower digital print cm80x270h
See the other products
unico italia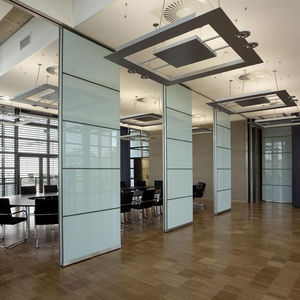 sliding and stacking partition
PREMIUM EASYMATIC
The Nüsing company, with its policy of continuous R+D work, has positioned a state-of –the-art and reliable product in the movable wall sector of the market. It's up to you whether you use the whole room as a single, large unit, or ...
See the other products
Nuesing
removable partition
MILONGA
Light and innovative system to create transparent divisions in offices. Milonga is designed by Studio Kairos as a very light and innovative system to create transparent division of space in work zones. The detailing of the system allows ...
sliding and stacking partition
sliding and stacking partition
PA-200 PARK LINE 1
Sliding stacking system with glass fixing profiles made to measure upon client's request, no need to make holes in the glass.
See the other products
METALGLAS
See the other products
Agoraphil
Industrial mesh partitionSelf-supporting and scalable system that can be adapted as your business developsFully modular: you can mix heights, lengths and panel typesMany accessories for multiple combinations, ensuring the safety of people ...
See the other products
MANORGA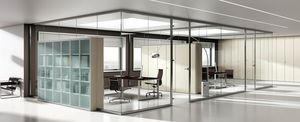 Dwel is the full height single layer demountable glass wall, with a structure in extruded aluminum, totally provided by project. Glasses are joined with profiles in transparent polycarbonate. Doors can be sliding or swing ones, in glass ...
See the other products
Styloffice S.p.a.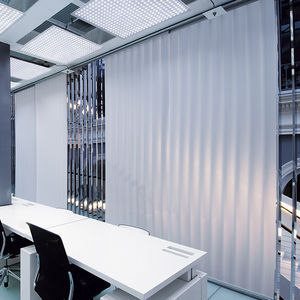 sliding partition
PROFILE 22
The compact and extremely economical rail system Profile 22 was developed mainly for the requirements of shade provision and room partitioning in buildings.Profile 22 is available as standard with two to five runs and can be mounted directly ...
See the other products
ROSSO
removable partition
AURORA
The optimal solution for office buildings, hotels, and stores. Any arrangement of office and residential space. The top quality modular aluminium and glass partitions allow for a designer effect. The optimally planned office space, ...
removable partition
PRIMACY
Any Premo creation arises from reflection, with the objective of achieving the very best technical performance from its products. However, sometimes it so happens that the aesthetic and the technical come together in perfect harmony. ...
See the other products
PREMOSA
removable partition
SINOVA
Glass to Glass Partition Wall System Integra, introduces the latest trend of modern architecture, glass to glass partition walls of its own production to the building sector. Sinova is designed according to new architectural trends ...
See the other products
Integra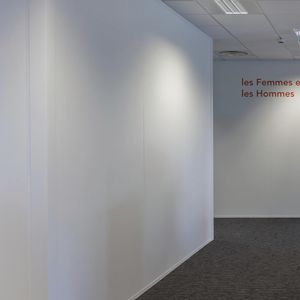 removable partition
SP83 COLD
The members of the Spacing network have developed the SP83 partition range with the comfort of your collaborators in mind. The new Spacing SP83 partition concept is the result of more than 30 years' experience. We have opted for simplicity. ...
See the other products
Spacing
Wood Floor To Ceiling Partition Full screen blind with intermediate profile in any height, with wood covering the entire top of the partitions. It can be used even with locations that utilized high spaces for privacy that do not wish ...
See the other products
Teilen system walls LLC
removable partition
FLUSH-LINE
Flush-Line : straight angles, fine sections The Flush-Line complies with the strict standards of building technology, and belongs thanks to its contemporary look to the newest generation of relocatable partitions. Flush partitions ...
See the other products
Pan-All
sliding and stacking partition
Movable Wall - System Description Acoustic Movable WallsPanels are hung on aluminium top track integrated into the ceiling Internal framework consists of steel inserts or aluminium frame Most finishes can be applied to the panel face ...
See the other products
Moving Designs Ltd