The Online Architecture and Design Exhibition
pivoting/sliding partition
Is an essential element for multi-use spaces. Allows for reconfiguring the office and passing from a large space to several smaller ones in a quick and simple manner, by merely exerting a slight pressure on the divider..
See the other products
OFITA
removable partition
PASSWORD PLUS
A flexible system of movable partition walls with modular heights and widths designed to subdivide large offices into made-to-measure work areas. The modules are easy to assemble and highly flexible, and can therefore be re-positioned ...
See the other products
Codutti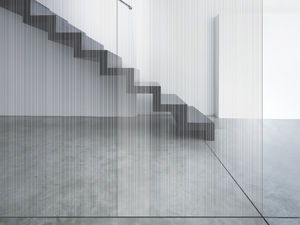 fixed partition
STRIP MATÉ DOUBLE FACE
Base material: monolithic float glass to UNI EN 572 1-2: 2004/ laminated to UNI EN 1449:2005. Description and characteristics: both sides of the plate are chemically and permanently etched. The texture is given by the satin finish on ...
See the other products
VITREALSPECCHI SPA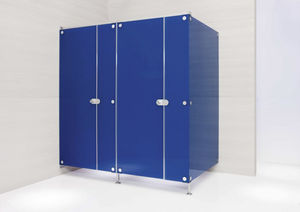 removable partition
TWS 100
The outstanding feature of the partition wall system TWS 100 is high functional and design quality. The system has been developed for the stylish design of sanitary facilities, changing rooms or wellness areas. The TWS 100 cubicles are ...
removable partition
AL-OFFICE FRAME
Transparency in detail. AL-Office is a dry glazing system. It includes a frame and door frame system. A system easily assembled and installed producing maximum transparency.
The Slim system is designed to allow for the insertion of glass panes even within walls of reduced thickness, while at the same time maintaining the charm and clean aesthetic appeal that's derived from the absence of visible framing elements. The ...
sliding and stacking partition
GENESY
Genesy: a mountable modular system designed to divide and furnish any kind of environment. Created to provide quality, style and design; easy to install, move and modify. Never ending research in design and materials generates a harmonious ...
See the other products
CBI EUROPE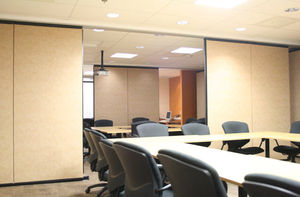 sliding and stacking partition
700
The Moderco 700 series offers a technologically advanced, aesthetically pleasing design. It uses a unique welded steel frame that permits all substrates (skins), both tackable and steel to be welded to the frame. It never requires substrates ...
See the other products
Moderco Inc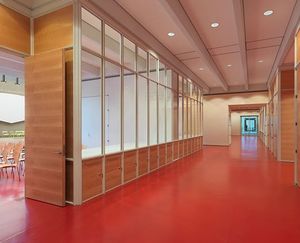 removable partition
FIREFRAMES® SERIES
45/60/120 Minute Fire-Rated Frames Fireframes® Aluminum Series combined with Pilkington Pyrostop® glass, provides a barrier to radiant and conductive heat transfer. The narrow aluminum profiles allow unlimited areas of glazing in fire ...
fixed partition
SATIN ETCH
Satin Etch is a translucent clear glass with a light diffusing etched surface to which patterns may be applied. This product's light diffusing capabilities provide privacy while still allowing high light transmission. The surface of this ...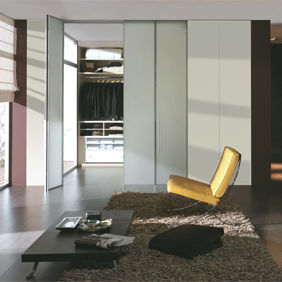 folding partition
ENTRA by Fernando Salas and Jordi Dedeu
Careé disposes of one of the collections most internationally acknowledged of custom wardrobes. Versatility and quality are the key factors. The adaptation possibilities in each space are unlimited, and once this goal is achieved, you ...
The automatic sliding wall system for an elegant room partitioning. The track rail integrated in the ceiling as well as the invisible drive technique allow achieving sophisticated solutions in elegantly designed interior areas.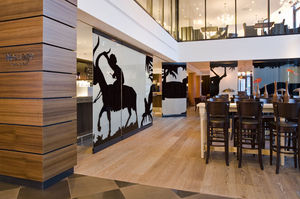 Individual sliding doors systems and design freedom Flexible and multi-faceted sliding door systems make ideal partitioning walls, for example, for conference facilities or for separating areas in an airport or a bank. Product features: ...
See the other products
GEZE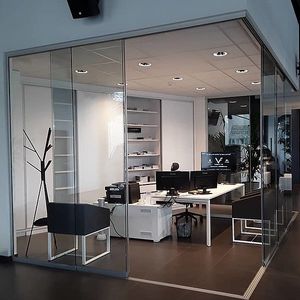 sliding and stacking partition
SF 20
Sliding system Bottom loaded/running construction Option of flush or weathered bottom track The flush bottom track is particularly suitable for use in "barrier-free dwellings" according to DIN 18 025 Optionally with or without lateral ...
See the other products
Sunflex Aluminiumsysteme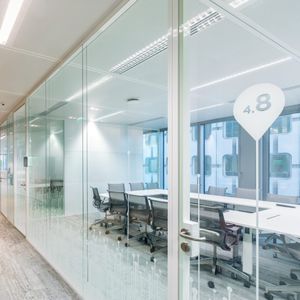 removable partition
ULTEEM : VERRE AFFLEURANT SUR CADRE
FLUSH BONDED GLASS ON FRAME The epure ... in Ulteem mode This finish highlights the prospects of a single line. It energizes spaces, erases breaks. Sound insulation up to 52dB (Rw)
See the other products
CERENN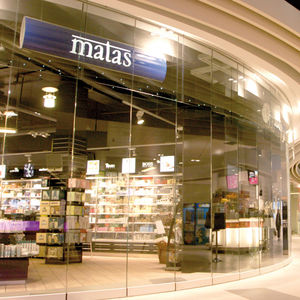 sliding and stacking partition
PARKING : SV-P150
SV-P150 The SV-P150 means flexibility. It is an ideal solution for creating different environments in areas that are close together. For medium weight commercial use. FEATURES A creation designed to create spaces for multiple uses ...
See the other products
SAHECO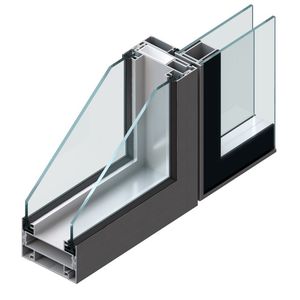 removable partition
PF-100 S
A part of FEAL's offer is decoration of internal space/interior design. As basic product of such usage is partition wall of the PF-100 series. Depth of 100 mm with suitable infill will completely satisfy concerning the acoustic and aesthetic ...
See the other products
FEAL Croatia Ltd.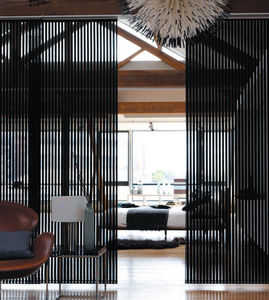 removable partition
1:10 By Mario Ruiz
When skin is everything This is the leitmotif of 1:10, a reusable, demountable, modular partition system designed by Mario Ruiz which stresses the concept of "skin". Skin as coating, as the visible part of a whole. The technology developed ...
See the other products
Dynamobel
FIO is an outdoor modular furniture wall. It was configured to delimit open spaces, through its original features. This ornamental wall was designed with elegance and style, it can be used to finely furnish outdoor areas and protect you ...
See the other products
mattegdesign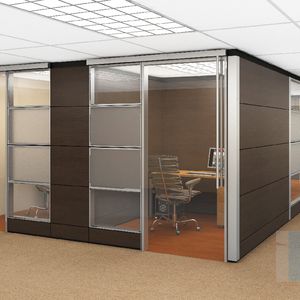 removable partition
DUO SEGMENTATION : REFLEX
Design your walls to suit your needs with whiteboards, tack boards, slotted sections, shelves and segmented panels at any height or width you need. Free standing, self-supported or full height – all glass, mixed glass or solid and ...
See the other products
IMT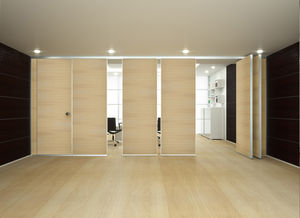 pivoting/sliding partition
ROLLING WALL
Soundproofing The Rolling Wall modules are costum-made, every project is followed and calculated for the best aesthetic and acoustic realization. The partition is certified for sound absorbation from 38,7 dB standard to 43dB with kit. Within ...
See the other products
Arcadia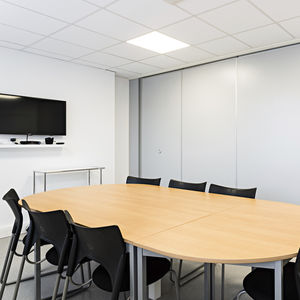 sliding and stacking partition
ZEPHYR
Durable, reliable, functional, with good acoustics and many decor opportunities, the ZEPHYR movable wall is the obvious answer to all the needs for space optimization. It has become a natural solution for multipurpose halls, culture ...
See the other products
ALGAFLEX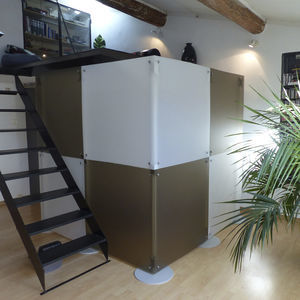 Fluowall is a modular system , suitable for use both at home and in furnishings for stores, offices, showrooms and trade fair stands. Installation is quick and simple, and allows any type of configuration to be created in just a few ...