The Online Architecture and Design Exhibition
See the other products
Planoffice
removable partition
900 SERIES
The D8 Aluminum 900 Series Storefront is a center-glazed storefront designed primarily for interior applications. The sleek 1-3/4" sightline delivers a clean contemporary look. The non-thermal construction can be appropriate for external ...
sliding partition
ODACUSTIC
Soundproofing system for walls and false ceilings Today, noise is the main source of pollution. In order to improve our wellness and the comfort of areas we live in, Oddicini Industrie has developed OdAcustic, a line of products expressly ...
See the other products
Oddicini Industrie
removable partition
P85 INITIALE
See the other products
Qovans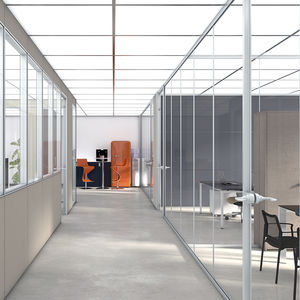 C100 is a complete wall system that integrated and structure itself. The partition wall, thaks its modularity, plays on dimensions and on a gamma of finishes to ensure a wide range of possibilities that are both flexible and accessible. The ...
See the other products
Sacea
removable partition
NOMAD by Jaime Salm and Roger C. Allen
INTERIOR ARCHITECTURE MADE EASY Nomad is a modular architectural system that can be assembled into freestanding, temporary partitions without hardware, tools or damage to existing structures. Made from recycled, double-wall cardboard ...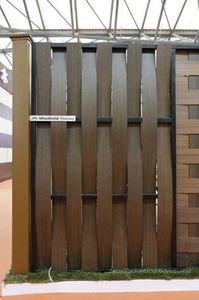 fixed partition
ULTRASHIELD®
Thanks to the natural look of UltraShield, your fencing will look as beautiful every year as the day you install it. Enjoy the rich colors of exotic hardwoods, with ultra low maintenance, and never paint or stain that fence again.
removable partition
EXECUTIVE
Hidden movable partitions and partition walls: the essential element for dividing office spaces MAINARDI SISTEMI s.r.l. works in Italian and export markets, offering more than 20 years experience in infrastructures, the most rational ...
See the other products
Mainardi
See the other products
Serastone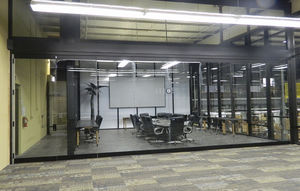 Clear walls by Solar Innovations, Inc. are the perfect solution to seamlessly open a space and provide an unobstructed view. When the panels are moved, the opening is completely open, allowing you a perfect view. Clear Glass Walls consist ...
See the other products
Solar Innovations, Inc.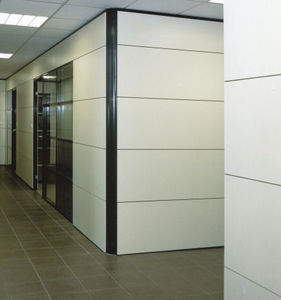 removable partition
PANORAMA
SAB INTERNATIONAL is the exclusive partner of SAB DIFFUSION for the sales of partitions for exports Chased Right Angle
See the other products
SAB INTERNATIONAL
removable partition
PRIMACY
Any Premo creation arises from reflection, with the objective of achieving the very best technical performance from its products. However, sometimes it so happens that the aesthetic and the technical come together in perfect harmony. ...
See the other products
PREMO

The Minimalist System that maximizes glass for design without limits p20 stylishly captures the look of near seamless glass frontages. Our slimline 20mm framework is the closest that you will get to size zero partitioning, with no compromises ...
See the other products
planet partitioning
Youll fall in love with the play of light and shadow, giving spectacular results for all of your original and daring projects, whether for industrial or home applications.
removable partition
E / EW / EI
Constructed from thermally broken narrow aluminum extrusions and filled with a proprietary fire blocking material, Aluflam's storefront glass partition systems are available in 30, 45 and 60 fire resistance ratings and in classifications ...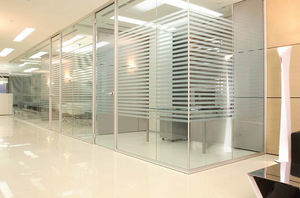 fixed partition
LIGHTWALL
Partitions and sliding doors that can be incorporated into blind partition walls and wall storage units, worktops made from stratified or toughened glass married with aluminium structures with a variety of finishings: Lightwall is the ...
See the other products
Elitable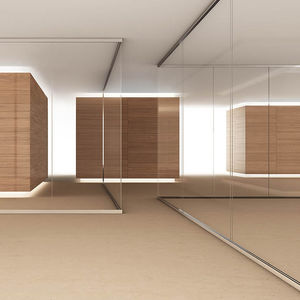 removable partition
TRUELIGHT TL41
Truelight is a range of interior demountable partition walls with separating function. TL60 is the classical single-glass system. TL41 and 42 are the versions with small track, single and double glass. The partitions, 50 mm and 35 mm ...
See the other products
VETROIN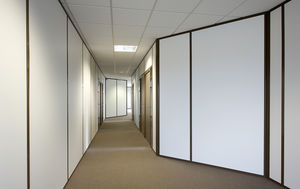 The full-height solid AZ® application is composed of two-sided modules with 13-mm SE plasterboards or 12-mm melamine coated panels, completed with 45-mm insulating material.
See the other products
Tiaso
removable partition
COULORLINE
Colourline is our demountable framed partitioning system for quick on site installation. Featuring pre-glazed windows and pre-decorated panels, no system could be more flexible or quicker and simpler to install. There is little or no ...
See the other products
Apton Partitioning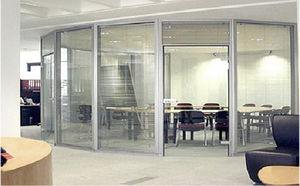 removable partition
FLEXICA
Flexica is the most flexible office partition on the market and the wide range of solutions makes it suitable for office environments, focusing on flexibility. Flexica has a narrow horizontal transom that divides the wall into panels.The ...
See the other products
Triplan
Spacemaile Hanging Screens are a simple ceiling-hung solution used to divide interior spaces, create visual privacy or as a backdrop for signage or displays in retail and hospitality. They are perfect for wrapping internal columns and ...
See the other products
2 Kaynemaile Limited
sliding and stacking partition
SEAL® ENCORE™/932/932FS/912
For top-of-the-line acoustic performance, Modernfold is proud to announce the introduction of Acousti-Seal® Encore™. Acousti-Seal® Encore™ raises the bar in operable partition acoustic performance with an unprecedented industry leading ...
See the other products
Modernfold Inc.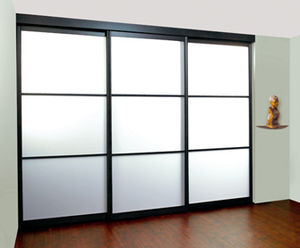 sliding partition
TOP'LINE 1000
removable partition
FOSCARI by Albino Celato
An intense artistic study has led Albino Celato to reinterpret the patterns used to decorate the stoles worn by leading Venetian dignitaries, a design used since the Renaissance and which took on its present decorative style in the 17th ...
See the other products
DE CASTELLI
See the other products
DELEAGE EXPANSION