How to choose this product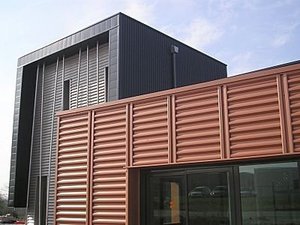 Metal siding is an exterior wall covering made of steel, aluminum, zinc or another material. The three broad types are single-skin, double-skin and sandwich panel. Elements can be installed horizontally or vertically. ArchiExpo lists metal siding under the Facade heading. There is a large selection of forms and colors, both galvanized and pre-lacquered.
Applications
These elements are more often used for commercial and industrial buildings than for dwellings. They ensure mechanical integrity, impermeability to air and water, thermal and acoustic insulation, as well as offering aesthetic qualities.
How to choose
Building type and architectural environment will determine the choice of metal siding. Other criteria include the project's needs and budget, as well as the required thermal insulation.
Advantages
- Great variety of form and color
Disadvantages
- Prejudice against its "industrial" look