How to choose this product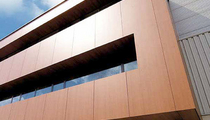 Siding is an exterior wall covering composed of wood or asphalt shingles, clapboard, stone, slate, sheets of fiber cement, ceramic, lacquered sheet steel, sheet aluminum, glass, etc. Plaster or another spread-on material is used to give a traditional look to wood-frame structures. ArchiExpo offers siding in many colors and forms, and with varying characteristics.
Applications
Siding constitutes an exterior wall covering suitable for all types of construction.
How to choose
Climate and architectural considerations will determine choice of siding, as well as technical and budgetary constraints.
Advantages
- Great variety of materials, colors, forms